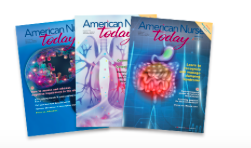 Interested in learning more about American Nurse Today — the dynamic voice of nursing? We are offering a complimentary trial (3 issues) so you can see why our peer-reviewed journal is one of the top rated member-benefits of the American Nurses Association.
To receive your 3 complimentary issues, please provide your information below:
[ninja_form id=9]
* Indicates required field
**By filling out this form, you are opting in to receiving information from Healthcom Media and Affiliates. The details, including your email address/mobile number, may be used to keep you informed about future products and services.