ADOLESCENT SUICIDE RATES continue to rise nationally while primary care providers remain ill prepared to adequately address this trend. Curtin (2020) outlined outcome measures indicating that the rate of adolescent death by suicide has increased by 60% over the last decade in the state of Kansas. The Health Resources and Services Administration (HRSA) 2022 Kansas State Action Plan addressed this issue by proposing increased engagement in annual adolescent well child examinations (WCEs), inclusive of annual depression screenings, based on Bright Futures and the American Academy of Pediatrics (AAP) guidelines (HRSA, 2022). Completion rates of adolescent screening measures during WCEs in primary care were evaluated as part of a quality improvement study. Comparative evaluation of adolescent depression screening in Kansas and Iowa suggest that while baseline screening measures are in place they may not adequately address suicide risk.
Methods
Data was collected using a mixed method design at two midwestern primary care clinics; one in Kansas and one in Iowa. Inclusion criteria consisted of adolescents established at the clinic, defined as having had an episodic or preventive care visit within the previous two years (January 1, 2020, through December 31, 2021). Adolescents younger than 11 or adults older than 17 years of age were excluded from sampling.
Focus groups were conducted with clinic staff including reception, nursing staff and providers to evaluate staff roles and responsibilities, office processes, and preventive care measures addressed during routine adolescent WCEs. Electronically abstracted and manual chart audits were completed addressing preventative and high-risk adolescent behaviors. Focus group data and health record reports were obtained from April through May 2022 with subsequent manual auditing and data analysis through July 2022.
Results
Focus Group Interviews
Focus Group interview findings were analyzed and categorized into common themes, illustrated in Table 1.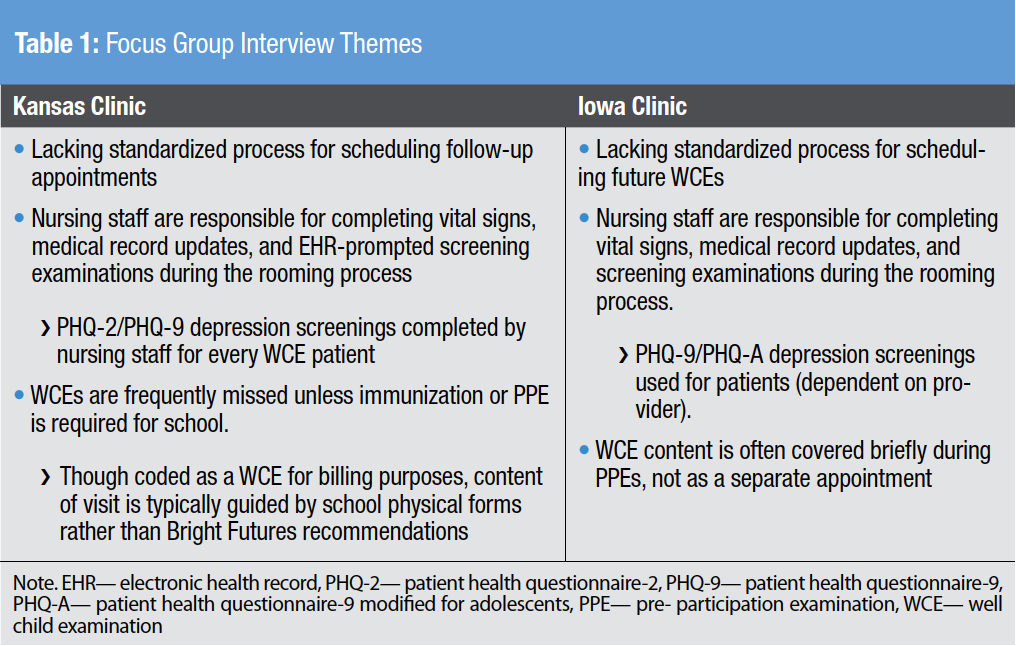 EHR Data Query
A retrospective chart audit encompassing WCE completion and depression screening rates was collected at suburban primary care facilities in Kansas and Iowa. Of the 314 patients that met inclusion criteria at the Kansas clinic, 68% (n=214) completed a WCE in 2020 or 2021. At the Iowa clinic, 224 patients met inclusion criteria, and 52% (n=116) completed a WCE within the same time frame. The average age of patients seen for a WCE at both clinics was 14.5 years. See Table 2 for clinic site characteristics.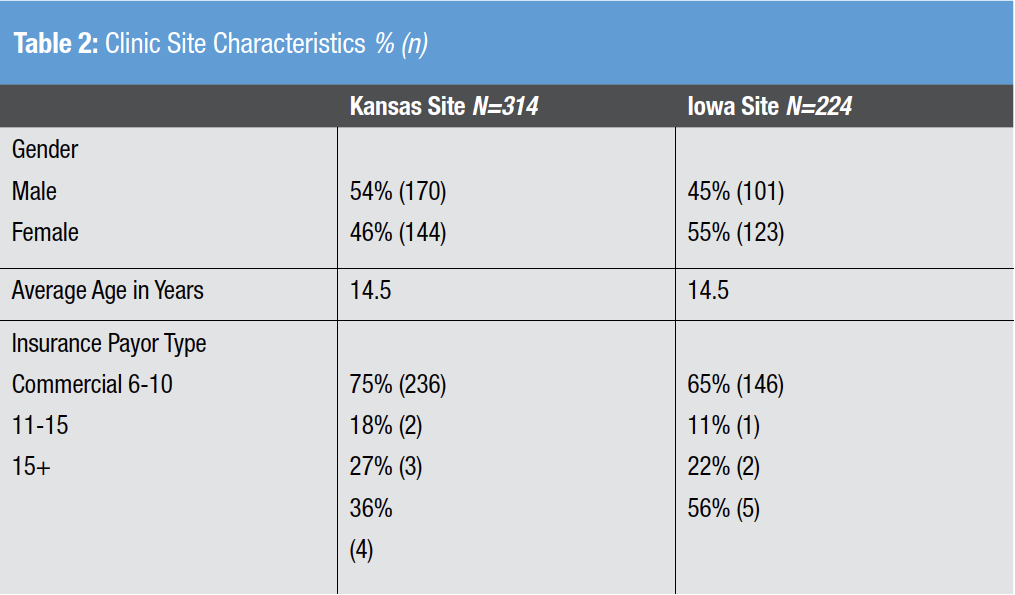 Behavioral health screenings (using the PHQ-2) were completed at the Kansas clinic 100% of the time (n=214), with subsequent use of the PHQ-9 if positive. In comparison, only 67% of Iowa adolescents (n=78) received behavioral health screen. Iowa clinicians utilized various tools including the PHQ-2 (n=1), the PHQ-9 (n=41), the PHQ-A (n=35), and one chart did not specify which screening tool was used.
Discussion
Despite inconsistent screening tool use and a lower rate of screening completion in the Iowa clinic site, during this project, Iowa adolescent suicide rates remained less prevalent.
Curtain (2020) reported between 2007 to 2018 that Kansas suicide rates increased to 60% while their midwestern neighbor Iowa showed a significantly lower rate of increase in suicide rates at 30%. The results of this project demonstrate a lack of consistent standardized screening tool utilization during adolescent wellness screenings. While completion of mandated quality indicators in the EHR boosts provider compliance measures, are providers intervening effectively with positive screens to proactively prevent suicidal events?
The results of this project bring awareness that while Kansas providers screened 100% of adolescents, overall Kansas demonstrated higher suicide rates when compared to a less compliant screening provider group in Iowa, with lower suicide rates. This begs the question, are age-appropriate comprehensive tools such as the PHQ-A or Cohen's (1991) HEADSS assessment more accurate assessment tools to indicate those adolescent youth most at-risk for suicide? Nurses are an integral component of effective screening for suicide risk and initiating intervention in the primary care setting. Addressing provider completion metrics alone fails to address suicide intent. Rather, more comprehensive screening measures with focus on team-based interventions may render more accurate determinants of suicidal intent allowing for proactive prevention which may serve as a catalyst to decrease Kansas suicide rates.
References
Bright Futures & American Academy of Pediatrics. (2021). Recommendations for preventive pediatric health care. https://downloads.aap.org/AAP/PDF/periodicity_schedule.pdf
Cohen, E, MacKenzie, R.G., Yates, G.L. (1991). HEADSS, a psychosocial risk assessment instrument: Implications for designing effective intervention programs for runaway youth. Journal of Adolescent Health, 12 (7), 39-544.
Curtin, S. C. (2020). State suicide rates among adolescents and young adults aged 10-24: United States, 2000-2018. National Vital Statistics Report, 69(11), 1-10.
Health Resources and Services Administration (HRSA) and The United States Department of Health and Human Services (HHS). (2022). Kansas state action plan table 2022 application/2020 annual report. https://mchb.tvisdata.hrsa.gov/Admin/FileUpload/DownloadStateUploadedPdf?fileType= stateActionplan&state=KS