Editor's note: This article is the last in a three-part series brought to you in partnership with the International Safety Center. The earlier articles ("Preventing needlestick and sharps injuries" and "Preventing blood and body fluid splashes and splatters") are available at myamericannurse.com/preventing-needlestick-sharps-injuries and myamericannurse.com/blood-body-fluid-splashes.
A tool that surveys and measures occupational exposures to blood and body fluids, the Exposure Prevention Information Network (EPINet®) helps identify where infectious exposures are occurring in U.S. hospitals and lets you compare them with what's happening in your facility. The International Safety Center distributes EPINet for free to hospitals and healthcare facilities to measure exposures that can cause illness and infection in the working population.
Most prevalent injuries
The first article in this series focused on needlestick and sharps injuries. This article takes another look at these injuries because they're the most prevalent type of occupational exposure to blood and body fluids. Of all injuries collected by EPINet aggregate hospitals in the 5-year period from 2009 to 2013, 50.6% stemmed from devices used to inject a fluid into the skin and 53% stemmed from disposable syringes.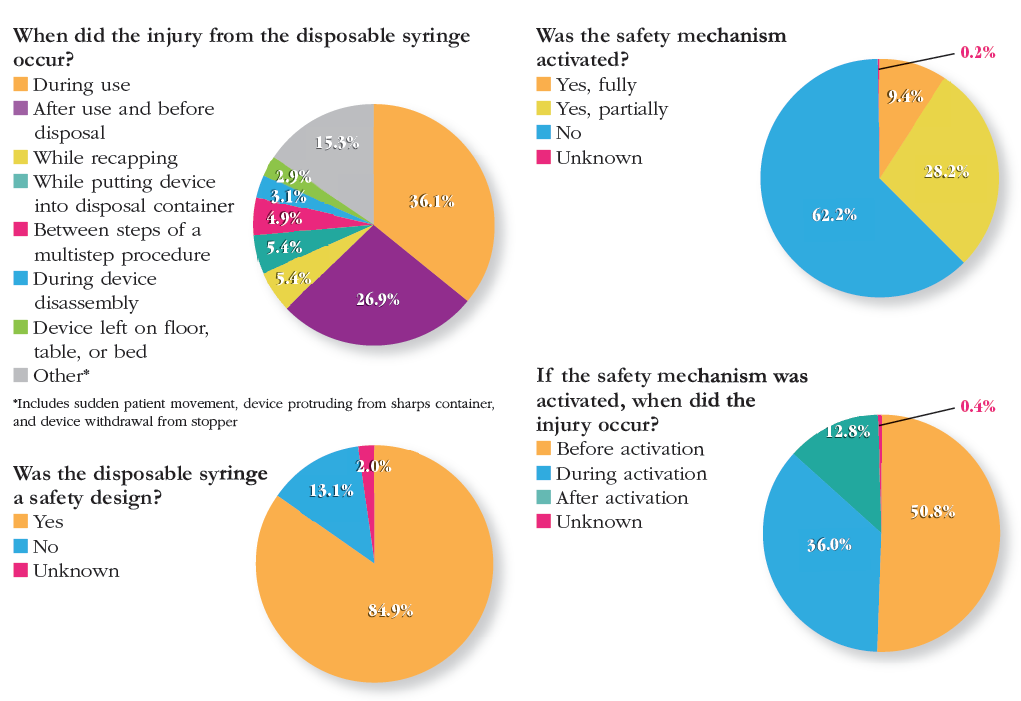 Innovation
Nurses are creative, resourceful innovators. You can directly and positively affect your own life and the lives of your patients and colleagues. If you don't consider yourself an innovator, look to those you think are. Use such resources as "Nurses leading through innovation" at http://goo.gl/MS03fj.
The authors work at the International Safety Center (InternationalSafetyCenter.org). Amber Hogan Mitchell is president and executive director. Ginger B. Parker is vice president and chief information officer.