What does year of the nurses mean for nurses?
The World Health Organization (WHO) designation of 2020 as the International Year of the Nurse and the Midwife is a major accolade and win for nurses but what does it really mean and to whom?
The intentions behind the Year of the Nurse and Nurse Midwife designation are to honor the 200th birth anniversary of Florence Nightingale as well as have a year-long effort to celebrate the work of nurses and midwives, highlight the challenging conditions they often face, and advocate for increased investments in the nursing and midwifery workforce.
So now that its 2020 what are we as nurses doing with this honor? Does the public know or understand the designation?  Do all nurses even know or understand the responsibility that comes with this accolade? For starters its important to understand that part of what we're also celebrating is the release of the first-ever State of the World's Nursing report and the State of the World's Midwifery 2020 report, which will also be launched around the same time. If we want the public to understand what nurses do around the world we need to first start with ourselves by making sure we read these reports and become familiar with them.
But is that enough?  If we really want others outside of nursing to recognize what we do – we need to show them. Let's face it – not everyone encounters or experiences a nurse to fully understand our role. This has been why our depiction in media has been so critical. While nurses are the largest segment of the healthcare workforce – our presence in the media is often misrepresented and of those things that are valid – they are scant or non-existent.
As a nurse whose climbed the ranks from vocational nurse, to registered nurse to advanced practice nurse and worked at the bedside, in community and leadership; and now has the pleasure of being a regular contributor of national television as medical correspondent – I believe Year of the Nurse has so much potential to elevate the role of nursing but unless we as nurses take a more active role to publicly display what we do, I'm afraid we won't see much progress outside of our nursing organizations, schools or hospitals doing Nurse Week-ish kind of activities. No shade but other than for our scholarly reading or health updates – how many of us nurses really follow the WHO on a regular basis? And if that's the case, do you think the general public follows their every update? And if the general public is only accessing WHO on an as needed basis – do you really think they'll read those reports or even know its year of the nurse?
I don't, so let's get in the driver's seat. Here are just a few things I think we as nurses should consider if we really want to own Year of the Nurse:
Outside of your workplace, when you're doing community or volunteer service always let people know you're a nurse. Nurses do more than give shots, so let's show them. It's time to not just talk about what we do, but be about it.
Many nurses are now doing podcasts, you-tube shows and using their voices in social media – but does any of your messaging target the general public? Find a way to ensure your content gets directed towards or in front of the general public so they can learn more about nurses have to offer.
Own your entrepreneurship – historically nurses have been those who selflessly serve others and follow orders yet in the past decade more and more nurses are launching their own businesses. Despite business 101 not being a core class in traditional nursing school, nurses are becoming bosses (literally and figuratively). Chief Nursing Officer doesn't have to be the final destination. Don't be afraid to become a CEO and start your own company or become one elsewhere.
Let's stop bullying each other about career path choices. I love the bedside, but I also love the boardroom and broadcast. I was bullied and treated poorly by one of the best hospitals in the world for wanting to educate the general public using media (I'll tell this story in a future article). While our core training is rooted in direct patient care, if a nurse later finds their calling doing something a little different – let them. We should celebrate and nurture nurse innovation that provides community – not destroy it.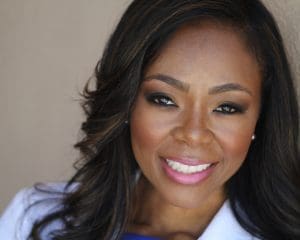 Nurse Alice Benjamin is a nationally board certified and award-winning Clinical Nurse Specialist with over 20 years of experience. Specializing in cardiovascular health, she makes regular appearances on television encouraging audiences across America to make healthy choices daily to counter life's emotional and physical stressors. Nurse Alice teaches the importance of a balanced, happy life. She teaches lifestyle changes that people can use today for a healthier tomorrow.
Making it her business to keep her finger on America's pulse, this nurse entrepreneur, media personality and mother, it's no wonder that she's affectionately known as America's Favorite Nurse.
You can find more about Nurse Alice on her website, and through her social media accounts on Twitter, Instagram, YouTube, and Facebook.