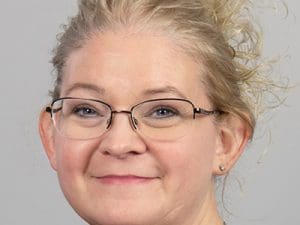 We've all been through nursing school with the experience of learning how to assess, learning how to perform certain skills, and completing the competency testing we all stressed over being able to perform proficiently. But are we effectively teaching today's students which of these skills are truly the most essential to everyday life as an RN?
I had the opportunity to teach the same cohort of students in their first nursing class: health assessment. I then saw many of them again when I taught the nursing skills course, and yet again in when I taught their second adult health course. What I saw made me take a step back and think about what we are teaching. Out of the multitude of skills that students are saturated with, how do they know which ones are most applicable to RNs?
Here is the story of what I call my "aha" moment. I was in the hospital with a clinical group one Wednesday. I gave them the same patient assignment I had given 2 days earlier to my Monday clinical group. The patients were alert and oriented x 4, cooperative, and very accepting of student nurses.
After I gave the students morning report, they went off to do their AM assessments. One of my students was assigned to Mr. S, a patient with lower extremity cellulitis. Two days before, the plan for Mr. S. was to change from I.V. to oral antibiotics and prepare for discharge. As I was starting an assessment with another student, the student assigned to Mr. S came to find me. She had a look of panic as she told me that her patient's blood pressure was a little low and his SpO2 was in the 80s. My focus shifted to her and we went off to assess him together. After all, 2 days earlier he was participating in the assessment, cracking jokes, and assisting us with his morning care.
Much to my surprise, Mr. S. was barely responsive. We ran to get a put a venti-mask on him and hooked him up to a blood pressure monitor. I asked the student to stay with him while I got his assigned nurse, who had yet to see or assess him. We started the ball rolling, and a code sepsis was called. Neurology was on the floor within 10 minutes, and Mr. S. was going to be transferred to the ICU. We had increased his O2 sat to an acceptable level, and he was stable for the moment as he was receiving a bolus of IV fluids, but something had clearly happened to him. Once the chaos had settled down, I took the student back into the room to discuss what was going on and further assess the patient.
To encourage the student's critical thinking skills, I asked her what she thought could have happened to Mr. S. I was very surprised by her response—she had no idea. No idea at all. Mind you, this was an excellent student. I tried to prompt her to think of the obvious things, such as a stroke or sepsis. When I questioned her about where she would want to begin her focused assessment based on the events of the morning, she replied, "I would want to feel his lymph nodes to see if he has any lymphadenopathy, and then I would work downward and palpate his thyroid." This was the aha moment for me. Of course, she had no idea where to start. She was taught these techniques of advanced assessment and could not, at this level, decipher between what was important and what was not. My response to her was "Mr. S. is going to ICU; we don't care if he has any lymphadenopathy or an enlarged thyroid if he cannot maintain his airway, has rales in all of his lung fields, and has to be intubated. He will die before we finish our assessment."
My words made me think: How can I help students be better prepared? The health assessment textbooks that are considered the gold standard are those also used in NP programs, and the competencies that they had been made to perform in their health assessment class included palpating for lymphadenopathy, palpating the thyroid, measuring liver span and diaphragmatic excursion, and percussing liver and cardiac borders. Had I ever done this as an NP let alone as an RN?
This is what prompted me, with the support of my chair of the nursing department and dean of the school of nursing, to completely revise the health assessment course. Students need to be able to take accurate vital signs; listen to the lungs, abdomen, and heart; and complete a basic neuro, genitourinary, and skin assessment—not the advanced techniques that we were testing them on (techniques that they would most likely never use).
To give some credence to my thoughts on changing the course, I also spoke with the nurse educator at our local hospital. We spoke about the expectations for new graduate RN. This further reinforced that the changes I was making were reasonable and what our community partners expected of our graduates.
What does all of this mean for nurses? We as experienced clinicians need be sure that what we are teaching and modeling is, in fact, what is currently being used in clinical practice. Students need a solid foundation and sharp assessment skills that are relevant to their level of practice. While it's nice to know of these advanced techniques, students certainly do not need to know them at the level of an RN. It seems as though time will be better spent making students more adept at the skills they will use in practice rather than to teach them the skills they will likely never use.
Kimberly Poje is a nursing instructor in the school of nursing at Mount Saint Mary College in Newburgh, New York, and a family nurse practitioner at Pediatric Care of the Hudson Valley.