Create capacity with improved patient flow.
Takeaways:
Patients who are medically ready for discharge frequently wait in their room for various reasons, which results in decreased bed availability and contributes to diversion/boarding in the emergency department.
A discharge hospitality center and accompany process help to move patients out of their rooms and prepare them to leave the hospital.
Patients ready for discharge frequently remain in their rooms for various reasons, such as waiting for transportation, outpatient medications, and durable medical equipment (DME). These delays lead to decreased bed availability and contribute to diversion or boarding in the emergency department (ED). To combat this problem, many organizations, including Upstate University Hospital in Syracuse, NY, provide discharge hospitality centers (DHCs), which, according to Curle and Maduro, improve patient throughput, reduce ED holding hours, and decrease poor patient outcomes.
Upstate University Hospital developed its DHC in 2019 (about 2 years before it received Magnet® designation) as part of a larger strategic plan to improve capacity and patient throughput. For example, its Meds to Beds program has been instrumental at bringing medications to patients' bedsides before discharge. However, prescription corrections or insurance issues may take time to address, which makes these patients ideal candidates for the DHC.
Collaborative project
A multidisciplinary team of nurses, case managers, physicians, administrative staff, and information technology professionals worked together to promote buy-in for the DHC. According to Barone and colleagues, stakeholder support helps to eliminate barriers to successful DHC implementation. Including key stakeholders in the development phase of the Upstate University Hospital DHC ensured strong support for the project. Working collaboratively, the team established the DHC location, hours of operations, staffing model, financial impact, patient criteria, and administrative oversight. They also developed its scope of services and created operational instructions. The team presented this information to the hospital leadership team and gained approval before implementation.
The space allotted for the DHC can accommodate 12 patients, and the team selected the hours of operation based on peak discharge times. The DHC fully opened in September 2019, initially for discharged patients from any adult inpatient/observation unit. All patients who meet the DHC criteria and have been discharged can use this space. Before arrival, the following must occur: discharge education provided, last dose of ordered medications administered, after visit summary (discharge paperwork) completed, prescriptions electronically delivered for Meds to Beds, and DME arranged.
The Throughput Operations team continuously evaluates outcomes to maximize DHC use and has added additional patient populations over the past 2 years. The DHC now receives discharged patients from One Day Surgery, patients awaiting transportation to short-term rehabilitation, ED and pediatric patients, those who've had an outpatient procedure, and those from the inpatient psychiatric unit. (See Inclusion and exclusion criteria)
Inclusion and exclusion criteria
The Throughput Operations team at Upstate University Hospital established the following criteria for patient entry to the
discharge hospitality center (DHC):
Inclusion criteria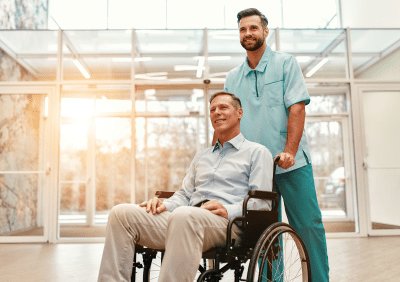 Discharged independently or with home health
Awaiting transportation that will arrive before 1830
Oriented and cooperative
Ambulatory/ambulatory with one or two assistants (if approved by DHC staff)
Wounds/tubes/drains covered and require no additional care while in the DHC
Awaiting Meds to Beds and/or durable medical equipment
Home oxygen established or delivered to DHC from vendor
Awaiting transportation to short-term rehabilitation or skilled nursing facility (if they meet above criteria)
Psychiatry patients—collaboratively discussed with psychiatric unit charge RN and DHC staff
Some patients may be admitted at patient flow administrator, Throughput Operations Center director, or administrative supervisor discretion.
Exclusion criteria
Requires more than two assistants
Behavioral agreements
Contact or contact plus precautions
Droplet or airborne precautions
Incontinent
Law enforcement custody
Protective isolation
Received or donated an organ during current admission
The patient flow administrator, a new position developed to support throughput and manage the DHC, is integral to the program's success. This position promotes DHC use via frontline nursing staff and physician education during daily rounds on the inpatient nursing units. The administrator assists with real-time throughput delays, works with charge nurses to evaluate patients for transfer to the DHC, and provides insight into current capacity issues. They also share monthly DHC data with nurse managers regarding each unit's success, which is measured by the percentage of discharged patients using the DHC. Woods and colleagues describe continued communication with key stakeholders, which allows for improved use, as vital to a successful DHC.
This project uses RN staff in dual roles, as both DHC nurses and throughput nurses. When not in the DHC, the RNs are assigned the throughput role in which they complete admissions, histories, and discharges. They provide education to the bedside nursing staff regarding throughput initiatives, DHC criteria, and supported throughput activities. These RNs, when on throughput, focus their efforts on units with a high volume of discharged patients who are appropriate for the DHC. These collaborative roles, combined with the administrator role, have helped to improve DHC utilization by almost 50%.
Significant results
Since implementation, the volume of patients in the DHC has continued an upward trend. The measured metrics include patient volume, average length of stay, percentage of discharged patients using the DHC, and ED diversion/boarding hours. During 2020, the DHC received 2,300 patients—2,238 from an inpatient unit, 25 from the ED, 19 from the postanesthesia care unit (PACU), and 18 from the psychiatric unit. Inpatient units saved a total bed time of 73.9 days, the ED saved 36.6 hours, the PACU saved 19.5 hours, and the psychiatric unit saved 30.1 hours. This amounts to about $270,995.20 in insurance payments received and hourly cost savings for the ED and PACU. Operating costs for one full-time equivalent employee was $70,000 plus benefits (approximately $98,000). The resulting cost savings was $172,995.20 over the course of 2020.
The DHC saw a decreased volume of patients from mid-March through May 2020 and again from November through December. During the first decrease, hospital occupancy dropped due to surgical restrictions from COVID-19 and a decreased volume of ED patients. During the second decrease, COVID-19 admissions increased dramatically, which reduced the number of patients eligible for the DHC. An average 8.4% of all discharged patients used the DHC in 2020.
COVID-19 challenges and hospital staffing issues persisted in 2021. The high census of patients with COVID-19 decreased the number eligible for the DHC (9.3% used it), and staffing issues forced temporary inpatient bed closures. Over the course of 2021, 1,815 patients were transferred to the DHC—1,744 from an inpatient unit, 27 from the ED, 29 from the PACU, and 15 from the psychiatric unit. The total bed time saved by patients from an inpatient unit was 55 days; the ED saved 30.5 hours, the PACU saved 39.6 hours, and the psychiatric unit saved 15.4 hours. The bed days saved equals approximately $208,175.70 in insurance payments received and hourly cost savings for the ED/PACU. Operating costs for the one full-time equivalent employee plus benefits was $107,000. This led to a cost savings of $101,175.70 over the course of 2021.
Bed closures due to 2021 staffing challenges led to a decreased number of patients using the DHC, as the overall hospital census was significantly below average. However, although the overall volume of patients was down, a higher percentage of discharged patients used the DHC compared to 2020.
Because the DHC was part of a larger strategic effort to improve throughput and increase capacity within the hospital, decreased ED boarding and diversion hours can't be attributed to this project only; however, it did play a significant role. We compared ED boarding and diversion hours from November 2018 through January 2019 and then from November 2019 through January 2020. In the earlier group, boarding hours amounted to 10,614. After implementing the DHC, boarding hours dropped to 9,220 (a 13.1% reduction). This decrease resulted in a cost savings of approximately $68,306. ED diversion hours decreased from 218 to 175 (a 19.7% reduction), with a cost savings of approximately $215,000. The effects of the pandemic and staffing issues limited patient flow through the hospital system, resulting in increased ED boarding and diversion throughout 2020 and 2021. (See DHC financial analysis)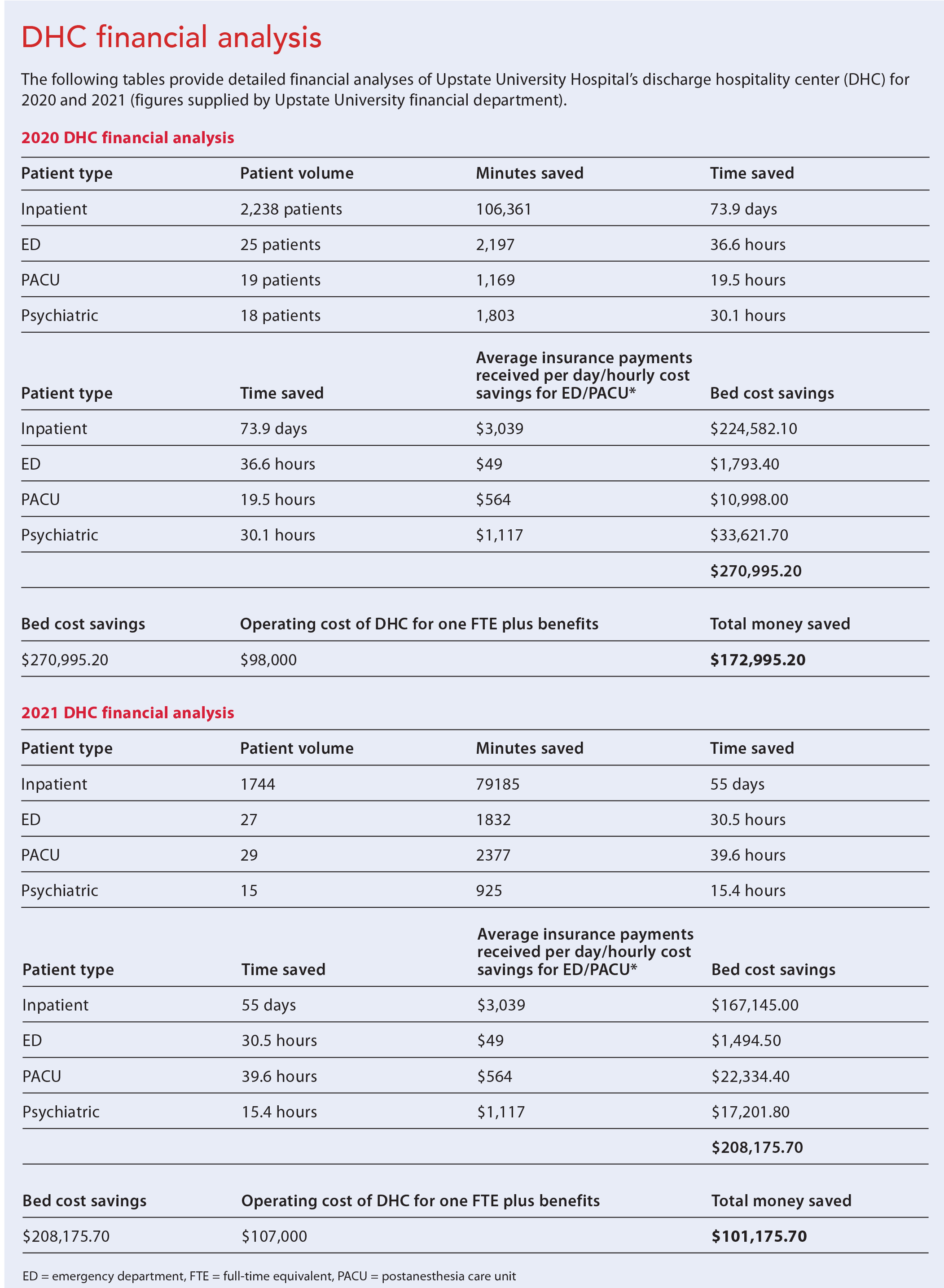 Next steps
The success of the original DHC at Upstate University Hospital led to implementation at Upstate Community Hospital. The patient flow administrator devoted time to educate these frontline staff. Using the knowledge gained during implementation of the first DHC, the Throughput Operations team quickly attained successful outcomes using the same patient eligibility criteria. During the first few weeks of October 2021, the Community DHC hosted 72 patients. The following months showed a steady increase in patient volume, with 141 patients in November and 167 patients in December.
In response to this success, the team developed a plan to have all patients use the DHCs, unless they don't meet the inclusion criteria. This approach has led nursing staff to view the DHC as required rather than optional. All patients are now evaluated one day before discharge for DHC inclusion. These adjustments have helped increase patient flow into the DHCs.
Lessons learned
Several factors have led to the success of the DHC, including integration into the discharge process. Colwell reported that the DHC process is most effective when it's viewed as part of the discharge workflow and not as an additional bedside nursing task. In addition, the Throughput Operations team offers continuing attention and education to ensure consistent use, and the patient flow administrator provides critical surveillance of throughput activities. During the DHC implementation phase, utilization data weren't shared regularly with hospital leadership. However, Joseph and Melder report that monthly performance metrics shared with key stakeholders can help overcome barriers and identify improvement opportunities. Since sharing the DHC performance metrics, hospital leadership has become more engaged and invested in the process, which has led to improved utilization and flow.
Transforming and empowering
The Throughput Operations team used the Magnet components of Transformational Leadership and Structural Empowerment to drive the DHC initiative. Nursing leadership steered the project and kept the organization informed of necessary changes to address DHC capacity and improve processes. Organization leadership promoted an environment supportive of innovation and strong professional practice. By focusing on these Magnet components, the team ensured success that benefits patients, nurses, and the organization.
The authors work at Upstate University Hospital in Syracuse, New York. Kyle Choquette is associate director of nursing for throughput operations. Rebecca Dwyer is deputy director of nursing for operations.
American Nurse Journal. 2023; 18(9). Doi: 10.51256/ANJ092344
References
Barone M, Miller J, Long MS, et al. Implementing a departure lounge: A strategy to improve patient flow and the discharge process. J Nurs Adm. 2022;52(3):129-31. doi:10.1097/NNA.0000000000001118
Colwell J. Discharge lounges done right. ACP Hospitalist. 2021;1-7.
Curle BW, Maduro R. Discharge unit efficiency. Am Nurse Today. 2020;15(9):85.
Joseph C, Melder A. What is the effectiveness of the discharge lounge? A rapid review. Monash Health Center for Clinical Effectiveness. monashhealth.org/wp-content/uploads/2020/03/Discharge-Lounge-Rapid-Review_Final-Feb-2020.pdf
Woods R, Sandoval R, Vermillion G, et al. The discharge lounge: A patient flow process solution. J Nurs Care Qual. 2020;35(3):240-4. doi:10.1097/NCQ.0000000000000469
Key words: discharge lounge, discharge hospitality center, patient throughput, patient flow