Insights for nurse leaders
Takeaways:
Filipino-American nurses comprise an estimated 4.5% of the more than 3.8 million RNs in the United States but account for approximately 30% of the nurses who died from COVID-19 during the pandemic.
Many in the Filipino community hesitate to discuss negative emotions openly or seek mental health services.
Nursing leaders can develop support programs that create a culturally sensitive and safe environment for these nurses to seek help and discuss their emotional health.
Since the onset of the COVID-19 pandemic, the American Nurses Foundation (the Foundation) has conducted multiple surveys to examine its impact on nurses' well-being. The results of the Mental Health and Wellness Survey 1, launched in June 2020, showed that most respondents felt overwhelmed, anxious, irritable, sad, and unable to relax.
Worrisome findings from Nazareno and colleagues, which showed that Filipino-American nurses have been disproportionately impacted by the pandemic, prompted the Philippine Nurses Association of America (PNAA) to call for collective action from its chapters to provide support to members and others. Filipino-American nurses comprise an estimated 4.5% of the more than 3.8 million RNs in the United States but account for approximately 30% of the nurses who died from COVID-19 during the pandemic. Although some nurses have shared their emotional distress, many in the Filipino community hesitate to discuss negative emotions openly.
In November 2020, PNAA conducted the Emotions Behind the Mask Survey (EBTMS) to explore the mental health of Filipino nurses in the United States, recognize commonly used coping mechanisms, and identify resources or initiatives to improve their well-being. PNAA distributed the survey to 3,653 members via email and social media channels. Survey participation was voluntary, and the organization assured participants that responses would be shared in aggregate only.
The PNAA evaluated the preliminary results of the 24-item survey, a revised version of the Foundation's survey, using SurveyMonkey analytics. The association used MS-Excel pivot tables for bivariate analyses to compare various groupings.
The data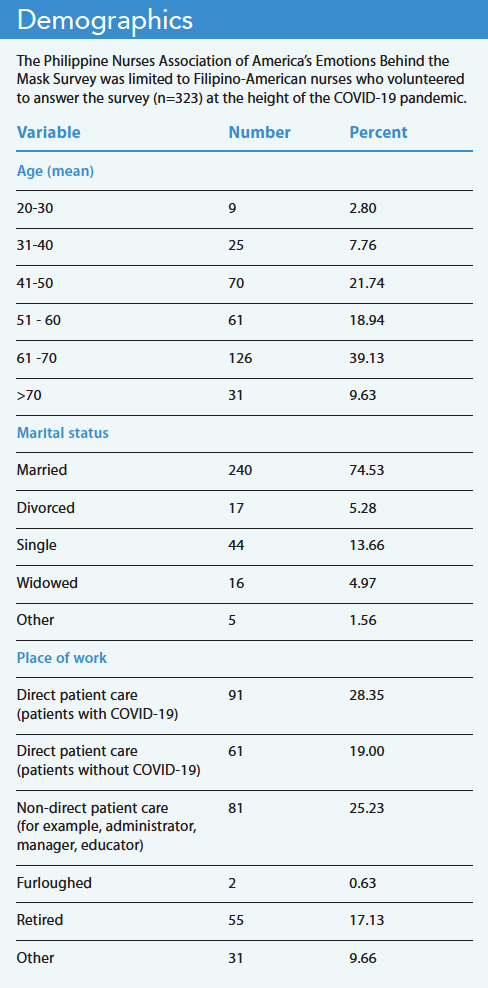 Respondents to the PNAA survey (response rate 9%) reported being married (75%), older than 40 years (89%), and working as clinicians in hospitals (47%). About 17% state that they're retired but active as volunteer community health workers. Of the respondents, 66% reported having families or friends who were diagnosed with COVID-19 at the beginning the pandemic. (See Demographics.)
When asked about emotions experienced in the past 14 days, the top four responses were resilient (63%), optimistic about the future (62%), "feeling I am making an important difference to people" (59%), and "confident about my ability to handle things" (56%). Another 19% also said they felt content. The respondents identified "con­fident about their ability to handle things" as best describing their overall emotional state. Respondents selected "worried about the future" as the top unfavorable emotion (37%), which was followed by sad (29%), overwhelmed (19%), tired/exhausted (17%), anxious/nervous (15%), and experiencing insomnia (15%). Worry existed regardless of age; however, 40% of married respondents reported being extremely worried about the future, with safety of their families as the big­gest concern (52%).
The survey also examined respondents' coping abilities and use of mental health and emotional wellness services. When asked if they shared their emotions with others, of those 61 years or older, only 39% reported that they felt people would understand what they're experiencing. In contrast, 61% of respondents younger than 60 perceived others as capable of understanding their emotions. This pattern was even more pronounced by marital status: 73% of married respondents reported that others would understand their emotions compared to only 27% of unmarried respondents.
The discussion
The EBTMS revealed the emotions experienced by responding Filipino-American nurses during the early phase of the pandemic. Similar to respondents of the Foundation's survey, most of the participants work in acute care units. National Nurses United and Naza­reno and colleagues cited the same observation and attributed work setting as a likely contributing factor to being disproportionately affected by the pandemic. Compared to the report published by the Foundation, which ranked "overwhelmed" as the highest reported emotion during the pandemic, the EBTMS respondents identified "resilient" as the most reported emotion. However, "worry" ranked high among the negative emotions. They worry about their own safety, about their family contracting COVID-19, their family's mental health, and their financial situation. Filipinos have been known to live in multigenerational homes, increasing the risk for COVID-19 transmission. In addition, many Filipinos serve as the source of economic stability for their families in the United States and in the Philippines, which may increase their financial concerns.
Chan and Litam and Martinez and colleagues report that Filipinos are less likely to seek professional assistance for mental health. Hiya (Tagalog for shame) associated with acknowledging mental health struggles and loss of amor propio (losing face) may prevent Filipino nurses from seeking help. Filipinos also are known for their positivity and resilience. Rather than dispelling that perception, some would rather tiyaga (endure) what they're experiencing. Some also have the attitude of bahala na (come what may), a fatalistic attitude of lifting their problems up to God and leaning on their strong faith.
Coping strategies identified by Filipino nurses included staying connected or talking with families and friends as the top choice, followed by prayer and communal faith-based activities. Research by Litam and Chan showed that most Filipino-American nurses in the United States prefer spending time with family and friends and participating in leisure activities to cope with stress.
Several studies report that because Filipinos don't want to shame their families, they rarely discuss stressors or emotional issues outside of a close circle of family and friends. Many Filipinos consider asking for professional help as ibang tao (outsider or outside of the safe circle), leading them to hesitate to seek formal help. For this reason, and based on the results of the EBTMS, PNAA offers a culturally responsive mental health program to support the mental and emotional wellness of its members.
The implications
For generations, Filipino nurses have worked on the frontlines of America's healthcare system. During the pandemic, many continued to work at the bedside despite being disproportionately affected and enduring both physical and emotional distress. Because of the general stigma associated by mental health issues amplified in the Filipino culture, resource pro­viders must consider potential cultural barriers and offer platforms that provide safety and comfort to share their feelings.
Peer support based on the bayanihan spirit (Tagalog term for the traditional concept of unified community support) may empower Filipino-American nurses to positively change their approach to mental health issues. Social support from family, trusted friends, or a community leader can help facilitate formal mental health therapy. In addition, nurse leaders must take steps to create a space for dialogue without fear of being ostracized or belittled. Understanding and considering Filipino values and culture will help nurse leaders and hospital administrators effectively support Filipino nurses who likely will hesitate to access mental health services. The more that mental health becomes acceptable to discuss openly, the greater the likelihood that Filipino nurses will take the necessary actions to address issues related to their well-being.
Culturally sensitive support
Filipino culture, which also may represent other Asian values, presents unique challenges. Members of this population are less likely to seek the mental, social, and psycho-emotional assistance they need. Many pride themselves on bearing adversity with resolve and don't want to be perceived as weak or unable to cope. Leaders can support these nurses with culturally sensitive initiatives that create opportunities for safe dialogue in which they're comfortable to share their emotions and agree to therapy that could improve their mental well-being.
Riza V. Mauricio is an assistant professor and director of the PNAA Emotional Wellness Program at the Cizik School of Nursing, University of Texas, Houston. Anecita Fadol is an associate professor in the department of nursing at M.D. Anderson Cancer Center, Houston. Sherwin Imperio is a psychiatric nurse practitioner in Long Beach, California. Christine Pabico is the director of the Pathway to Excellence Program at the American Nurses Credentialing Center in Silver Spring, Maryland.
American Nurse Journal. 2023; 18(9). Doi: 10.51256/ANJ092331
References
American Nurses Foundation. Mental Health and Wellness Survey 1. July 2020. nursingworld.org/practice-policy/work-environment/health-safety/disaster-preparedness/coronavirus/what-you-need-to-know/mental-health-and-wellbeing-survey
Chan CD, Litam SD. Mental health equity of Filipino communities in COVID-19: A framework for practice and advocacy. The Professional Counselor. 2021;11(1):73-85. doi:10.15241/cdc.11.1.73
Litam SDA, Chan CD. Experiences of stress and help-seeking behaviors in Filipino-Americans. Int J Adv Couns. 2022;44:586-603. doi:10.1007/s10447-022-09485-x
Martinez AB, Co M, Lau J, Brown JSL. Filipino help-seeking for mental health problems and associated barriers and facilitators: A systematic review. Soc Psychiatry Psychiatr Epidemiol. 2020;55(11):1397-1413. doi:10.1007/s00127-020-01937-2
National Nurses United. Deadly Shame: Redressing the Devaluation of Registered Nurse Labor Through Pandemic Equity. December 2020. nationalnursesunited.org/sites/default/files/nnu/graphics/documents/1220_Covid19_DeadlyShame_PandemicEquity_WhitePaper_FINAL.pdf
Nazareno J, Yoshioka E, Adia AC, Restar A, Operario D, Choy CC. From imperialism to inpatient care: Work differences of Filipino and White registered nurses in the United States and implications for COVID-19 through an intersectional lens. Gend Work Organ. 2021;28(4):1426-46. doi:10.1111/gwao.12657
Key words: emotional health, Filipino American nurses, COVID-19, culturally sensitive support