ANA advocates to protect nurses and the public.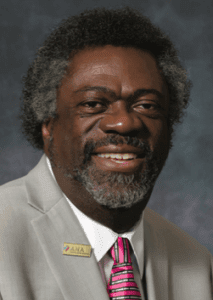 Sometimes external forces require us to change course. I initially wrote an entirely different column leading into Nurses Month. I wanted to pay homage to Florence Nightingale and her "radical" emphasis on handwashing and other infection control and prevention measures. This year marks her 200th birthday, and events have been planned around the globe to celebrate nurses.
Then more and more cases of coronavirus disease 2019 (COVID-19) began to emerge—prompting the World Health Organization to declare it a pandemic on March 11. Two days later, President Trump declared a national emergency here in the United States. Events have been canceled and schools closed. Many employers have their staff working remotely, requiring only essential staff on-site. Of course, nurses are as essential as it comes—especially in a public health emergency.
So as I write this column—still a few weeks away from its publication date—circumstances around COVID-19 continue to evolve. The American Nurses Association (ANA) knows that nurses always want to provide quality, safe care and accurate information to their patients and community members, who count on us to be the experts and the calm voices of reason. To that end, ANA has been working with key health experts and our member organizations to provide ongoing communications and educational resources (nursingworld.org/coronavirus) on COVID-19 to help you protect your patients and yourselves, as well as assist with your patient and workplace advocacy.
Our advocacy is wide-ranging. ANA immediately called for government officials and healthcare organizations to work with nurses and other team members to ensure an effective response, sufficient resources, and needed training to combat COVID-19. We've advocated for clear, evidence-based protocols and the highest level of protection for nurses and other team members to care for infected individuals and to prevent the spread of the virus in healthcare facilities and the community.
On March 18, ANA Chief Nursing Officer Debbie Hatmaker, PhD, RN, FAAN, was among the nursing organization representatives who met with President Trump to address COVID-19. She reinforced ANA's message to ensure the supply of appropriate personal protective equipment, to implement creative staffing strategies (such as bringing in senior nursing students to help meet patient demand), and to remove barriers to testing and treatment.
Now and always, we must reinforce basic infection control and prevention measures with the public, our families, and our peers. Proper hand hygiene and social distancing are critical to helping reduce the spread of COVID-19 and the prevention of other infectious diseases. It's also imperative that nurses continue to stay as up-to-date as possible on COVID-19 and other pathogenic threats—not only to protect ourselves and our patients but also to dispel myths circulating in social media and other sources. And we must combat bigotry by speaking up when we see members of our communities harassed and blamed as the "cause" of an outbreak.
I can't predict the future. But I know this: The health of our nation and the world frequently rests in the hands of nurses. Nurses will always be there for our patients and communities through public health crises and other significant events. I also know we'll always have to contend with external forces, like hurricanes, seasonal influenza, or COVID-19. Therefore, we must continue to work closely with all stakeholders to ensure we have effective preventive measures and response plans in place so healthcare facilities and communities are ready and not taxed beyond their capacities.
Finally, ANA, with our constituent, state, and specialty associations, are here to advocate strongly on your behalf and support you wherever you practice.


– Ernest J. Grant, PhD, RN, FAAN, President, American Nurses Association