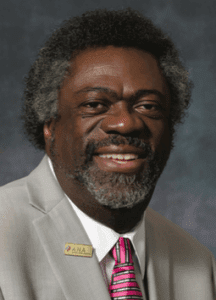 The Foundation supports nurses during the pandemic and beyond.  
If ever there was a time for us to support each other, it's now. The pandemic has forced many nurses to work under extreme conditions, take on different roles, and carry on with our lives in ways that are simultaneously trying and mundane. As the number of COVID-19 cases rise and fall in communities around the country, nurses continue to need relevant information, resources, and psycho­social support to be safe and healthy as we move forward.
The pandemic certainly has revealed gaps in our nation's healthcare system, especially in terms of our preparedness. However, it also has highlighted key resources and systems that have worked before and during this crisis and, ideally, will continue afterward.
So with 2020 coming to a close, I want to share how the American Nurses Foundation, the philanthropic arm of the American Nurses Association (ANA) that has been helping nurses for more than 65 years, has been laser-focused on how to best meet the ongoing and evolving needs of nurses during the pandemic. As it always has, the Foundation works with ANA and other important organizations to develop and deploy programs that support nurses, and then reaches out to foundations, corporations, and individuals to help fund these critical initiatives.
I know many of you have been involved in the Foundation in some way, whether it's recognizing one of your colleagues through the Honor A Nurse Program or participating in its nurse scholar or leadership development programs. Or you may not be as familiar with the Foundation, which I consider a hidden gem and whose efforts frequently occur behind the scenes. This year, the Foundation expanded its work to address four critical areas of need—financial assistance, mental well-being, advocacy, and education and evidence-based information—identified by more than 40,000 nurses who shared their COVID-19 experiences. And it created the Coronavirus Response Fund for Nurses to support ongoing activities within these areas.
For example, partnering with Nurses House, Inc., the Foundation has assisted over 2,000 individual nurses who were financially impacted by the pandemic, helping them with housing, healthcare, and other expenses.
The Foundation also launched—in collaboration with ANA and four of our affiliated specialty nursing organizations—the Well-being Initiative. The initiative provides nurses with peer support, mental health resources, and tools (such as the Moodfit app, which allows users to set personal goals to improve overall well-being). I strongly encourage you take advantage of these resources. Your needs aren't secondary, and you don't have to go it alone.
Foundation grants also have helped ANA step up its advocacy with federal officials around personal protective equipment and other pandemic-related concerns and supported ANA's COVID-19 Webinar Series, which so far has tackled topics from COVID-19's progression to racial disparities to handling moral dilemmas. And the Foundation continues its online Pulse on the Nation's Nurses Survey Series, which through your participation, helps us shape programs to meet your needs.
I'm so grateful to the nurses who had the foresight to create the Foundation decades ago and to those individual nurses and other partners who have been instrumental in sustaining and growing it. There's so much more critical work the Foundation can and will be doing related to COVID-19 and beyond, so I'm asking you to please consider donating at givetonursing.org. There's a lot of uncertainty out there, but I can say this with great certainty: Your gift will help nurses now and into the future.

Ernest J. Grant, PhD, RN, FAAN President, American Nurses Association