In 2005, the State of Texas passed the first safe patient handling law. SB 1525 became effective January 1, 2006. Since then there's been a lot of attention to the issues of on-the-job injury to nurses, including more research that strengthens the evidence and more best practices to implement. An additional boost was came into play when the American Nurses Association published the Safe Patient Handling and Mobility: Interprofessional National Standards in 2013.
So why do nurses continue to get injured on the job, despite more than 10 years of effort, legislative mandates, and laws?
Because our organization just updated our system-wide policy on safe patient handling, I wanted to find out what's stopping us from achieving no harm to staff. Of course, the answers came from discussions with the experts — the front-line staff most in touch with the day-to-day challenges.
I learned a lot and wanted to share those "blinding flashes of the obvious" with you. See if any of these issues sound familiar.
 Lifting is a heavy subject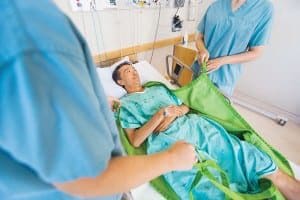 The reality that our patients are heavier today than ever before is well known. Despite this, nurses still want to get their work done in the fastest, best way possible. Yet most staff are unaware of the legislative mandates, partly because there are so many of them. "How would I know about all those laws," one nurse asked. "I know there is a policy, but laws?"
So a discussion ensued about the difference between a policy and a law. Now that's a really "heavy subject": what motivates us to know what we need to know? If it's not on Facebook or Instagram, it may not get attention! So I ask: how do YOU learn?
Good body mechanics is a scam
I didn't make this up, I'm simply echoing what I heard. This eye-opening comment came from a doctorally prepared educator who is up to date on the evidence. There is a body of research dating back to the 1960s that proved there is no good way to move a human body without some type of assistance.
Over time cumulative micro trauma takes a toll
It's not so much about lifting patients as moving them. The forces created by pulling patients day after day results in little muscle tears and cumulative micro trauma. At some point, major injury occurs. As staff, we don't tie a single incident of moving a patient to the multiple situations over the years, which end up having big consequences on health and well-being.
 Protect yourself, protect the team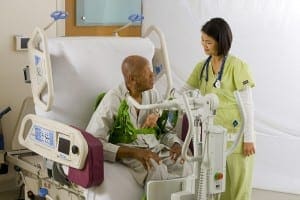 It only takes one time to get injured, whether it's the one time not buckling a seat belt or not using lift equipment. We all depend on each other and when a team member is out of work, everyone can suffer. Holding each other accountable to do the right thing is an important step; however, holding ourselves accountable comes first.
So the next time you think about moving a patient unassisted, think twice, and handle yourself with care!
Selected references
Celona J. Elements of a successful safe patient handling and mobility program. Am Nurs Today. 2014;9(9):4-6.
Neidhardt R. Putting ANA's Safe Patient Handling and Mobility Standards into practice: The Charlie Norwood VA Medical Center's journey. Am Nurs Today. 2014;9(8). myamericannurse.com/ana-article.
For more information, download "Current Topics in Safe Patients Handling and Mobility".