An opportunity to build enthusiasm and engagement
Takeaways:
Little information exists related to the impact of charge nurse development on nursing and patient outcomes.
Meeting each shift's staffing needs can prevent an organization from moving toward professional growth.
This two-phase project introduced innovation to frontline staff to support planning for the future.
Current healthcare challenges require reinvigorated frontline staff. The American Hospital Association's 2023 Environmental Scan provides a comprehensive and sobering account of the current workforce crisis, specifically within hospitals. The report highlights the fragility of healthcare workers, which only increased during the COVID-19 pandemic, and the need to strengthen their resiliency and capacity. Can innovation processes provide a possible solution for keeping nurses on the frontline of hospital care?
Innovation defined
The World Health Organization defines healthcare innovation as a process that improves efficiency, effectiveness, quality, sustainability, safety, and affordability. This definition includes "new or improved" health policies, practices, systems, products, technologies, services, and delivery methods that result in better healthcare. At an organizational level, we see innovation as solving problems to create enhanced processes that reduce costs, streamline systems, improve quality, and enhance the work lives of employees. An innovation culture can help re-engage a struggling workforce. A team of nurses working with the nursing research committee at Stamford Hospital sought to do this by adapting the wave of innovation work occurring in academia and professional organizations to our frontline staff.
Hospitals in crisis
In our review of the literature, we found little research or evidence-based information related to the impact of charge nurse development programs on nursing and patient outcomes. What we did find pointed to the positive impact of formalized charge nurse training.
In acute care nursing, a natural tension exists between meeting each shift's challenging staffing needs and keeping the organization moving toward professional growth. The pandemic tested these divergent efforts, which at times resulted in a complete disarray of nursing practices. The sudden influx of patients in March 2020, along with the compounding issues of equipment shortages, changing policies, staff and patient fear, and controlled chaos, overrode standard operating practices. When the smoke cleared, we saw that healthcare teams had used innovation to rapidly create a "new norm" as needed. Can this same spirit of innovation support post-pandemic nurses to reinvigorate their joy of nursing? Can it refresh their weariness and equip them to address the ongoing healthcare crisis?
Our team at Stamford Hospital developed a 2-year proposal focused on introducing the concept of healthcare innovation, implementing strategies, and sparking nurse excitement in new learning opportunities. Through nursing conferences and publications, we explored the concept of innovation and how to operationalize it for our staff.
The literature highlights initiatives to promote innovation at the University of Pennsylvania School of Nursing, University of Connecticut, Kaiser Permanente, and Brigham and Women's Hospital. Strategies, such as gathering teams for "hackathons", have become popular. A hackathon is a hosted event where people from a range of backgrounds (such as nurses, engineers, educators, and entrepreneurs) collaborate to "hack" (devise a solution to) a specific problem within a short period of time. Our team found this strategy especially intriguing.
We're rolling out our project in two phases—introducing innovation to frontline staff and planning for the future.
Phase 1: Innovation for the frontline
Stamford Hospital is a 305-bed community teaching hospital located 30 miles from New York City. As a hospital that's received Magnet® designation, we're dedicated to providing excellent patient care and creating a rich environment of nursing professionalism. The organization has invested significant resources to support nursing research, evidence-based practice, shared governance, and mentorship.
In 2021, the team introduced the concept of innovation as a next focus for enculturation. We began by expanding our knowledge of the many concepts of healthcare innovation. This venture aligned with the strategic goals of Magnet and the American Nurses Association's vision of fostering and disseminating nurse-focused innovation. We proposed introducing the concept of innovation to nurses over 2 years. To ensure we attracted direct care nurses, we planned to implement multiple strategies to inform them about innovation, highlight national initiatives, and encourage working together to develop resources for our organization. We also were sensitive to the daily demands of staff, management, and other leaders. A small group developed the detailed plan of strategies, outcomes, and resources, which nursing leaders, nursing governance, and the chief nursing officer supported.
The project leaders began by diving into the many resources available on healthcare and nursing innovation. Searching literature, reviewing national professional organizations' sites, and networking proved valuable. Early in the process, the project team connected with a board member of the Society of Nurse Scientists, Innovators, Entrepreneurs and Leaders (SONSIEL), who provided an important entry point to the national landscape of innovation. With SONSIEL's support, as well as other sources, we identified goals, interventions, outcomes, and deliverables. We also created strategies for exposing nurses to the various aspects of innovation. (See Resources.)
Phase 1 of our project focused on creating enthusiasm, increasing knowledge, offering activities, and collecting feedback in a busy community hospital. (See Phase 1 activities and outcomes.)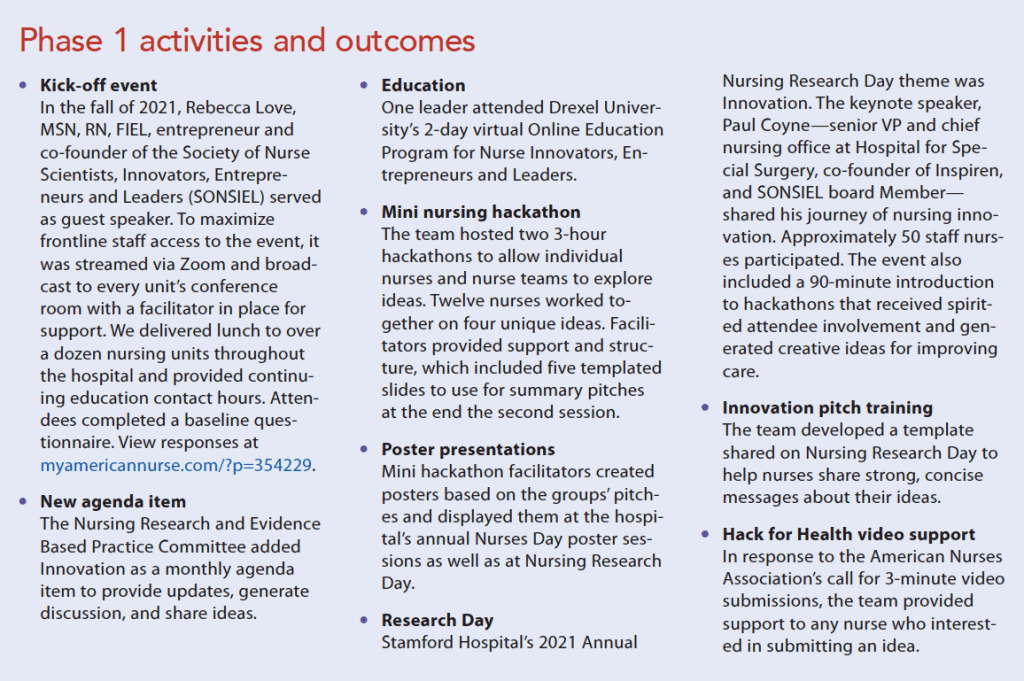 We evaluated interventions as they occurred and incorporated staff feedback and ideas. Innovation is a dynamic concept, so the energy and enthusiasm of the staff served as appropriate guides for moving forward. In reflecting on the completion of Phase 1 via data, as well as participant engagement and feedback, several themes emerged. For example, providing nurses with support to spend time sharing and developing ideas generates positive energy. Although not all nurses have an interest in innovation, those who do appreciate the opportunity to relax in a safe environment to think creatively. Data from the keynote speaker event reinforced what we suspected—that nurses have a keen interest in innovation and want to learn how to get involved. We also found that shared collaborations between academia and practice experts—each of which have unique strengths and outlooks—aid success.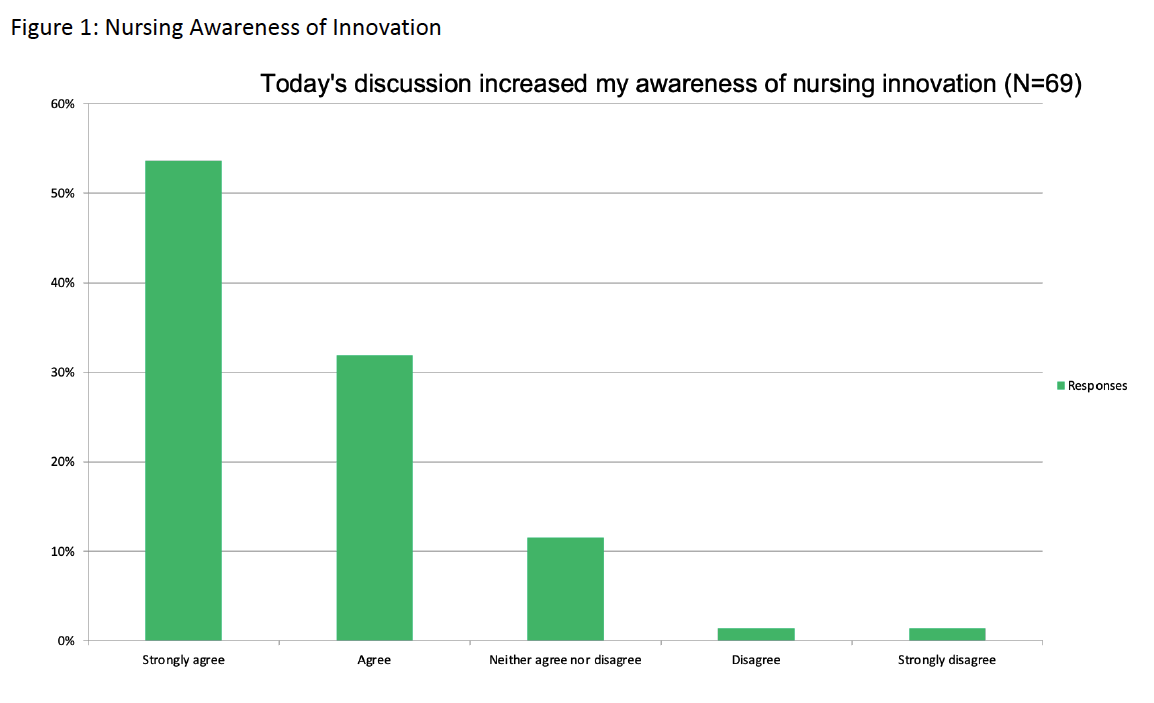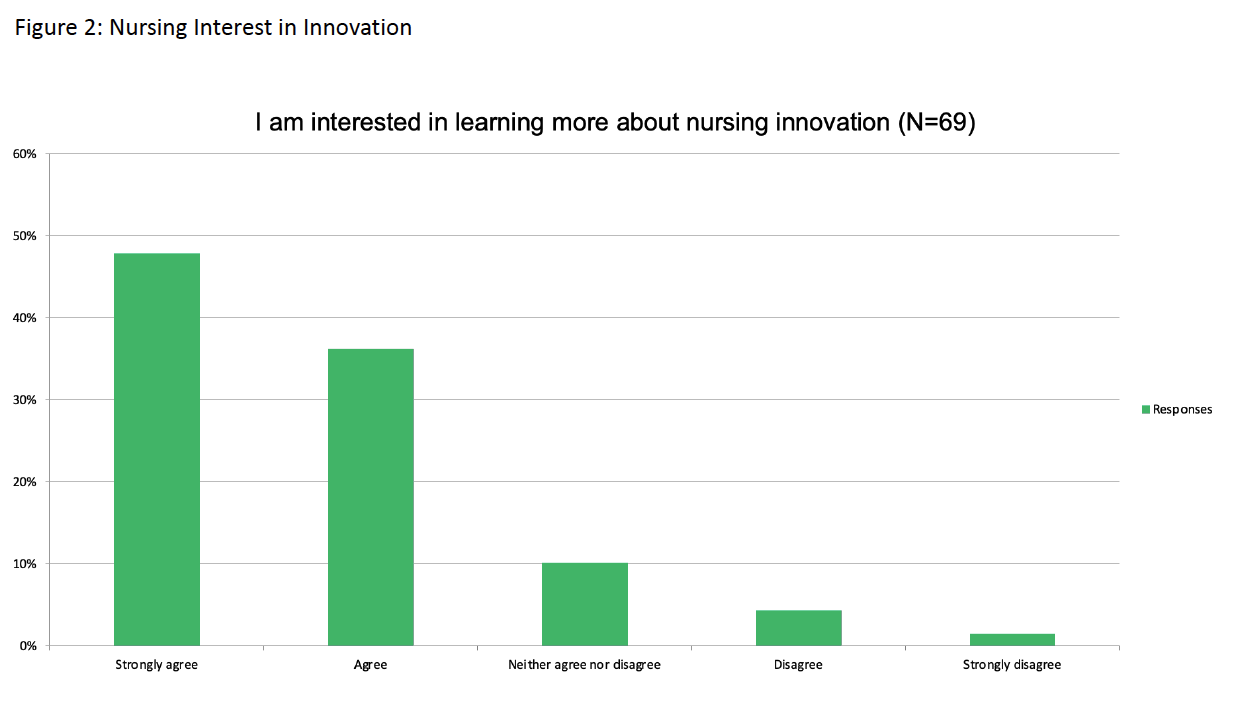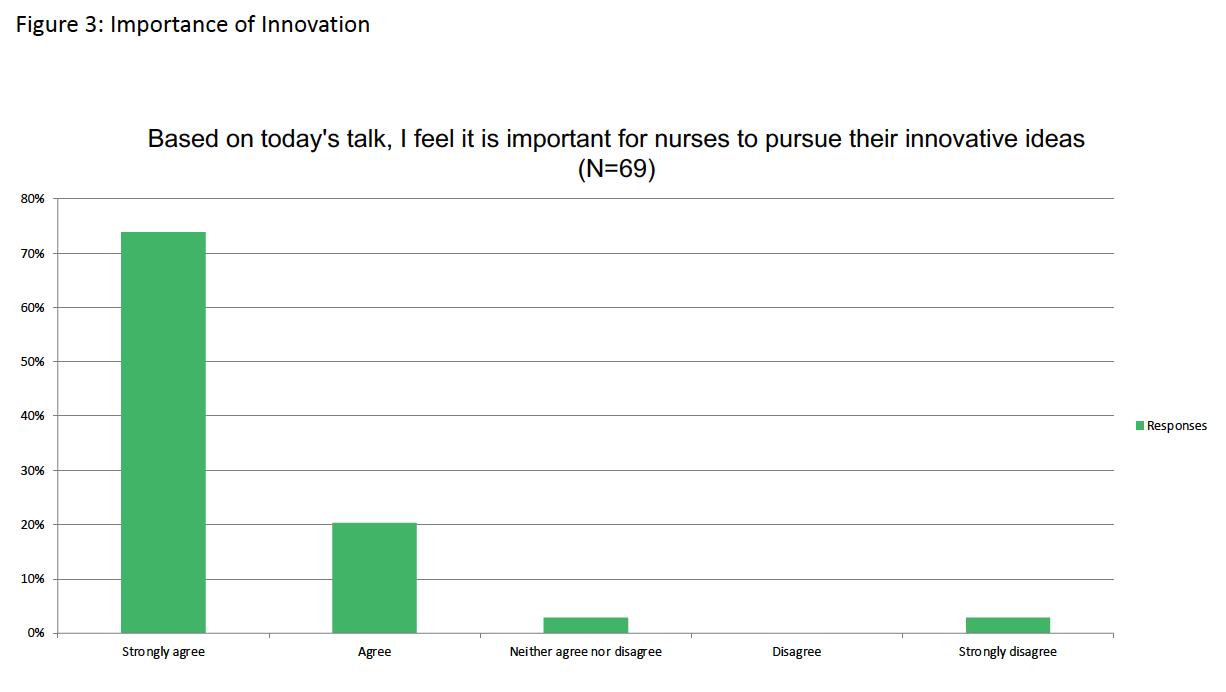 Innovation leader networking has proven beneficial to moving the initiative forward. For instance, the initial keynote speaker invited our team to present to the SONSIEL organization, which created opportunities for additional connections and relationships. In addition, our executive leadership team shared our work with an interdisciplinary team, which then invited us to present to a system-wide group. Having a core group of project leaders to plan and promote innovation has aided its success in a busy clinical environment. Nurses have presented various ideas to implement technology, improve processes, and communication changes—all of which support the broad vision of innovation. (See Phase 1 exemplar.)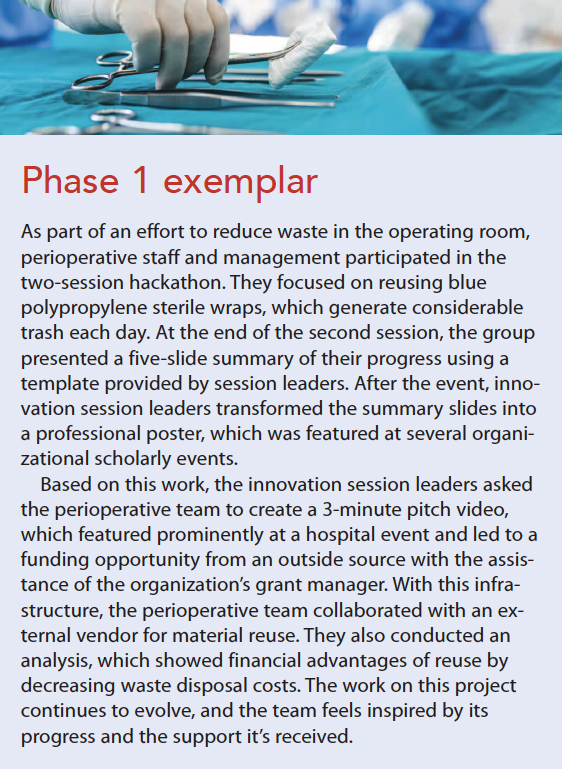 Phase 2: Moving innovation forward
The energy and resources invested in Phase 1 created a foundation with the potential for growth. We'll continue to build capacity for innovation in our culture and develop structures to support nurses' ideas. Phase 1 focused on learning, testing, and stepping back to see what would happen. Feedback from Nursing Research Day's innovation content and the initial hackathon endorsed the team's efforts, and we found encouragement in watching small groups of nurses share ideas and inspire one another.
Phase 2 goals include expanding mini hackathons for interprofessional participation. Although we focused on nursing in Phase 1, our colleagues outside of nursing are vital to our collective work and they're anxious to join us in this journey. Having initial data and deliverables to share with colleagues will strengthen our partnerships. Internationally, interprofessional innovation teams have achieved new heights as the pandemic encouraged more virtual meetings, allowing previously in-person hack­athons to attract new and diverse members. This same concept can be applied in a busy health system. Joining forces with our physician, pharmacist, finance, and other allied health professional colleagues can provide opportunities for generating dynamic ideas. The team looks forward to the energy created when groups gather in person.
Phase 1 allowed the leadership team to identify nurses interested in innovation efforts. We'll continue to support these nurses as they build their knowledge and develop additional ideas. They'll become new resources with a vision of innovation appropriate to the demands of frontline staff.
Sparking joy and passion
Our vision for the future includes supporting nurse-led interprofessional teams and serving as a foundation for positive change. Building an internal infrastructure will allow our team to empower staff to compete for national opportunities. Options on our radar include preparing a 3-minute Nurse Pitch™, participating in the QuickFire Challenge, and supporting staff to apply for the Johnson & Johnson Innovation Fellowship. Creating a vibrant culture that embraces innovation and providing structure and resources to support staff serves as a winning combination. We designed the innovation proposal to gradually introduce the concept and allow for organic growth. We also want to create a culture that hosts a safe space for nurses and others to come together, brainstorm ideas, and solve problems. Stamford Hospital innovation leaders hope to increase nurses' joy and passion for their work.
Resources
Our research uncovered the following innovation resources and programs.
Sally O. Gerard is a professor of nursing at the Egan School of Nursing and Health Studies, Fairfield University in Fairfield, Connecticut, and clinical educator at Stamford Health in Stamford, Connecticut. Christin Joy Lucia is a clinical resource nurse at Stamford Health.
American Nurse Journal. 2023; 18(6). Doi: 10.51256/ANJ062344
References
American Hospital Association 2023 Environmental Scan. aha.org/environmentalscan
American Nurses Association. ANA Enterprise Innovation. nursingworld.org/practice-policy/innovation/
Dion K, Logan S, Davidson PM. What is a hackathon and what the heck does it have to do with Nursing? Johns Hopkins Nursing. July 23, 2019. magazine.nursing.jhu.edu/2019/07/what-is-a-hackathon-and-what-the-heck-does-this-have-to-do-with-nursing
National Academies of Sciences, Engineering, and Medicine. The Future of Nursing 2020-2030: Charting a Path to Achieve Health Equity. nationalacademies.org/our-work/the-future-of-nursing-2020-2030
World Health Organization. Health innovation for impact. who.int/teams/digital-health-and-innovation/health-innovation-for-impact
Key words: innovation, nursing shortage, nurse engagement