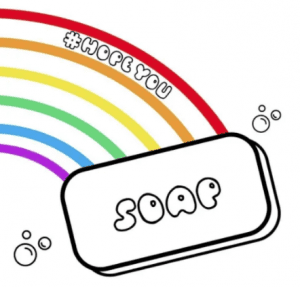 #COVID19 has been an innovation springboard for nurses, especially school nurses like Holly David! She has created a hand hygiene campaign that is clever, memorable, and interactive. #HopeYouSoap began with the simple, but lifesaving premise to spread the importance of handwashing.  It has grown into a vehicle to spread hopeful messages! The #HopeYouSoap Campaign is explained in the words of the creator, school nurse, Holly David!
The #HopeYouSoap campaign began during the Coronavirus crisis by a school nurse to remind students to properly wash their hands. The campaign grew and now it's logo acts as the bridge linking children who gained hope to people that need hope.
The goal of the campaign is for those in the community who want to write messages or draw artwork and have their messages received by those that might need to read or see them the most. Those first responders or those down are feeling challenged by the crisis can receive the message delivered directly to them by the campaign.
The rainbow became an overnight symbol when the crisis started. It was found on the windows, doors, and storefronts nationwide as a symbol of hope. Originally this school nurse wanted to use the symbol as an anchoring message upon school return as a poster reminder in public bathrooms to wash their hands. All the typical handwashing posters were instructional or plainly said "Wash your Hands" but she wanted to have something that offered a tie into something that brought a happy memory to an oftentimes generic hand washing reminder. Could this drive better compliance? Would this assist with replacing a tragic reminder with a happier memory?
The rainbow has a natural bridge, connecting one side to the other. The campaign has the goal of using the gateway from one side of the rainbow to the other side, with happy memories and messages of hope, to those that need it the most, as well as a reminder to wash your hands. The mission is to find through networks of mental health support practitioners and front line workers avenues of delivering these messages to those that need it the most.
Visit hopeyousoap.com for more information.
Holly David RN; a 25+year winding path of nursing experience. Holly began with OB/GYN where her love of teaching took place, became a hypnobirth educator and certified hypnotist, took on roles in-home care, evolved into sales and administrative roles, and eventually honed her marketing skills with multiple start-up companies. She now says she is in year 8 of her final 25-year path where she found school nursing was the perfect scratch to an itch of finding the perfect career-ending plan.  Nothing would make Holly happier than to be back in the school nurse office caring for students and staff but since the very beginning of the pandemic took on a role with the department of health setting up SOPs for multiple COVID testing sites as well as antibody screening clinics and eventually tackling the nursing home challenges as a result of COVID. Among all these distracting activities she developed and launched the #hopeyousoap campaign. Holly is a proud wife & mom of 2 college-aged sons, huge Mets & Islanders fan, avid photographer, and loves binge-watching lots of great TV. She is always willing to mentor and share with her sister/brother nurses her experiences all with a sense of humor. @NurseHolly89 @hopeyousoap1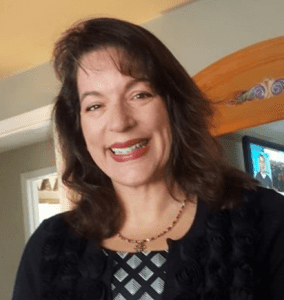 Robin Cogan, MEd, RN, NCSN is a Nationally Certified School Nurse (NCSN), currently in her 19th year as a New Jersey school nurse in the Camden City School District. She serves on several national boards including The American Foundation for Firearm Injury Reduction in Medicine (AFFIRM), a gun violence prevention research non-profit organization and the National Board of Certification for School Nurses (NBCSN). Robin is the Legislative Chair for the New Jersey State School Nurses Association (NJSSNA). She is proud to be a Johnson & Johnson School Health Leadership Fellow and past Program Mentor.
She has been recognized in her home state of New Jersey and nationally for her community-based initiative called "The Community Café: A Conversation That Matters." Robin is the honored recipient of multiple awards for her work in school nursing and population health. These awards include 2019 National Association of School Nurses (NASN) President's Award; 2018 NCSN School Nurse of the Year; 2017 Johnson & Johnson School Nurse of the Year; and the New Jersey Department of Health 2017 Population Health Hero Award. Robin serves as faculty in the School Nurse Certificate Program at Rutgers University-Camden School of Nursing, where she teaches the next generation of school nurses. She was presented the 2018 Rutgers University – Camden Chancellor's Teaching Excellence Award for Part-time Faculty.
Robin writes a weekly blog called The Relentless School Nurse. You can also follow her on Twitter at @RobinCogan.