The impact on nurse and patient satisfaction
Takeaways:
Challenged by the insufficient pipeline of clinical nurses required to backfill the vacancies created by the COVID-19 pandemic, current care delivery models require redesign.
Nurse leaders from a mid-Atlantic 12-hospital health system reviewed best practices for improving unit outcomes and identified a need for modified care delivery models.
A care delivery model redesign, featuring licensed practical nurses) in an expert-led team-based approach was measured for success.
In 2019, Winslow and colleagues highlighted the integral role care delivery models (CDMs) play in a healthcare organization's daily workflow and their direct impact on patient safety outcomes, patient and nurse satisfaction, and healthcare financials. For years, many have pushed to change CDMs to improve these effects, but the COVID-19 pandemic catalyzed change in acute care settings. Throughout the pandemic, nurses faced patient care challenges as a result of limited skilled nurses, the widening transition-to-practice gap, and the rapid increase in patient acuity. These factors, described by Beckett and colleagues, led to the implementation of team nursing models.
Campbell and colleagues challenge nurse leaders to rethink their work culture and develop new CDMs to build and maintain high-functioning teams. Research demonstrates that an effective relationship among interprofessional team members serves as the foundation for all CDM success. Nurse leaders at a health system in Southeastern Virginia understood the potential benefits to nurse and patient outcomes of modifying CDMs. They recognized that teamwork, delegation, and communication among RNs, licensed professional nurses (LPNs), and unlicensed assistive personnel (UAPs) must play a role. (See A national problem)
A national problem
Acute care facilities have long faced a nationwide nursing shortage. The pandemic compounded the problem with increased workloads, employee burnout, departures of experienced nurses, the widening new nurse transition-to-practice gap, and competitive pay for travel assignments.
Several studies have examined how the pandemic contributes to the mental and physical health of nurses and nurses' perception of work.
Lavoie-Tremblay and colleagues noted an urgent need to improve support for frontline nurses and identify a long-term strategy to increase retention.
Poindexter highlighted the "great resignation" during the pandemic.
The American Hospital Association reported a 30% loss in the nursing workforce between 2019 and 2020; the United States will need 200,000 RNs each year to replace retirements alone.
As aging nurses leave the workforce, their valuable experience, efficiency, critical thinking, and leadership skills follow. These retirements result in job openings, which frequently are filled by new nurses with limited clinical exposure. According to Failla and colleagues, a new nurse's perception of their workload remains a significant factor in predicting their intent to leave the organization, and nursing turnover poses financial and workload ramifications for healthcare organizations.
Best practice
Our 12-hospital health system experienced many of the same hardships noted at the national level. In 2022, 46.1% of our nursing workforce was under the age of 35. Nursing turnover within the organization was 18.9%, above the national average. Recognizing the need for an innovative approach, the chief nursing officer (CNO) created a CDM task force and identified three acute care hospitals to pilot modified nurse CDMs.
Nurse executives from these hospitals reviewed their 2021 nursing engagement survey feedback and evidence-based practices to improve support for clinical nurses. The literature identified introducing LPNs into the CDM as a best practice. The task force selected the advisory board expert-led team model for this pilot because of its patient-centered approach, which allows for varying skill levels coordinated by a team leader. This article highlights the impact of the new CDM at one of the three pilot locations—Sentara Leigh Hospital, which has received multiple Magnet® designations from the American Nurses Credentialing Center.
What we did
Hospital nursing leadership identified a 24-bed medical-surgical nursing unit with a cardiac sub-specialty for the pilot. The unit has approximately 60 staff members, including 38 full-time equivalents (FTEs)—20 allocated as RNs, ten as UAPs, and eight as LPNs. The pre-intervention CDM intended that six RNs and three UAPs care for 24 patients. However, staffing shortages typically resulted in four RNs and two UAPs caring for 24 patients.
For the CDM pilot, the hospital hired nine LPNs and introduced them into the model design with staffing grids that allow for four to five RNs, two LPNs, and two UAPs. The addition of LPNs didn't change RN or UAP assignment ratios.
Communication
In the first quarter of 2022, we began the project planning phase, which included educating current staff on the new model, nursing scope of practice guidelines, and appropriate delegation of tasks among roles. The unit manager and educator created presentations and educational materials to distribute to the team using various methods. We held virtual meetings, in-person staff huddles, and brain-storming sessions with unit charge nurses; disseminated weekly updates via email; and created badge buddies with LPN scope-of-practice reminders. To increase interprofessional awareness, unit leaders presented the new model to the hospital management team.
LPN recruitment and training
In the second quarter of 2022, we began recruiting, hiring, and training LPNs using our hospital system's current orientation process and competency tool. Orientation included 10 weeks of training, which comprised computer-based instruction, skills practice in the hospital's simulation center, in-person courses at the healthcare system's college, and one-on-one guidance on the floor with an RN preceptor. Bi-weekly check-ins with the unit educator helped to break down barriers to successful orientation completion. To assess perception of the existing CDM, we surveyed unit staff members via an anonymous survey.
Implementation
The new care model launched in the third quarter of 2022. Staffing constraints required staggering the new model's implementation between the night and day shifts. At the end of the fourth quarter, we disseminated the same anonymous survey to assess staff satisfaction with the new CDM.
How we assessed outcomes
We measured the pilot's success by evaluating nurse- and patient-sensitive metrics during pre-intervention (the second quarter of 2022) and post-intervention timeframes (fourth quarter of 2022). We designated the third quarter as the intervention period (including the pilot "go-live" date).
Measures
The team monitored various metrics to measure the CDM pilot's success. Patient-sensitive measures included falls with injury, catheter-associated urinary tract infections, central line-associated bloodstream infections, Clostridium difficile infections, hospital-acquired pressure injuries, and patient satisfaction scores. We reviewed the unit's Hospital Consumer Assessment of Healthcare Providers and Systems (HCAHPS) scores for questions that might be impacted by the CDM changes.
We conducted an employee survey pre- and post-intervention, which addressed three categories: nursing satisfaction, nursing workflow, and team communication. Respondents rated statements on a 5-point Likert scale. In addition, we reviewed the unit turnover rates to evaluate the pilot's impact on employee retention, comparing 2021 to 2022.
Results
Although the results identified from this quality improvement project can't be deemed statistically significant, the modified CDM pilot improved all metrics measured post-intervention with the greatest improvements related to nursing satisfaction and workflow. Unit staff (RNs, LPNs, UAPs, and administrative assistants) completed the pre- and post-implementation surveys (60.6% participated in the pre-survey and 90% in the post-survey). Results confirmed that adding the LPN role and modified CDM positively influenced the team's perception of job satisfaction, workflow, and team communication. (See Staff respond)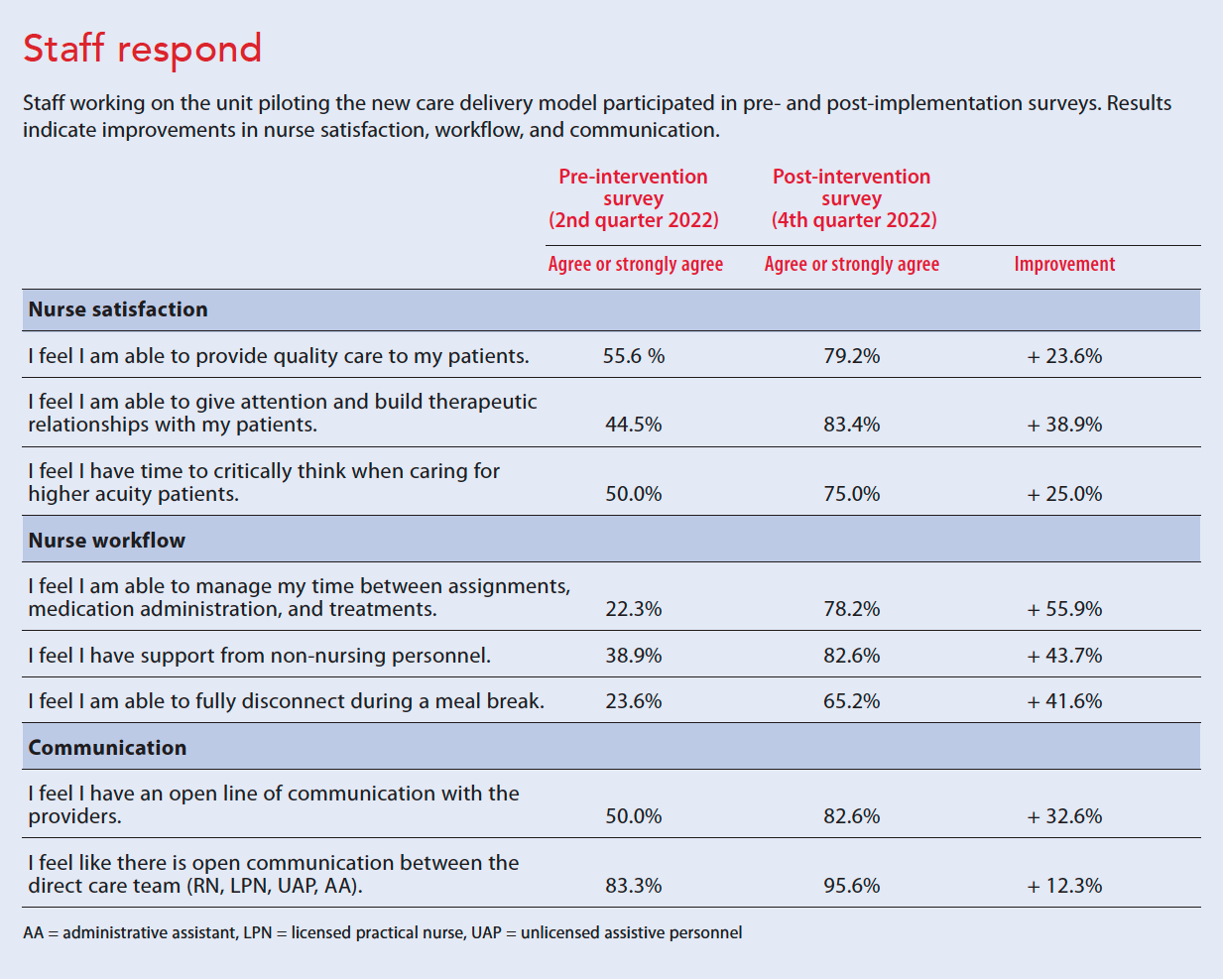 Unit turnover for RNs decreased from 19.2% in 2021 to 5.0% in 2022. Overall turnover (including RN, LPN, UAP roles) went from 17.8% in 2021 to 13.5% in 2022. HCAHPS scores also improved. For example, the score for the statement "Staff work together to care for you" increased more than 13% (from 60.0% to 73.6%). (See Patients respond.)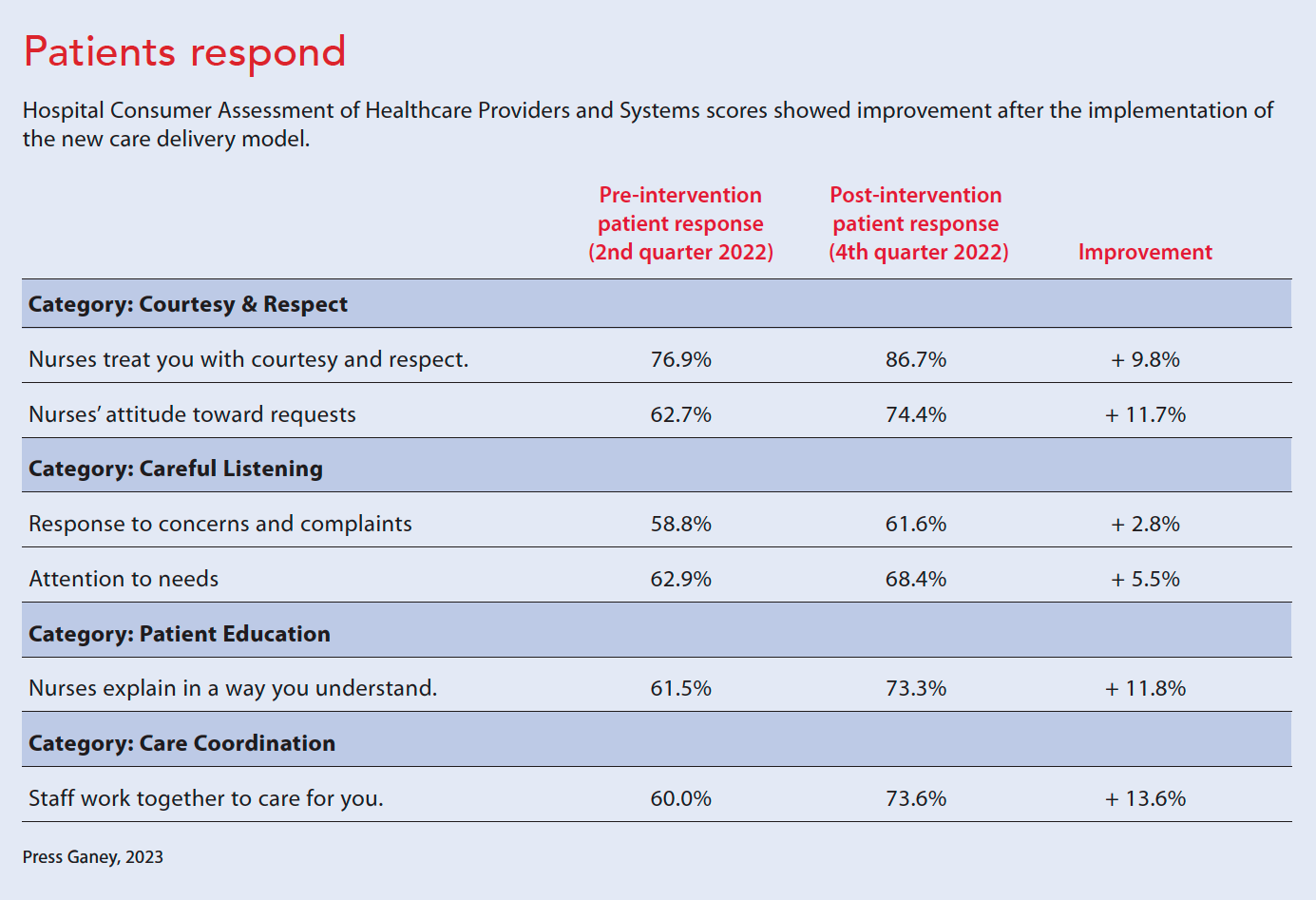 The quality improvement design, location, size, and timing limited the generalizability of our conclusions, and COVID-19 surges during the pre- and post-intervention measurement periods and fluctuating unit census above the unit's standard presented challenges. Despite these issues, the organization intends to build on the successful findings of the CDM pilot by expanding its use throughout other units within the organization and the greater healthcare system.
Fill the gap
When implementing an innovative CDM, nursing leadership must consider several factors, including the nursing workforce skill mix, delegation, supervision, and education. For example, a limited LPN pipeline, staffing constraints that require floating LPNs outside of their home units, limited educational programs, and less-than-competitive acute care LPN compensation may create barriers to recruitment and retention. More LPN education programs can help promote broadscale acute CDM shifts that support RN staff.
With less clinical experience within the current nursing workforce, hospitals must re-evaluate CDMs. They must look to team nursing to fill the gap and create their own pipeline to sustain a workforce that can provide effective patient care. In addition to providing a more sustainable CDM, team nursing models serve as built-in recruitment plans by providing professional development that leads UAPs and LPNs to become RNs.
The authors work at Sentara Leigh Hospital in Norfolk, Virginia. Teresa E. Bilyeu is a director of patient care services and Magnet® program director. E. Misa Ewing is a director of patient care services. Jennifer B. Kreiser is vice president and chief nursing officer. Jewel T. Burden is a clinical manager. Kelsey P. Jones is a Magnet coordinator.
American Nurse Journal. 2023; 18(9). Doi: 10.51256/ANJ092338
References
Beckett CD, Zadvinskis IM, Dean J, Iseler J, Powell JM, Buck-Maxwell B. An integrative review of team nursing and delegation: Implications for nurse staffing during COVID-19. Worldviews Evid Based Nurs. 2021;18(4):251-60. doi:10.1111/wvn.12523
Boston-Fleischhauer C. Hard Truths on the current and future state of the nursing workforce. Advisory Board. April 20, 2023. advisory.com/topics/nursing/2022/02/hard-truths-on-the-current-and-future-state-of-the-nursing-workforce#
Campbell AR, Layne D, Scott E, Wei H. Interventions to promote teamwork, delegation and communication among registered nurses and nursing assistants: An integrative review. J Nurs Manag. 2020;28(7):1465-72. doi:10.1111/jonm.13083
Failla KR, Pelletier LR, Ecoff L, Stichler JF. Newly licensed nurses' stress and intent to leave during a pandemic. J Nurses Prof Dev. 2023;39(1):44-50. doi:10.1097/nnd.0000000000000958
Haddad LM, Annamaraju P, Toney-Butler TJ. Nursing shortage. StatPearls. February 13, 2023. ncbi.nlm.nih.gov/books/NBK493175
Havaei F, Dahinten VS, MacPhee M. Effect of nursing care delivery models on registered nurse outcomes. SAGE Open Nurs. 2019;5. doi:10.1177/2377960819869088
Havaei F, MacPhee M, Dahinten VS. The effect of nursing care delivery models on quality and safety outcomes of care: A cross‐sectional survey study of medical‐surgical nurses. J Ad Nurs. 2019;75(10):2144-55. doi:10.1111/jan.13997
Lavoie‐Tremblay M, Gélinas C, Aubé T, et al. Influence of caring for COVID‐19 patients on nurse's turnover, work satisfaction and quality of care. J Nurs Manag. 2021;30(1):33-43. doi:10.1111/jonm.13462
Poindexter K. The great resignation in health care and academia: Rebuilding the postpandemic nursing workforce. Nurs Educ Perspect. 2022;43(4):207-8. doi:10.1097/01.nep.0000000000001003
Prentice D, Moore J, Fernandes B, Larabie E. Nursing care delivery models and intraprofessional collaborative care: Canadian nurse leaders' perspectives. SAGE Open Nurs. 2022;8:23779608221133648. doi:https://doi.org/10.1177/23779608221133648
Sharif Nia H, Arslan G, Naghavi N, et al. A model of nurses' intention to care of patients with COVID-19: Mediating roles of job satisfaction and organizational commitment. J Clin Nurs. 2021;30(11-12):1684-93. doi:10.1111/jocn.15723
Virkstis K, Boston-Fleischhauer C, Rewers L, et al. 7 executive strategies to stabilize the nursing workforce. J Nurs Adm. 2022;52(4):194-6. doi:10.1097/nna.0000000000001129
Weldon D. The great resignation's toll on healthcare. Healthleaders. March 16, 2022 healthleadersmedia.com/human-resources/great-resignations-toll-healthcare
Winslow S, Cook C, Eisner W, Hahn D, Maduro R, Morgan K. Care delivery models: Challenge to change. J Nurs Manag. 2019;27(7):1438-44. doi:10.1111/jonm.12827
Key words: licensed practical nurse, LPN, team care delivery model