Reap the benefits of retention, innovation, and a safe workplace.
Takeaways: 
Research indicates that Magnet-recognized organization have better outcomes related to lower error rates, fewer healthcare-acquired infections, and lower patient mortality rates. 
An organization's focus on professional development, workplace safety, and innovation can help improve nurse retention. 
Healthcare organizations around the world face mounting pressure to improve nurse satisfaction and retention, practice protocols, unit effectiveness, work environment, and patient results. Increasingly, they turn to the American Nurses Credentialing Center's (ANCC) Magnet Recognition Program® for the framework to meet these challenges. Magnet® is a model with proven results. Based on the findings of pioneering nurse researchers more than 35 years ago, the program continues to thrive as the highest international acknowledgment of nursing excellence and a reflection of healthcare organization quality.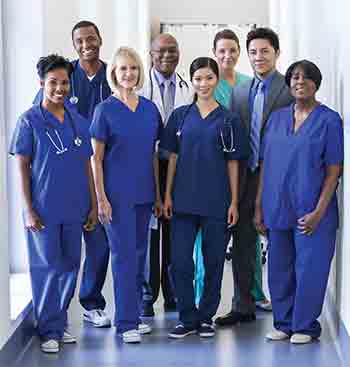 Nurses who practice in Magnet environments set the bar for exceptional performance, care, and outcomes. They work in supportive, patient-focused settings that feature practice autonomy and clinical authority, professional development opportunities, shared decision-making, strong inter-professional relationships, abundant clinical resources, and a commitment to evidence-based practice and continuous quality improvement. Innovations in patient care, nursing, and the practice environment are hallmarks of these organizations; they aren't afraid to try new ideas, and nurses are encouraged to explore the safest and best practices for their patients.
Research continues to show that, compared to nondesignated hospitals, Magnet hospitals have better outcomes, including lower error rates, fewer healthcare-acquired infections and patient falls, lower patient mortality rates, and higher nurse satisfaction and retention. A beacon for nurse retention Attracting and retaining excellent nurses is a major focus as healthcare faces a worsening nursing shortage. At Sharp Grossmont Hospital, Magnet shines as a beacon for nurse retention. It provides the foundation for a desirable environment that helps us recruit, train, and keep a high-quality nursing workforce.
Magnet's focus on professional development meets the needs of today's nurses. More than any previous generation, millennial RNs are eager to advance themselves and their careers, and Magnet gives them that opportunity. At Sharp Grossmont, 82% of our 1,700 nurses now have BSNs and many more are pursuing MSNs and even PhDs and DNPs. In our 12 years as a Magnet-recognized hospital, we've created a robust shared governance structure that gets nurs- es involved at every level—from unit practice councils to hospital-wide councils and system boards. As a result, we've significantly improved our National Database of Nursing Quality Indicators® RN survey nursing satisfaction and engagement scores. Results are particularly good in the area of RN involvement in care design and changes to their professional practice.
At orientation, when we ask new nurses why they chose to work at Sharp Grossmont, the overwhelming response is, "Because you're a Magnet hospital." These nurses understand the principles of Magnet and what it means to work in an environment devoted to them and their professional development. Although I believe Magnet recognition makes recruiting nurses easier, I think it makes an even greater impact on retention. In the end, no matter how many nurses you hire, seeing how Magnet is lived every day in your organization is what keeps them working with you.
An environment of innovation
Nurses on the front lines are the best experts to initiate and implement innovative solutions. So, how can we encourage them? Ultimately, it depends on highly engaged, professional RNs who feel that the nursing world is their oyster, that opportunities for growth are abundant, and that their voices are heard in every aspect of care. Magnet meets these expectations by helping RNs understand the important role that nursing practice outcomes have for patients. At Sharp Grossmont, we've built an environment where innovation flourishes on the units and where nurses can develop new concepts for practice improvement, research them, and then implement them. This level of empowerment raises satisfaction. And satisfied, engaged nurses who feel supported in their practice realize their full potential and produce the best results.
A safe place to practice
The Magnet framework is crucial to meeting an- other of healthcare's most pressing challenges: creating a safe, supportive workplace environment. Violence in the workplace is a national issue, and healthcare organizations are at the epicenter. The issue was embraced by Sharp Grossmont and taken on as a challenge to resolve for our staff's and patients' well-being. (See Reducing workplace violence: A success story.)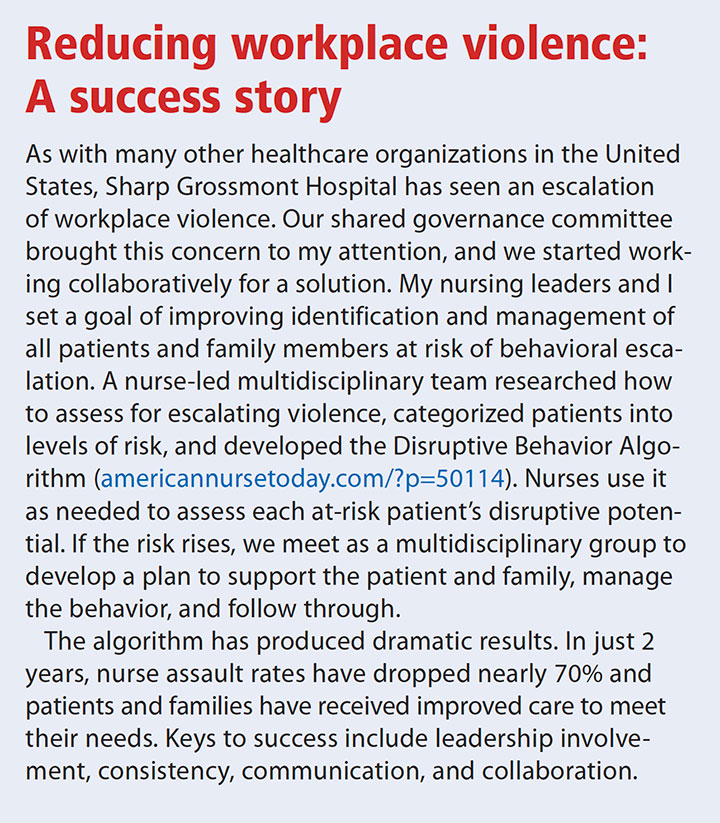 The Magnet journey: A trip worth taking
As we grapple with an increasingly complex healthcare environment and heightened quality and safety imperatives, how can we continue to attain  new levels of service and sustainability? For Sharp Grossmont, Magnet is the answer. It puts us in an excellent position to advance the fundamental principles that will overcome any challenge.
Magnet creates a place and a way to work together that improves patient outcomes. It unleashes the clinical nurse's power to make decisions that benefit patients, and it promotes advancement in nursing education, shared governance, and strong nursing research.
As a chief nursing officer, I appreciate that Magnet helps my nursing team avoid distractions and focus on what's most important: the development and integration of nursing practice  in  everything we do. Our nurses are eager to move forward, embrace change, and improve the design and delivery of patient care. Every day, they feel pride in what they do.
Louise White is the chief nursing officer and vice president of patient care services at Sharp Grossmont Hospital in La Mesa, California.
Selected references
Barnes H, Rearden J, McHugh MD. Magnet® hospital recognition linked to lower central line-associated bloodstream infection  rates.  Res Nurs Health. 2016;39(2):96-104.
Everhart D, Schumacher JR, Duncan RP, Hall AG, Neff DF, Shorr RI. Determinants of hospital fall rate trajectory groups: A longitudinalas- sessment of nurse staffing and organizational characteristics.  Health Care Manage Rev. 2014;39(4):352-60.
Hickson J. New nurses' perceptions of hostility and job satisfaction: Magnet versus non-Magnet. J Nurs Adm. 2013;43(5):293-301.
Kalisch BJ, Lee KH. Missed nursing care: Magnet versus non-Magnet hospitals. Nurs Outlook. 2012;60(5):e32-9.
Kelly LA, McHugh MD, Aiken LH. Nurse outcomes in Magnet® and non-Magnet hospitals. J Nurs Adm. 2011;41(10):428-33.
McHugh MD, Kelly LA, Smith HL, Wu ES, Vanak JM, Aiken LH. Lower mortality in Magnet hospitals. Med Care. 2013;51(5):382-8.
Park SH, Gass S, Boyle DK. Comparison of reasons for nurse turnover  in Magnet® and non-Magnet hospitals. J Nurs Adm. 2016;46(5):284-90.
Smith SA. Magnet hospitals: Higher rates of patient satisfaction. Policy Polit Nurs Pract. 2014;15(1-2):30-41.
Staggs VS,  Dunton  N. Hospital and unit characteristics associated with nursing turnover include skill mix but not staffing level: An observational cross-sectional study. Int J Nurs Stud. 2012;49(9):1138-45.
StimpfelAW,  Sloane DM, McHugh MD, Aiken LH. Hospitals known  for nursing excellence associated with better hospital experience for patients. Health Serv Res. 2016;51(3):1120-34.
ant9-Magnet Stories-831