Mindfulness is an increasingly common topic in both popular and professional literature. In clinical populations, evidence suggests mindfulness-based interventions (MBIs) can reduce symptoms linked to various conditions, including cardiovascular disease, cancer, and depression. Among healthcare professionals, mindfulness training can reduce psychological and physiologic stress, emotional distress, and burnout while improving empathy, job satisfaction, and sense of well-being. This article gives an overview of mindfulness and MBIs and discusses how mindfulness practices can benefit nurses both personally and professionally.
What exactly is mindfulness? It's the capacity to intentionally bring awareness to present-moment experience with an attitude of openness and curiosity. It's being awake to the fullness of your life right now, by engaging the five senses and noticing the changing landscapes of your mind without holding on to or pushing away what you're experiencing.
Being mindful doesn't mean stopping your mind from thinking or trying to be relaxed and peaceful. Nonetheless, many people who practice mindfulness regularly report feeling more calm and clearheaded. You can develop the ability to be more mindful in everyday life through mindfulness meditation and other mindfulness practices.
Living on automatic pilot
Throughout our lives, we develop beliefs, judgments, and habitual thinking patterns that may result in living in an automatic or habit-driven way. Many of us are on "automatic pilot," with our bodies operating in a routine pattern while our minds are somewhere else—usually anticipating future events or ruminating over something that has happened. This "mindless" way of living can limit how we experience life, the choices we make, and the quality of our relationships. It also can exacerbate feelings of stress.
Mindfulness practices can help us recognize mental habits that limit our understanding of something or restrict our options for action. Consider, for example, how negative self-talk can grip your attention and circle in your mind like a hamster in a wheel. By being able to notice when your mind is engaged in these common but unhelpful thinking patterns, you can bring attention to the feeling of the breath as it's moving in and out of your body or noticing the physical sensations of your body as it is right now. This intentional shifting of the mind to present-moment experience can help interrupt stressful thinking and may enhance your sense of calm and centeredness.
How does mindfulness work?
The mind is busy. It constantly processes memories and plans, rehashes past events, and takes in and pro­cesses information from the senses and internal body. At the same time, it orchestrates the activities that allow us to function in daily life. The mind also must respond to the challenge of our ever-expanding and complex technological environment, which bombards us with a relentless stream of information from electronic devices and social media—increasing our mental distraction and stress.
Neuroscience research shows mindfulness training can enhance the brain regions responsible for attention and executive function (problem-solving and intentional action) while modulating the amygdala, the brain area that identifies threats and triggers such emotional responses as fear and anger. Mindfulness practices can enhance your ability to pay attention and notice what's actually happening, particularly in stressful situations. This ability to notice attentively and see situations more clearly can help you respond thoughtfully rather than react. This has particular relevance for nurses in terms of self-care and optimal care of patients.
Learning to be more mindful
In 1979, Jon Kabat-Zinn at the University of Massachusetts Medical School developed the seminal mindfulness training program known as mindfulness-based stress reduction (MBSR), in an attempt to reduce suffering in patients with chronic pain. This highly structured, 8-week group program includes training in exercises to increase the capacity to be more mindful. Core mindfulness practices in the MBSR program include the body scan (learning to mentally tune in to body sensations), gentle yoga (moving the body with attention and kindness), and breath awareness (focusing on the sensations and experience of breathing). Research examining the effects of MBSR training found significant improvements in the health and well-being of participants with various medical conditions.
Hundreds of hospitals, universities, and community settings across the country and around the world offer MBSR training. Also, MBSR and other related MBIs have been developed to target specific nonclinical populations, such as business leaders, professional sports teams, schoolteachers, and students. Instructional books, websites, compact discs, and personal device applications are available to help people learn more about mindfulness practices.
Mindfulness and nursing
How can mindfulness help nurses? Greater awareness and less distraction in the clinical setting can improve your assessment skills (for instance, allowing you to identify subtle changes in a patient's condition) and your performance of complex technical procedures that may reduce the risk of clinical errors. Mindfulness can enhance your communication with patients and other healthcare team members by bringing a greater awareness to how and what others are communicating. Listening and speaking with greater attention can lead to more effective communication and better clinical outcomes, particularly in crisis situations.
Moreover, research shows mindfulness training can help nurses cope more effectively with stress and reduce the risk of professional burnout. One randomized, controlled trial of nurses found those who participated in an 8-week mindfulness training program had significantly fewer self-reported burnout symptoms, along with increases in relaxation, mindfulness, attention and improved family relations, compared to nurses in a control group. (See Developing a more mindful nursing practice.)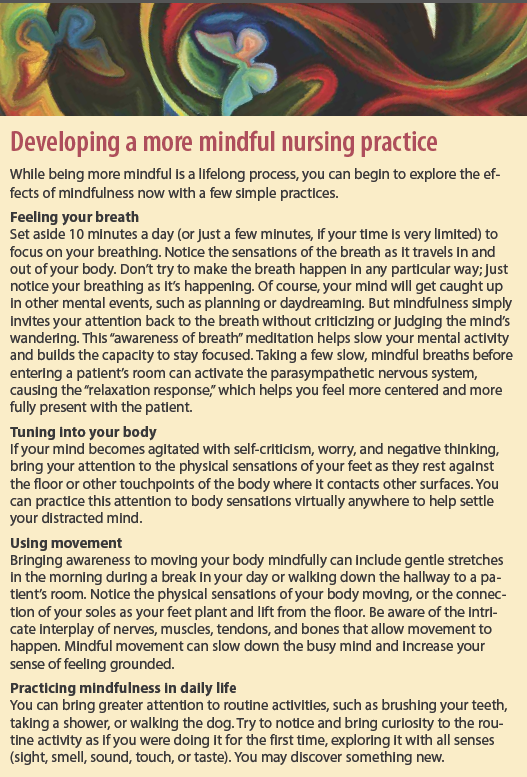 Wiser and more compassionate care
Mindfulness is a way of living with greater attention and intention and less reactivity and judgment. You can learn and develop mindfulness through regular mindfulness practices. Consider integrating mindfulness into your self-care plan to reduce stress and minimize burnout.
Being more mindful and bringing receptivity to whatever is happening can deepen your understanding of clinical situations, relationships with colleagues, and ultimately yourself. With this understanding comes the possibility of providing wiser and more compassionate care for your patients and yourself.
Lois C. Howland is an associate professor at the University of San Diego and a senior teacher at the Center for Mindfulness at the University of California, San Diego. Susan Bauer-Wu is the director of the Compassionate Care Initiative and the Tussi & John Kluge Endowed Professor in Contemplative End-of-Life Care at the University of Virginia School of Nursing in Charlottesville.