In 2013, a provision of the Patient Protection and Affordable Care Act of 2010 (ACA) included the concept of value-based purchasing, a payment method where providers are held accountable for the quality and cost of the healthcare services they provide through a system of rewards and consequences based on achieving prespecified performance measures.
Value-based payments to hospitals during 2012-2014 are based on 17 clinical outcomes and 8 measures of patient perception assessed through the Hospital Consumer Assessment of Healthcare Providers and Systems (HCAHPS) survey. The 8 consumer based measures include 2 questions regarding communication between patients and the nurses and physicians. Communication is, therefore, an important measure of patient satisfaction and a factor in determining hospital reimbursement.
Communication also has been cited as a primary factor in poor patient outcomes, medical errors, and patient dissatisfaction. Improving communication between the nurse, the physician, and the patient is a key element in process improvement to attain quality outcomes and patient safety.
As part of a quality improvement project conducted in an 82-bed acute care facility in South Carolina, we found that standardized nurse-physician rounding improved patient satisfaction as measured by HCAHCPS scores. This article provides an overview of the project and results.
Planning
We retrieved monthly satisfaction scores for nurse and physician communication from the HCAHPS database for 12 months before implementation to use as a baseline measure for determining improvement.
All mentally competent patients, 21 years and older, discharged from the 36-bed medical/surgical floor on the hospitalist service were included in the study. Each patient received an HCHAPS survey sent to the home following discharge. Survey results were reviewed and tabulated by an outside agency and were available to the facility on a monthly basis.
Process
After receiving institutional review board approval and having nurses and physicians complete an education program about the project, we implemented the new rounding process in May 2013. The primary nurse accompanied the hospitalist during morning patient rounds. A defined communication format (see Rounding tool.) was used to guide patient, physician, and nurse communication.
Rounding tool
The intervention used the P.A.T.I.E.N.T.© format, developed by Johnson, for nurse/physician rounding:
P– Plan of care discussed with the patient and family.
A– Anticipated discharge/transfer is reviewed with the patient and family.
T– Tests/diagnostic results are discussed with the patient and family.
I– Issues/concerns identified by the patient are resolved.
E– Explanation of medications, diagnosis, and prognosis with the patient and family.
N– Nurse provides feedback regarding assessment and pain control.
T– Thank the patient and encourage patient and family to write down questions.
To ensure compliance, nurses used an orange checklist to list patient rooms and note if rounds were made with the hospitalist on a daily basis. The charge nurse collected the checklists at the end of the day shift. A list of the hospitalist's patients was obtained and compared to the nurses' checklists and a daily compliance rate was entered into a spreadsheet.
The hospitalist group consisted of five board certified physicians in both internal medicine and pediatrics and one physician board certified in internal medicine only. Because inpatient pediatrics and newborn services tend to be unpredictable, it was difficult to set a daily formal time for rounding. Rounding dropped slightly during the months of the study; however, rates remained above 70%.
Results
The first month's data were not included in the analysis to allow for the learning curve. The data analyzed were collected during June, July, and August of 2013. A total of 657 surveys were mailed to discharged patients' homes during the project time frame, and 260 surveys were returned, for a return rate of 39.6%.
Monthly results were obtained in aggregate format and demonstrated positive results. Patient satisfaction with both nurse and physician communication increased (see below).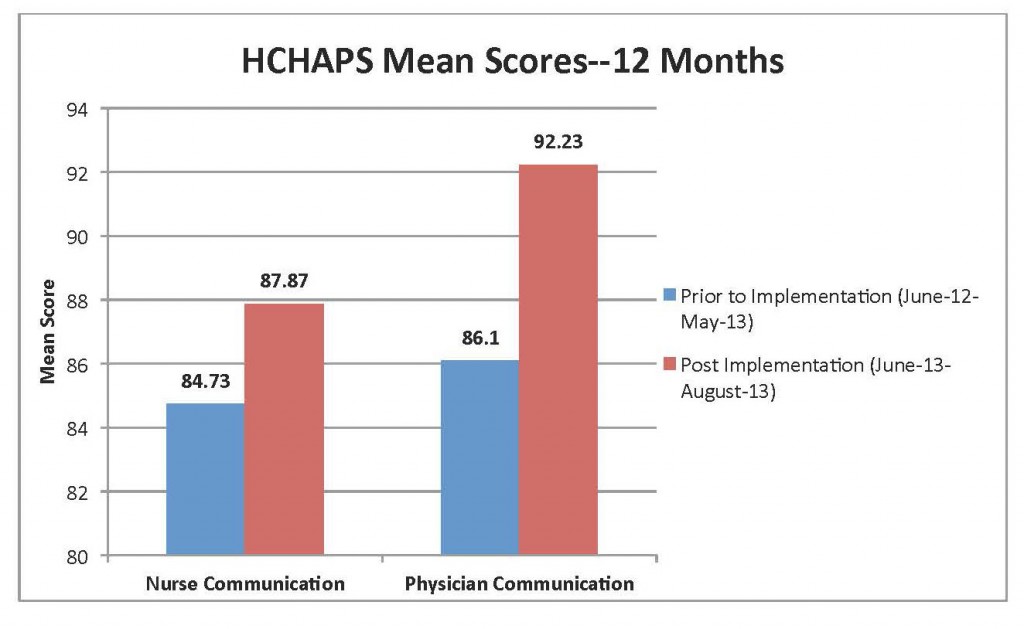 The largest increase was in the physician communication domain. The returned surveys indicated patient satisfaction improved by more than 6% with physician communication. Positive results from the 3-month project were realized when compared to baseline composite score for the previous 12 months of survey data (see below).

The results suggest that patient satisfaction with nurse and physician communication was positively affected when the nurse and physician made patient rounds together using a specific tool. This is consistent with findings in the literature supporting nurse-physician rounding on patients together or in combination with other members of the healthcare team and using communication tools had positive outcomes in acute care facilities.
Improving satisfaction
As hospital reimbursement continues to be tied to achieving federally mandated measures, leaders are searching for successful methods to both improve and sustain high-quality healthcare outcomes and patient satisfaction. Structured nurse-physician rounding on patients may be one method for improving patient satisfaction scores.
Bonne T. Johnson is chief nursing officer at Greer Memorial Hospital in Greer, South Carolina. Brian T. Conner is assistant professor of nursing in the College of Nursing at Medical University of South Carolina, Charleston.
Selected references
Rau J. Medicare discloses hospitals' bonuses, penalties based on quality. Kaiser Health News. December 20, 2012.
Department of Health and Human Services. CMS: Medicare fact sheet. 2011.
American Hospital Association. Underpayment by Medicare and Medicaid Fact Sheet. www.aha.org/content/12/2012medunderpayment.pdf.
Petersen MA, Blackmer M, McNeal J, et al. What makes handover communication effective? Nurs Manage. 2013;44(1):15-18.
Burns K. Nurse-physician rounds: A collaborative approach to improving communication, efficiencies, and perception of care. Medsurg Nurs. 2011;20(4):194-9.
Chapman K. Improving communication among nurses, patients, and physicians. Am J Nurs. 2009;109(11 Suppl):21-5.
Vazirani S, Hays RD, Shapiro MF, et al. Effect of a multidisciplinary intervention on communication and collaboration among physicians and nurses. Am J Crit Care. 2005;14(1):71-6.
Centers for Medicaid and Medicare Services. HCAHPS Fact Sheet. 2012.
---