Before entering the locker room, a nurse approaches a large vending machine. After swiping his badge, he presses several buttons on a digital screen. He then removes a pair of correctly sized scrubs from a chamber below, ready to be donned for his upcoming shift. Before he is able to access the scrubs dispenser again, however, he will be obliged to return his worn scrubs to the cabinet, thereby maintaining tight control over the hospital's scrubs inventory.
 Scrubs dispensing cabinets, the latest technology in nursing apparel, are eons away from what the earliest professional nurses had to endure. Those nurses were also their own seamstresses and laundresses, making and laundering their uniforms by hand—a feat almost unimaginable today.
The Nurse Uniform: Pride and Propriety
For as long as nursing has been a profession, it has had a dress code. In 1854, Florence Nightingale required nurses headed for the Crimea to wear identical outfits that comprised a grey tweed dress, grey worsted jacket, plain white cap, and short woolen cloak. Over their shoulders the nurses wore a sash embroidered with the words, "Scutari Hospital."
Were these nurses overcome with pride to wear these new uniforms? Hardly. The Crimea nurses characterized their ill-fitting garments as "ugly" and "frightful." Miss Nightingale hoped that the hideous uniforms would protect the nurses from the disorderly conduct of the wounded soldiers they would care for.[1] Later, when she founded the Training School for Nurses at St Thomas's Hospital, Nightingale's probationers wore a simple brown uniform with white apron and cap (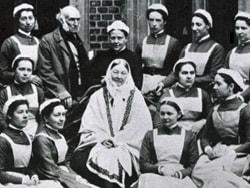 Figure 2. Florence Nightingale(center) with students wearing their St Thomas's probationer's uniforms. Image courtesy of Wikipedia Commons
The ploy of dressing women unattractively to fend off unwanted advances by male patients targeted a real problem. In her book, A Cultural History of the Nurse's Uniform, Christina Bates portrays the nurse's uniform as a necessity at a time when women were entering a male-dominated workforce.[2] Few jobs were available to women, and none that required such intimate contact as touching, cleansing, and manipulating the human body, especially the male body. The early uniform, with its long sleeves; high neck; wide, floor-length skirt; and stiff bib, apron, and cuffs, was like armor—an impenetrable barrier between the nurse and the patient. Many nurse dresses of this era even had a longer train on the rear hem, so that it would cover the nurse's ankles when she leaned over a patient's bed.[2] Like Nightingale's Crimea nurses' uniforms, the typical nurse attire of the late 19th and early 20th century did not invite, or even permit, improprieties.
Other than this, however, what was the point of dressing alike? After all, physicians of the time wore ordinary clothing, and still do. A few theories have been offered about the origin of nurse uniforms. One is that uniforms grew from the association between nursing and the military, with its heavy emphasis on uniforms to establish order, camaraderie, and rank.[3] Another is that uniforms were a modification of the habits worn by the nuns who were the first women to assume the role of nurses.[3] The truth might have been a little of both. In line with the military, a streak of discipline ran through the first nurse training programs, and like the religious orders, many early nurses looked upon their work as "a calling."
Read more of the article at Medscape