Understand the risks of erroneous and incomplete documentation.
Takeaways:
Nursing documentation with incorrect patient information is responsible for up to 72% of all electronic health record-related risk issues.
Disciplinary actions from state boards of nursing may be imposed on a nurse in the event of negative patient outcomes resulting from erroneous or missing documentation.
Nurses can protect their licensure by ensuring their documentation is as complete and accurate information.
Nursing documentation plays a critical role in healthcare. Errors or incomplete information can affect data accuracy and ultimately best practices. Improper documentation also can contribute to adverse, sometimes fatal, patient outcomes. When you document completely and accurately, you reduce your liability risk and have the strongest legal defense in the event of a malpractice lawsuit or licensing board disciplinary action. You face many urgent demands during your shift and charting may seem like a distraction from the work of patient care, but nursing documentation provides essential information to other healthcare colleagues on the patient's care team and fulfills the nursing professional requirement to maintain a complete care record.
Remembering everything that's occurred during a shift and every element of care you've provided to patients is almost impossible, so your documentation serves as the only record detailing patients' clinical status and their response to treatments and interventions. One of the most common mistakes made by novice nurses is documentation errors, which most likely result from their intense focus on perfecting clinical skills. Seasoned nurses, on the other hand, face heavy patient workloads and concentrate on completing care tasks during their shift, which may lead them to put this critical aspect of their professional role on the backburner and result in rushed, incomplete, or missing documentation.
Evolution of nursing documentation
When I began my nursing career in 1990, all nurses wrote shift assessments and nursing care tasks in a narrative note, which could take 45 to 60 minutes to complete at the end of my rounds. It was customary to write with black ink on day shifts, green on evenings, and red on nights. To ensure I had all three colors easily available depending on which shift I worked, I taped the pens together. We began using templates a few years later, which saved time by allowing nurses to simply check off assessment findings rather than writing a narrative note.
The adoption of the electronic health record (EHR) now allows nurses to document by clicking checklists on the computer screen with less narrative documentation required. However, although EHR's provide clinical data for organizations to improve patient safety and evaluate the quality of care, nurses still carry the burden of completing documentation for a large assignment of patients. In 2022, according to Iuppa, inpatient nurses at the Cleveland Clinic spent approximately 123 minutes per shift navigating the EHR.
Document completely and accurately
For over 20 years, my job in quality improvement has involved reviewing patient charts in response to patient complaints or adverse events. Most of these records either lacked pertinent clinical data or vital information about the patient, which didn't support that the nurse had provided appropriate care. For example, to highlight 10- to 15-minute monitoring of the patient during a shift, a nurse might document the following: "patient on the phone," "patient off the phone," and "patient eating dinner." The nurse may have good intentions, but this doesn't provide any information on the patient's clinical status. (See Document clinically, objectively, thoroughly.)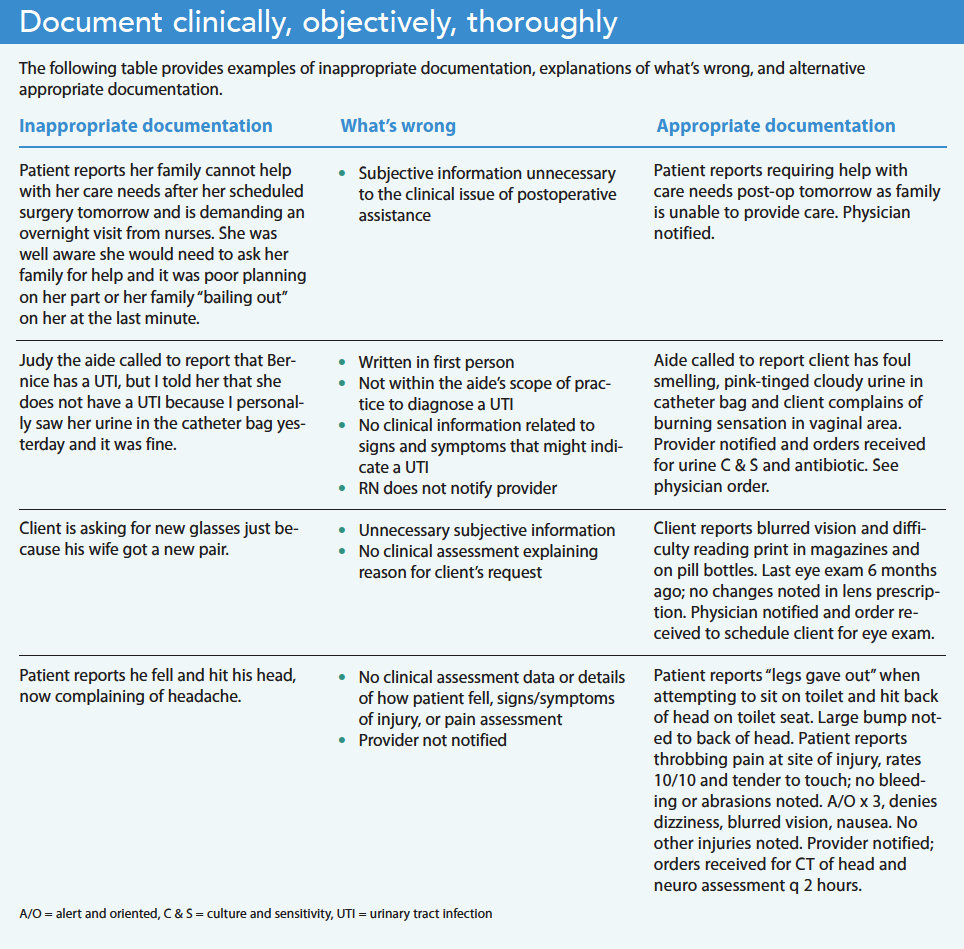 Incomplete documentation also presents a liability risk because it doesn't provide an accurate description of the patient and may result in serious medical error. Consider this documentation: "Patient sitting on edge of the bed, nose bleeding and urinating on the floor." Your first thought might be that the patient is experiencing some form of cognitive decline that jeopardizes their safety. This account doesn't provide any relevant clinical details to explain the cause of the bleeding and urinating. A more informative and accurate documentation of the patient's status might read as follows: "Patient is alert and oriented with a small amount of bloody drainage noted to the right side of the nose where the patient picked at an old scab. The patient is having difficulty using the urinal at the bedside with urine spilling onto the floor. A bedside commode was placed next to the bed and the patient was instructed to use it when urinating or to call the nurse for assistance. Patient verbalized understanding." The revised documentation provides not only a precise description of the patient but also important clinical information about the nursing care provided. NurseJournal advises nurses to include the following information when documenting in the EHR:
Patient health status and drug information
Medications that have been given and discontinued
Nursing actions
Changes in the patient's condition
Any orders given regarding the patient's care
Poor documentation and career consequences
Failure to provide accurate and complete documentation puts you at risk of being named in a malpractice lawsuit, which might take years to resolve and may cause fear and a loss of confidence in your ability to practice as a nurse. I've been asked to provide a deposition for a lawsuit only once in my career. I wasn't named as a defendant, but it was still a nerve-wracking experience. Being quizzed vigorously by the prosecuting attorney about a patient I took care of 5 years earlier isn't something I want to go through again. If my documentation hadn't supported the care I provided, the ordeal might have been much worse.
According to liability claim reports published by the insurance provider Coverys in 2021 and the Nurses Service Organization (NSO) in 2020, omissions or errors in nursing documentation were responsible for 72% of all EHR-related risk issues, and the second highest reason for liability claims against nurses. NSO's analysis of the specific types of allegations related to nursing documentation revealed the following:
50% are due to fraudulent or falsified patient records
29% are due to failure to document treatment/care required by regulatory agencies
13% are due to documentation not accurately reflecting patient care
4% are due to inadequate or untimely documentation
Results from a Medscape survey of malpractice respondents found that 14% recognized that better documentation would have helped them avoid a malpractice claim. Many legal experts identify poor documentation (incomplete, inaccurate, or missing) as one of the most common nursing errors committed across the country and recommend that nurses make the effort to document each intervention they perform. In other words, "If it wasn't written down, it never happened."
In addition to legal liability, you also risk suspension or revocation of your license by your state's board of nursing. The National Council for State Boards of Nursing, a nonprofit organization comprised of members from the boards of nursing in all 50 states, reports that cases of practice-related discipline commonly involve a breakdown or error in the nursing process, including failure to accurately document. NSO states: "While missing documentation can impede the ability to defend a nurse in a professional liability lawsuit, fraudulent or falsified documentation can also lead to a state board of nursing complaint."
Investigations by a board of nursing vary by state, and depending on the severity of the allegation may require only a written statement from the nurse in response to the accusation or the board might decide to conduct a full investigation with witness interviews. This process can take several months. Once complete, the board will decide whether to close the case or file formal charges and present evidence at a hearing. Possible sanctions include fines, a reprimand or censure, probation, suspension, or revocation of your nursing license.
Statutes of limitation don't apply to licensure revocation and disciplinary proceedings, so it might be several years before you're notified of an allegation. Disciplinary actions are considered public information and are published in state and national databases, newsletters, websites, and Nursys, the national database for nurse licensure verification.
Address the challenges
Complete and accurate documentation provides a clear picture of a patient's condition and how they're responding to treatment, which then influences providers' care decisions. Nurses face many time constraints and interruptions throughout their shifts that make documentation difficult, but this essential care step is just as important as your clinical proficiency. Nurses, educators, and organizations can take steps to address documentation challenges and ensure excellent quality of care. (See Documentation improvement: All hands on deck.)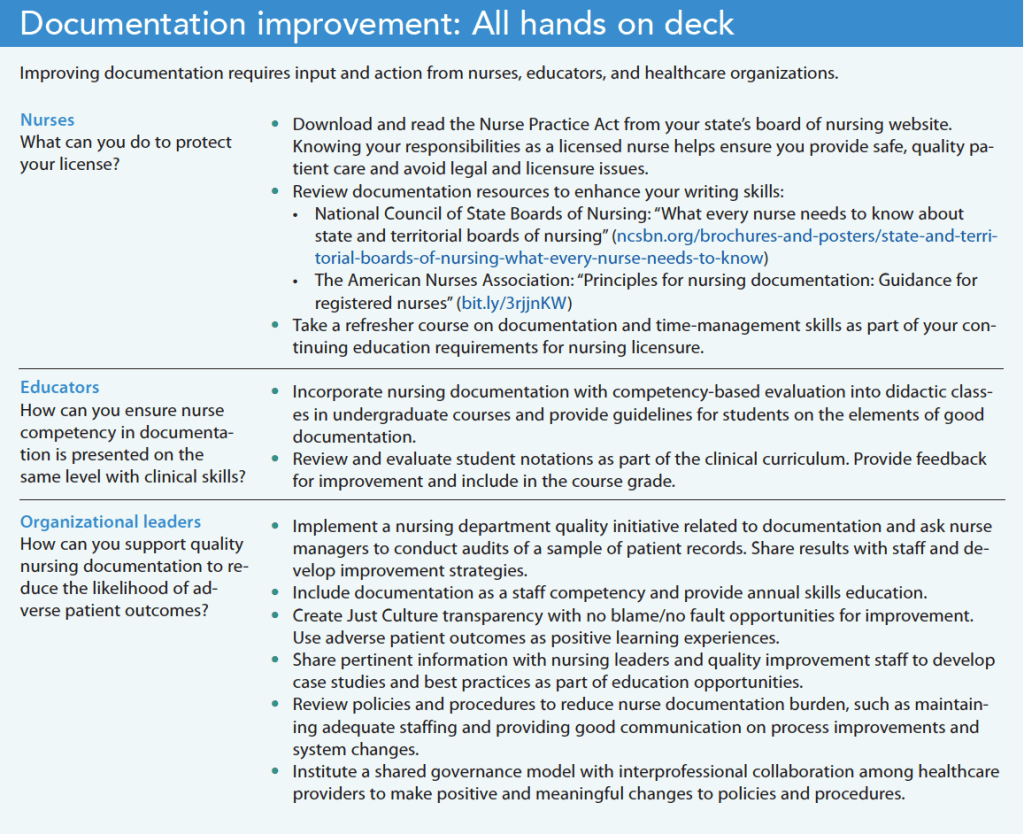 Laura Hankey is director of quality and education at Lutheran SeniorLife-LIFE Programs of Western Pennsylvania in Sewickley.
American Nurse Journal. 2023; 18(8). Doi: 10.51256/ANJ082328
References
American Nurses Association. Principles for Nursing Documentation: Guidance for Registered Nurses. 2010. nursingworld.org/~4af4f2/globalassets/docs/ana/ethics/principles-of-nursing-documentation.pdf
Gallegos A. Medscape malpractice report 2021. Medscape. November 19, 2021. medscape.com/slideshow/2021-malpractice-report-6014604#12
Iuppa N. Improving the electronic health record experience for nurses. Cleveland Clinic. consultqd.clevelandclinic.org/improving-the-electronic-health-record-experience-for-nurses
Leventhal R. Malpractice claims report: EHR documentation errors still far too common. Healthcare Innovation. November 4, 2020. hcinnovationgroup.com/clinical-it/electronic-health-record-electronic-medical-record-ehr-emr/news/21161325/malpractice-claims-report-ehr-documentation-errors-still-far-too-common
McKnight H, Moore SM. Nursing shared governance. Updated September 19, 2022. StatPearls. ncbi.nlm.nih.gov/books/NBK549862/
National Council for State Boards of Nursing. Discipline. ncsbn.org/discipline.htm
Nurses Service Organization and CNA. Nurse Professional liability exposure claim report: 4th edition: Minimizing risk, achieving excellence. 2020. nso.com/Learning/Artifacts/Claim-Reports/Minimizing-Risk-Achieving-Excellence
NurseJournal. The 5 most common mistakes made by new nurses. April 27, 2022. nursejournal.org/articles/most-common-mistakes-made-by-new-nurses
Nursing OnPoint. Nursing documentation. nursingonpoint.com/clinical-resources/documentation-laws-regulations/nursing-documentation/#2
Key words: nursing documentation, quality care, patient safety, nursing licensure