With nurse input, this hospital strives for staffing satisfaction.
Takeaways:
Staffing and scheduling presents some of the greatest challenges for both leaders and clinical staff.
Collaborative efforts around staffing decisions enhance engagement.
Input from direct line staff drive informed change.
By Ann Blankenhorn, MSN, MBA, RN, NEA-BC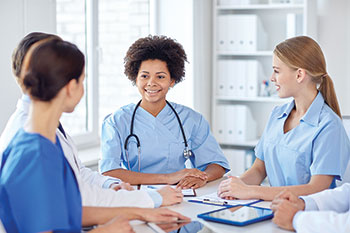 Reading Hospital, a 700+ bed acute care hospital in Reading, Pennsylvania, achieved ANCC Magnet Recognition® in 2016. In October 2017, along with the acquisition of five additional hospitals, the organization became part of the Tower Health System.
As in many organizations, staffing and scheduling practices can be a source of staff satisfaction or dissatisfaction. In 2014, in an effort to ensure staffing satisfaction, nursing leadership formed a nurse-driven staffing and scheduling committee composed of 50% direct-care RNs. We began our journey focused on safe staffing practices, using the American Nurses Association's principles for nurse staffing as our foundation.
The committee first worked to develop a solid charter that identified functions and responsibilities, including:
developing, reviewing, evaluating, and implementing hospital-wide nurse staffing plans
creating recommendations for unit-based staffing teams and identifying opportunities to optimize staffing resources
providing education on topics such as benchmarks (including ActionOI® and the National Database of Nursing Quality Indicators®) and policy.
Building a solid team
The current committee is made up of 65% direct-care nurses and 35% hospital leadership and support staff, including patient care assistants, payroll and electronic staffing system members, representatives from the reassignment team and patient safety, and a member from human resources (HR). We meet once a month for 90 minutes.
The clinical staff provides insight into what's happening in practice and how it's managed throughout the nursing areas. Alignment with interprofessional committee members helps with problem solving and idea sharing. For example, the HR member provides a direct link to that department to identify and quickly address topics such as pay and compensation, as well as policy and practice. Receiving accurate information quickly helps the team better understand problems and solutions and provides transparency to the divisions and units. And with the help of the reassignment team member, we moved the reassignment survey to an electronic format, which lets participants respond anonymously, giving us more open feedback.
Achieving accomplishments
During the last 3 years, we've achieved many accomplishments, including aligning pay to hours, incorporating turnover and vacancy data, creating vacation and holiday time guidelines, standardizing call-off time requirements, and balancing schedules by divisions before posting.
We continue to work to ensure consistent and fair practices for all nursing staff. Currently, we're exploring the following topics:
incentives to pick up extra shifts
best practices related to 12-hour shifts
automated emails for the reassignment survey
staffing effectiveness and safety issues.
For example, the organization offers financial incentives to encourage nurses to pick up an extra shift. However, the staffing and scheduling committee identified that not everyone is motivated by the same thing, so we conducted a brainstorming session to look at what motivates people. We learned that extra paid time off and the ability to reduce accrued attendance points were important to some staff.
Learning lessons
Nurse-driven staffing committees help encourage engagement around the most difficult topic nurse leaders face. Our committee has been very realistic and effective in making difficult decisions that incorporate the greater good of the organization and the patients. Turnover reports for the last 2 years identify the top four reasons for leaving: another job opportunity, family obligations, relocation, and retirement. The committee will continue to identify any connections between global scheduling issues and turnover.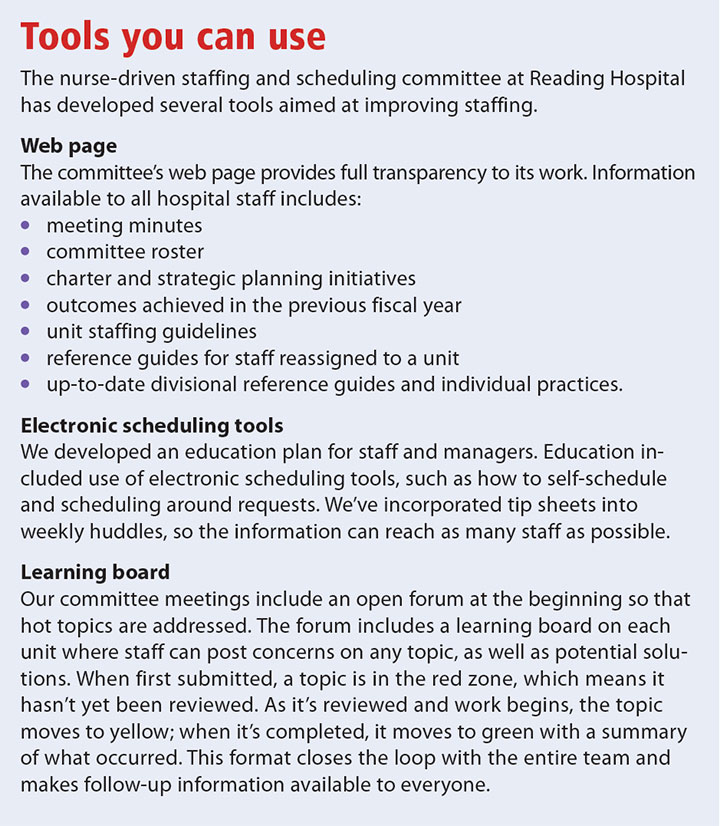 Ann Blankenhorn is the senior nursing director at Reading Hospital in Reading, Pennsylvania.
ant3-Magnet Stories-221