The See You Now Podcast is created in collaboration with Johnson & Johnson and the American Nursing Association. It is hosted by Shawna Butler, a nurse economist, and health technology specialist. I am honored to be a guest on See You Now to discuss COVID-19 and what school re-entry may entail. Thank you, Shawna, and your expert producer, Rebecca McInroy, for amplifying the voice of nursing through your work.
Across the world, students of all ages along with educators and families are part of an unanticipated global homeschooling abruptly introduced by COVID19. While necessary to ensure public safety during a pandemic, closing schools is a difficult and complex decision that has far-reaching implications for students' health, their learning, and their safety. No one is more attuned to those needs than school nurses who, on any given school day, are helping medically fragile and special needs students, and students struggling with anxiety, depression, trauma, food, housing, and economic insecurity. In this episode, we virtually visit Camden, NJ, to meet veteran school nurse, Robin Cogan MEd, RN, NCSN and learn why school nurses should be at the center of re-entry decision making and how school nurses are supporting students and families while uncertainty looms.
The brilliant team behind See You Now:
Shawna Butler is a nurse economist and tech enthusiast. As the creator of the EntrepreNURSE-in-Residence role at Radboud University Medical Center (Netherlands) and part of the Exponential Medicine team at Singularity University (US), Shawna works with the pioneers in the thick of integrating robotics, 3D printing, drones, AI, blended reality, voice recognition, digital humans, big data and sensors into our health solutions and lifestyles. Her clinical experience includes emergency, cardiac, and critical care in large university and small community hospitals, international medical flight transport, and workplace health promotion services.
Rebecca McInroy is an award-winning public media show creator, host, and executive producer. The shows she creates, produces and hosts are all in line with what she thinks is audio's greatest asset; to link the general public to ideas, innovations, conversations, and intellectual and artistic communities around the globe.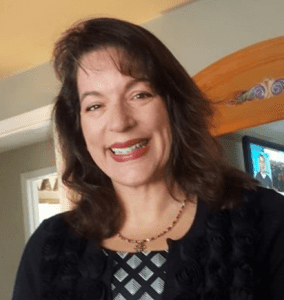 Robin Cogan, MEd, RN, NCSN is a Nationally Certified School Nurse (NCSN), currently in her 19th year as a New Jersey school nurse in the Camden City School District. She serves on several national boards including The American Foundation for Firearm Injury Reduction in Medicine (AFFIRM), a gun violence prevention research non-profit organization and the National Board of Certification for School Nurses (NBCSN). Robin is the Legislative Chair for the New Jersey State School Nurses Association (NJSSNA). She is proud to be a Johnson & Johnson School Health Leadership Fellow and past Program Mentor.
She has been recognized in her home state of New Jersey and nationally for her community-based initiative called "The Community Café: A Conversation That Matters." Robin is the honored recipient of multiple awards for her work in school nursing and population health. These awards include 2019 National Association of School Nurses (NASN) President's Award; 2018 NCSN School Nurse of the Year; 2017 Johnson & Johnson School Nurse of the Year; and the New Jersey Department of Health 2017 Population Health Hero Award. Robin serves as faculty in the School Nurse Certificate Program at Rutgers University-Camden School of Nursing, where she teaches the next generation of school nurses. She was presented the 2018 Rutgers University – Camden Chancellor's Teaching Excellence Award for Part-time Faculty.
Robin writes a weekly blog called The Relentless School Nurse. You can also follow her on Twitter at @RobinCogan.