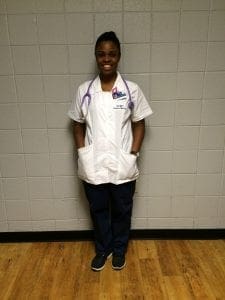 The image displayed above depicts an inexperienced, light-hearted, eager nursing student.  I will never forget the day this picture was taken because it was my first clinical experience. Nevertheless, it was also the beginning of a 2-year journey that involved countless experiences that embodied the popular phrase, "Nurses eat their young."
From medical surgical units to operating rooms, my ears and eyes have been exposed to some of the most disturbing language and behavior while under the wing of the people I have always admired: registered nurses (RNs). Before beginning my clinical experiences in various locations, I imagined I would be welcomed with open arms by the torch holders within my future discipline and profession; however, I was unfortunately devoured more times than not by my authoritarian overseers. In the following paragraph, I will recount an experience that was permanently etched into my mind, and inspired the creation of this article.
While working with an RN during one particular learning experience, I was asked to collect vital signs for all of her patients, which was a total of seven. I entered the room of patient who struggled for air as she responded to my greeting. Once I witnessed this, I immediately assessed her respiratory rate (RR). The first and rechecked respiratory rate was 26 breaths per minute. I gave the vitals sheet to the RN, who told me to chart all the results, making no comment about the abnormal RR.
Shortly after charting the vital signs, the nurse returned to me with a look of disgust. She chastised me for entering the abnormal vital signs, and informed me that she had skimmed over the vital signs, overlooking the abnormal RR. From her perspective, I should have not only circled the abnormal vital sign, but also pointed it out to her. As if the chastisement wasn't enough, she asked me to do something that should never be done: record false documentation. She demanded that I remove the 26 and replace it with an 18. Even though I was nervous about the repercussions later, I told her that I didn't witness the patient breathing 18 times a minute: therefore, I would not change it. Despite my refusal to change the vial sign result, the nurse still took it upon herself to go into the system, enter 18 for the patient's RR, and chart the following phase, "nurse reassessed." At that very moment, my heart sank deeply within me. So many questions raced through my mind. Why did she lie? What if something happens to the patient? What if she needs new orders? Will this nurse tell someone that I was not a good student to work with, and get me removed from this unit because I didn't change the patient's RR? I was so overwhelmed with feelings of fear and disappointment that I went into the restroom and cried.
Too often, situations such as the one described above occur within healthcare facilities, which can affect many novice nursing students' ability to discern the correct and incorrect way to deliver patient care. It is my goal to help put an end to the destructive, practice altering behaviors of many experienced nurses.
If you are an RN, please have an open mind and heart whenever you are asked to work with a student. Remember that you too were once in his or her shoes, and it was not an easy experience. Each time you allow students to work with you during a shift, they are watching your every move. It is left up to you to decide if you want to leave that student with a positive or negative image of what an RN is. Due to the fact that your practices influence the actions of students, you are inevitably partially responsible for the way the student decides to practice later in his or her career. Be mindful of the skills and behaviors you impart on students because they may be using them on you or your loved ones one day.
Each time I witness RNs displaying behaviors that dishonor the nursing discipline and profession, I cannot help but to wonder if they were products of the young devouring nurses who worked with them. Due to the reason above and many others, I vowed to advocate for all patients, welcome any student with welcoming arms, and teach students as much as I can in the time we have together. I refused to be digested by those nurses, and because of that I consider myself to be the regurgitated young.
Jerron Denico Franklin is a native of Memphis, Tennessee, is a May 2016 graduate from The University of Tennessee at Chattanooga with a bachelor of science in nursing.  She will return to her hometown to work at Regional One Health as a graduate nurse while she waits to take the NCLEX in June.