When arterial blood is desired in the research setting, blood obtained from a heated hand using a retrograde venous access device is an acceptable alternative to arterial blood. The "arterialized" venous blood obtained this way commonly is used to collect data required in metabolic research protocols.
The retrograde I.V. method helps address patient safety and comfort concerns and aids recruitment and retention of research subjects. It avoids the need to catheterize an artery, which is unrealistic in our research practice—especially with consenting healthy volunteers, who might be deterred from becoming research participants or subjects. (In our hospital, the scope of practice for arterial catheters applies only to the critical care and trauma settings.)
To be clear, blood obtained with a retrograde I.V. line isn't true arterial blood. It's an arterialized venous sample drawn from a venous catheter placed in the dorsal vein of the hand. The retrograde I.V. line is placed in the direction opposite that of a standard I.V. line, offering a more distal blood collection site.
In June 2012, the authors interviewed Raymond Townsend, MD, professor of medicine and associate director of the federally funded Clinical & Translation Center (CTRC) at the University of Pennsylvania. He explained, "When the hand is warmed, the resulting vasodilatation causes shunting in the arterial-venous system, thereby providing a venous blood sample that nearly approaches arterial values. The retrograde direction of the I.V. catheter—toward the fingers—allows the best estimate of arterial glucose levels when the hand is warmed…The more distally the I.V. line is placed, the closer it's likely to be to arterial-venous shunting."
Clinical procedure
The retrograde I.V. access site must be selected carefully. Usually, we choose a site in the dorsal vein of the nondominant hand. We prefer the nondominant hand because it's essentially immobilized throughout the procedure. This frees the research participant to use the dominant hand as needed—for example, to drink water or use the bathroom.
Immediately before venipuncture, the hand must be warmed to promote vasodilation. Vein selection is important. The ideal vein is one that is straight, healthy, and easily palpable with good quality filling when a tourniquet is applied. Ideally, a 20G catheter is used. The insertion technique resembles that used for a conventional I.V. line, except the catheter is directed counter to blood flow, toward the fingers instead of the heart. Skin preparation using an antimicrobial agent and techniques used for I.V. tubing, dressing, and insertion also are the same as for a conventional I.V. line. The retrograde line may remain capped with 3″ tubing, or an infusion of normal saline solution may be kept running at a keep-open rate. Our retrograde lines are discontinued immediately after all blood samples have been obtained, usually within 8 hours. (See the photograph below.)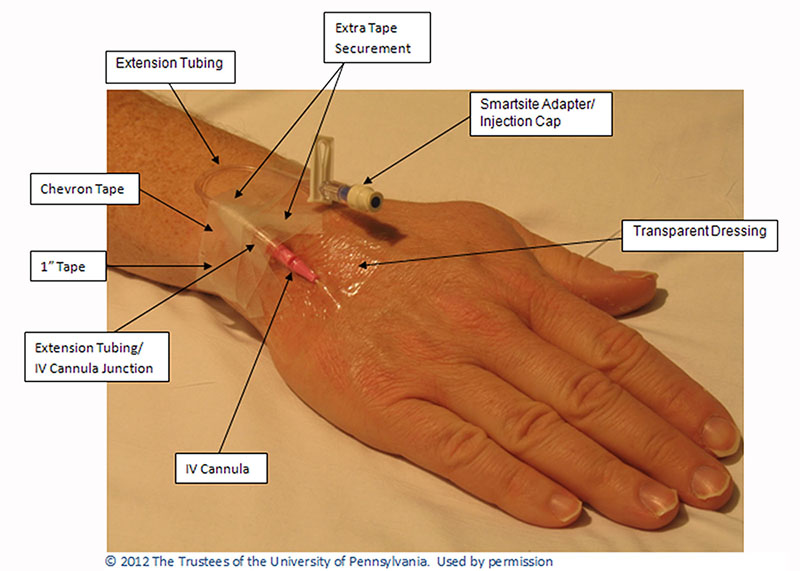 The clinical research nurse has a responsibility to both research participants and the research protocol. In the CTRC, clinical research nurses collect data according to research protocol specification. Retrograde I.V. line insertion is an example of a protocol order made by the study investigator. In 2012, 7 to 22 retrograde I.V. lines were requested per month on our unit. In 2013, 6 to 16 retrograde lines per month were requested for clinical research studies.
Euglycemic hyperinsulinemic clamp technique
The euglycemic hyperinsulinemic clamp technique requires a retrograde I.V. line to collect arterialized blood samples. This research procedure involves clamping the subject's plasma glucose values to a predetermined value by continuous infusion of insulin and glucose. The euglycemic hyperinsulinemic clamp is considered the gold standard for studying insulin sensitivity in humans. Clamp studies are used extensively in research investigating type 2 diabetes, the activity of transplanted islet cells in type 1 diabetes, and targeted hormonal responses.
During the clamp procedure, blood samples are obtained every 5 minutes. After wasting a few milliliters, the clinician obtains a small sample of arterialized blood. The line is then flushed gently again in anticipation of the next sample. In the CTRC, studies requiring retrograde I.V. access typically last from 4 to 8 hours, after which the retrograde I.V. line is removed.
If a retrograde I.V. line fails during a study, we quickly replace it with a conventional I.V. line for blood collection in the easiest site—usually the antecubital vein of the same arm. However, plasma glucose levels in a conventional deep brachial vein I.V. may be lower than in blood collected by the retrograde I.V. line. A note in the study's source documents the different blood collection sites that would therefore be necessary.
Limitations of retrograde lines
Limitations of retrograde I.V. lines observed in our clinical research practice include poor venous access of the patient and positional problems, in which the catheter is patent and flushes easily but a blood sample simply can't be obtained. Also, this method can't be used for medication administration. To avoid inadvertent drug infusion into this fragile I.V. site in an emergency, we apply yellow stickers to retrograde I.V. tubing that state "Blood Draw Only."
Leadership in policy creation
Our hospital policies don't address the nursing practice of inserting retrograde I.V. lines. Therefore, in accordance with Magnet® values of strong leadership, empowered professionals, and exemplary practice, we took the lead in creating a hospital policy.
After review by the nursing practice council (NPC), whose approval is needed for new policy acceptance, the policy titled "Adult Retrograde Venipuncture for Research Subjects in the CTRC" was accepted. It represents what had been the CTRC's clinical practice, plus the previously mentioned yellow stickers as a patient safety alert and specific documentation of these retrograde lines in the inpatient electronic health record.
Creating this new policy to standardize retrograde I.V. insertion is an example of control over nursing practice, defined as nurses' freedom and authority to engage in decision making related to the context of nursing practice, including policies. Nursing work environments with control over nursing practice have been associated with increased performance and improved patient outcomes.
Currently, the practice of using retrograde I.V. lines with heating pads is for research purposes only, with volunteers in research studies who have a good nutrition history and intact skin that can tolerate extended periods of monitored heat application. It's done exclusively in the CTRC and isn't for standard clinical use.
Selected references
Abumrad NN, Rabin D, Diamond MP, et al. Use of a heated superficial hand vein as an alternative site for the measurement of amino acid concentrations and for the study of glucose and alanine kinetics in man. Metabolism. 1981;30(9):936-40.
Brooks DC, Black PR, Arcangeli MA, et al. The heated dorsal hand vein: an alternative arterial sampling site. JPEN J Parenter Enteral Nutr. 1989;13(1):102-5.
Copeland KC, Kenney FA, Nair KS. Heated dorsal hand vein sampling for metabolic studies: a reappraisal. Am J Physiol. 1992;263(5 Pt 1):E1010-4.
Gram AS, Skov J, Ploug T, et al. Biomarkers of coagulation, fibrinolysis, endothelial function, and inflammation in arterialized venous blood. Blood Coagul Fibrinolysis. 2014;25(4):349-52.
McGuire EA, Helderman JH, Tobin JD, et al. Effects of arterial verses venous sampling on analysis of glucose kinetics in man. J App Physiol. 1976;41(4):565-73.
Piché ME, Lemieux S, Corneau L, et al. Measuring insulin sensitivity in postmenopausal women covering a range of glucose tolerance: comparison of indices derived from the oral glucose tolerant test with the euglycemic-hyperinsulinemic clamp. Metabolism. 2007;56(9):1159-66.
Puzantian H, Mosenkis A, Townsend RR. Vascular compliance during insulin infusion and oral glucose challenge. Artery Res. 2013;7(1):36-41.
Schumacher KJ, Leonard EA. Bring on the heat! Am Nurse Today. 2012;7(9):52,54.
Weston MJ. Defining control over nursing practice and autonomy. J Nurs Adm. 2008;38(9):404-8.
Weston MJ. Strategies for enhancing autonomy and control over nursing practice. OJIN. 2010;15(1):Manuscript 2.
Note: Research reported in this publication was supported by the National Center for Advancing Translational Sciences of the National Institutes of Health under award number UL1TR000003. The content is solely the responsibility of the authors and does not necessarily represent the official views of the National Institutes of Health.
The authors work in the Clinical and Translational Research Center at the Hospital of the University of Pennsylvania in Philadelphia. Kathlyn J. Schumacher is a nurse practitioner. Elizabeth A. Leonard is a Clinical Nurse III.