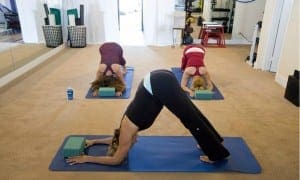 By Caroline Hill
When the weather outside feels frightful—your normal outdoor workout routine starts to feel that way as well. Winter poses a lot of extra challenges when it comes to staying active, especially for busy professionals such as nurses. Lack of daylight, bitter cold, and icy trails make even the most avid-outdoor enthusiast want to hide inside.  But, there's no reason to give up on physical activity until spring—with just a little bit of adjustments and some creativity, you can still get an amazing workout indoors!
Hit the wall.
Is winter making you crawl up the walls yet? Indoor rock climbing is an extremely fun way to get a killer workout. Do some upper and lower body muscle strengthening while having a great time! You can even double the workout as a date or family activity to use the time to spend with your loved ones. For busy people that juggle their personal life activities, this is a great way to put two hobbies into one! Plus, you can burn almost 650 calories an hour from climbing.
"Workout outside?" Namaste right here.
After a long shift on your feet, the last thing on your mind is hitting the gym. Instead, stay in the comfort of your own home and indulge in some relaxing yoga. Yoga is probably the best way to reduce all that stress and fatigue from a hectic day at work. Plus, it's a great way to improve your flexibility and strength.
Jump to it.
Trampolines aren't an outdoor sport just for kids anymore! Now, places like Sky Zone offer great indoor exercise options for those who want to keep warm and add some fun to their exercise routine. In fact, the workout you get from trampoline cardio is much more effective than running—just six minutes of low-impact jumping is equivalent to an hour running. If you think about it on those terms, it can even be a time-effective form of physical activity too. Additionally, if you have kids, it's a great way to get them involved in healthy lifestyles, too. If you don't have the luxury of living near a trampoline park, try finding a trampoline class. Alternatively, you can purchase your own mini-trampoline and use it at home while you catch up on your favorite show.
Turn house chores into cardio.
Regardless of your schedule, housework always needs to be done. In the winter, you can creatively alter those chores into some pretty intensive workout routines. Since there's always going to be laundry that needs folded and carpets that need vacuumed, you may as well get active while you do it! Put on your favorite music and move as fast as you can to burn some serious calories. Plus, the faster you move, the faster your housework gets finished. It's really a win-win. Exercise doesn't have to be such a "chore" because you can add dancing and repetitive movements like "empty the dishwasher" squats or "vacuuming lunges" to pack in an extra punch.
"Virtually" do outdoor sports.
Just because you're playing tennis or baseball on a Wii game, doesn't mean you're not being active. Far better you should get your heart rate up and burn calories playing a fun and active video game than just sitting on the couch watching TV. Just because it's not a traditional form of exercise doesn't mean it isn't! The best way to be healthy is by choosing things that interest you.
When it comes to being active, there's more ways to stay fit than just jogging. It's a lot easier than you think to turn your day-to-day activities into high-energy workouts. It just takes a little bit of rethinking! So until winter ends don't pass up on your chance to positively improve your health routine.
Caroline Hill is a marketing associate and currently writes blogs for several healthcare-staffing resources.  When she isn't busy writing, she can be found exploring healthy recipes, practicing yoga, or enjoying the great outdoors.
EXERCISE AT YOUR OWN RISK: This web site is for informational purposes only. Consult a physician before performing this or any exercise program. It is your responsibility to evaluate your own medical and physical condition, or that of your clients, and to independently determine whether to perform, use or adapt any of the information or content on this web site. Any exercise program may result in injury. By voluntarily undertaking any exercise displayed on this web site, you assume the risk of any resulting injury.