In the clinical setting, nurses base their practice on evidence to improve patient outcomes. It's just as important that our organizational policies are evidence based. After reviewing an article on the image of nursing in American Nurse Today, our organization began to question the professional image portrayed by our nursing staff. After much discussion among nursing leaders, our Nurse Recruitment and Retention Council was charged with evaluating various sources of evidence related to a nursing staff dress code and patient perception. Based on the evidence review, recommendations would be made as to whether the current dress code needed to be changed.

Planning our approach
An Image of Nursing Subcommittee of the Recruitment and Retention Committee was quickly formed, and its members eagerly embraced the charge of reviewing, critiquing, and synthesizing the literature and leveling it for significance. Forty nurses from inpatient and outpatient areas across the health system volunteered for the subcommittee. Using an inquiry model adapted from the Johns Hopkins Evidence-Based Practice Model, the following PICO components and questions were identified:
P (Problem): The professional image of the nurse
I (Intervention): Standardized nurse dress code
C (Comparison): No standardized dress code
O (Outcomes): Improved identification of nursing staff, improved professional image, higher patient satisfaction.
Our search questions were
Does a standardized nurse dress code impact the ability to identify the nurse?
Does attire influence the professional image of the nurse?
 Searching for evidence
A literature search of databases including Medline, Cochrane, and CINAHL was conducted using terms such as appearance, dress code, nursing attire, identification of staff, professionalism, piercings, patient perception, and infection control. We also queried other American Nurses Credentialing Center Magnet®-recognized organizations via a listserv regarding their policies on identification of nursing staff dress codes.
In all, 63 sources of evidence, many patient perception surveys, and expert opinion were reviewed. A total of 27 institutions responded with their information regarding specific strategies used to identify nurses and whether the nursing staff wore standardized colors. We also used Survey Monkey to conduct an internal survey of our nursing staff, which gave us input regarding scrub color and holiday attire preferences. Although the survey didn't ask for respondents' opinions about whether a nurse dress code should be implemented, 778 staff members commented.
Reviewing the evidence
Five major themes were consistently identified in the literature and formed the basis for the final recommendation from the Image of Nursing Subcommittee:
Identification: The public needs to be able to identify the nurse. Adult patients are easily able to identify nurses by the traditional white uniform because it has long been associated with the profession. However, patient preference and the perception of nurse approachability favor a bright color.
Professionalism: Professionalism can be defined by attire and by personal interaction between nurses and patients and family members. The literature showed that patients believe they are receiving better care if their nurses look professional.
Functionality and practicality: Nursing attire needs to be functional and practical.
Hair hygiene: Patients prefer that shoulder length or longer hair be pulled up or back. 
Pediatrics: The literature showed that pediatric patients and their parents prefer printed tops or bright colors.
 Translating the evidence
Based on the emerging themes of professionalism, identification, functionality, and practicality, the final recommendations from the Image of Nursing Subcommittee included discipline-specific standardized colors of professional attire.
| | |
| --- | --- |
| Discipline | Dress Code Recommendation |
| Licensed providers (RNs and LPNs) | Solid ceil blue, solid white, or a combination of the two |
| Nurse practitioners | Solid teal, solid white, or a combination of the two |
| Care partners/nursing assistants | Solid navy |
| Paramedics | Solid hunter green |
| Cardiac sonographers and stress techs | Solid wine |
| Ophthalmology | Solid royal blue |
Based on recommendations from our epidemiology department, no changes were made to the existing hospital-issued scrub guideline. Staff should wear hospital-issued scrubs in the following areas: operating room, perioperative areas, labor and delivery, ambulatory surgery, cardiac catheterization lab, electrophysiology lab, burn unit, and interventional radiology. Scrubs also should be worn by members of the peripherally inserted central catheter and wound care team members who provide care to the patients in the operating room and burn unit.
The mother/infant unit had previously implemented a dress code based on the recommendations from the Center for Missing and Exploited Children and their dress code remained intact — RNs and LPNs wear solid lilac or a combination of lilac and white, while care partners wear solid purple.
Gold and black identification tags with the employee's professional title were issued to staff. This tag, which lies behind the staff's picture ID, helps patients, family members, and other healthcare team members to distinguish who is providing care to the patient. See image below: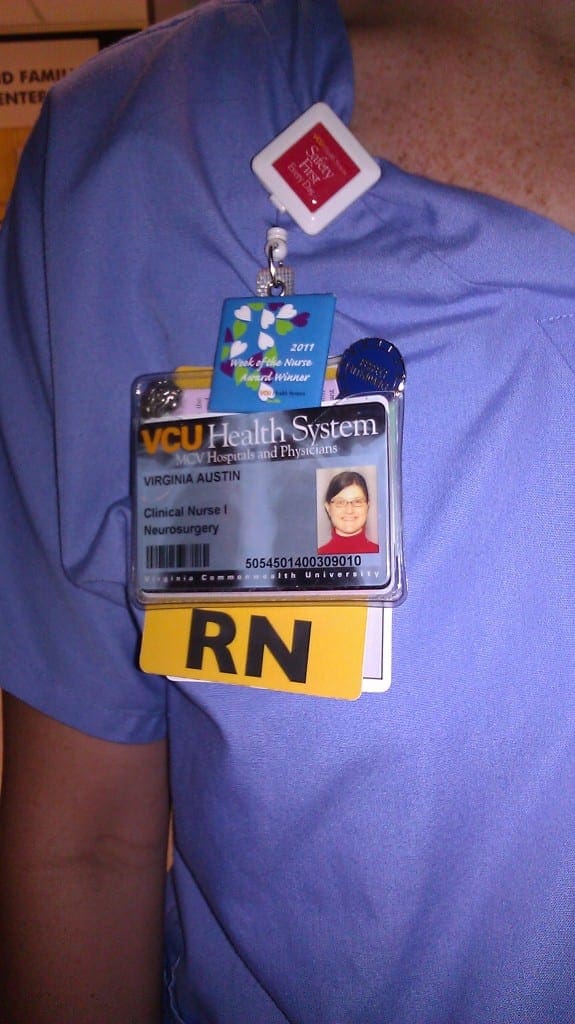 Because the literature supported the pediatric patient and parent preference for brightly colored printed tops, it was recommended that the staff members on pediatric units wear child-appropriate printed tops that coordinate with the recommended colors of ceil blue, white, or navy. Pediatric specialty areas are those where the age of most patients ranges from infant to 21 years.
For all disciplines, it was recommended that shoes be closed toe, closed sided, clean, intact, and made of fluid-resistant materials. No color recommendations were made, which provided an opportunity for nursing staff to express their individuality.
Specifics regarding business casual attire, defined as a classification of clothing and accessories assembled and worn to project a professional image on a sub-formal level, were developed for when staff are attending classes in-house or outside of the facility.
We gave staff 4 months notice before going live. Many open forums were held for staff to hear the recommendations from the nurses who created the policy. Educational presentations and appropriate vs. not appropriate pictorials were developed and distributed for staff to review.
Implementing the change
To lessen the blow of the perceived loss of individuality and loss of money previously spent by nurses on their attire, our health system approved a one-time stipend of $75 to assist in the purchase of new attire. The Image of Nursing Subcommittee made special arrangements with a local uniform supplier to come into the facility and offer uniform sales during all shifts. We also collaborated with local uniform stores, communicating our upcoming uniform expectations so they could adjust their in-stock availability of specialized color uniforms.
Unit individuality and team pride has been encouraged, and before implementation of the evidence-based dress code, many nursing areas had purchased team-specific sweatshirts, hoodies, and t-shirts. The new nursing specific policy supported the overall health system dress code suggesting that t-shirts, sweatshirts, and hoodies do not project a professional image. Since the dress code change, nurses have the opportunity create a unit specific logo and have it placed on designated attire. Our policy requires the Image of Nursing Subcommittee to approve unit-specific logos based on appropriateness.
Several nurses voiced their disappointment over not being able to wear holiday specific scrubs and support causes, for example, "Wear Red" day and other special occasions. The Image of Nursing Subcommittee articulated that the goal is to be easily identifiable and professional in appearance 365 days a year, 24 hours a day, at all Health System locations. While maintaining the recommended designated attire, individuals can express their holiday spirit and support causes with accessories such as socks and pins.
To provide staff with the opportunity to wear colored and themed printed scrub tops one last time, the Image of Nursing Subcommittee implemented a "Scrub of the Day" program and "Wacky Wednesdays." Some Wacky Wednesday themes included "On the Wild Side" for animal prints, Christmas in July, "Boo Crew" for Halloween prints, and "Life's a Beach" for tropical/beach prints.
Staff members could also donate their retiring scrubs to local and international organizations. A total of 796 pieces of scrub attire were distributed to animal shelters, free clinics, homeless shelters, churches, and health mission organizations.
The Image of Nursing Subcommittee partnered with the VCU School of Fashion Design and Merchandising on designing new scrubs for our staff. A senior student designed 10 different scrub tops and staff voted for their two favorites. The Subcommittee collaborated with this department over 2 years as revision of the designs, fittings, and production of these scrubs were implemented.
Empowering change
The Image of Nursing Subcommittee believes that as promoters of our Shared Governance model, all nursing services personnel at our health system are responsible for presenting and upholding a professional image. Each member of the nursing care team is empowered to hold each other accountable to the recommendations to exemplify pride, dignity, and professionalism in appearance.
Now that the policy has been implemented for 5 years, dress code violations are still observed at times; however, staff are held accountable by their managers and their peers and are reminded why this dress code was implemented. Overall, staff has overwhelmingly embraced our evidence-based practice change.
Outcomes
Based on informal verbal feedback from patients and other healthcare providers within our organization, we found a positive correlation between standardized attire and identification of staff. Patients and family members find the color coding of staff helpful in easily being able to identify the care provider. We also received accolades about our professional image from the surveyors during our most recent Magnet redesignation visit. The professional pride among our staff is palpable.
Future opportunities
Since the implementation of our dress code in 2010, three research articles have been published regarding nursing attire. In these articles, it was evident that patient perception needs to be taken into account before implementing a dress code. One article's results did not show support for a color-coded uniform dress code. Having a caring and knowledgeable nurse and being able to identify the nurse from other healthcare providers is what seems to be most important to the patient. Patient perception must be taken into account over caregiver opinion and perception when developing a nurse dress code. An additional future research opportunity exists for our organization to assess patient perceptions regarding nursing image and whether our nurse dress code impacts our professionalism and the patient's ability to identify the nurse.
Maintaining a professional image
Identification of healthcare team members is challenging because multiple healthcare team members often wear similar scrub attire. This causes confusion not only for patients and their family members but for healthcare team members too. Patients, families, physicians, and other healthcare team members need to be able to identify who is providing care to the patient. Based on the evidence that was available, a group of dedicated staff nurses had the courage to create and implement an evidence-based nursing dress code to re-establish our professional image. And the staff has never looked better!
Selected references
Clavelle J, Goodwin M, Tivis L. Nursing professional attire: probing patient preference to inform implementation. J Nursing Adm. 2013;43(3):172-6.
Cohen S. The image of nursing. How do others see us? How do we see ourselves? Am Nurse Today. 2007;2(5):24-6.
Kaser M, Bugle L, Jackson E. Dress code debate. Nurs Manag. 2009;40(1):33-8.
Dearholt SL, Dang D. Johns Hopkins Nursing Evidence-Based Practice Model and Guidelines. 2nd ed. 2012. Sigma Theta Tau International.
Rudolph N, Moore SR, Heinrichs-Breen J, et al. Who's my nurse: Visual cues for identification. Academy of Medical-Surgical Nurses Newsletter. 2010; 4-5.
Thomas C, Ehret A, Ellis, B. Perception of nurse caring, skills, and knowledge based on appearance. J Nurs Adm. 2010;40(11):489-97.
Tolbert C, Beilstein L. Nurses' attire—choosing the right answer. Nurse Lead. 2010;8(5):55-58.
Jennifer Sulanke, a nurse clinician in the acute neuroscience unit, and Kevin Shimp, nurse manager of the acute surgery unit, work at VCU Health System in Richmond, Virginia.