The American Nurses Credentialing Center (ANCC) announced the recipients of its annual awards during the 2021 ANCC National Magnet Conference® and ANCC Pathway to Excellence Conference® in Atlanta, held November 11–13.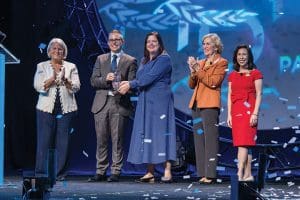 The ANCC Magnet Prize®, sponsored by Cerner, a global healthcare technology company, honors innovative nursing programs and practices within ANCC Magnet® organizations.
University Hospital and Ross Heart Hospital at The Ohio State University Wexner Medical Center in Columbus received the 2021 ANCC Magnet Prize for their proposal, a novel I.V. insulin therapy protocol for COVID-19 patients in the medical intensive care unit (MICU).
As the COVID-19 pandemic intensified in early 2020, MICU nurses became increasingly concerned about the risks nurses were encountering as they cared for COVID-19 patients on insulin drips. A multidisciplinary, nurse-led team developed a hybrid glucose infusion system that combined continuous glucose monitoring (CGM) and point-of-care protocol with I.V. infusion pumps placed outside the room. This reduced the frequency of point of care testing by 71%.
University Hospital and Ross Heart Hospital will use the $75,000 prize to further develop their proposal.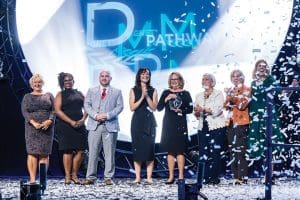 The ANCC Pathway Award®, also sponsored by Cerner, honors a project proposal in a Pathway to Excellence® organization that creates a positive nurse practice environment using innovation and technology.
Nottingham Children's Hospital (NCH), part of Nottingham University Hospitals NHS Trust in Nottingham, England, received the 2021 ANCC Pathway Award.
NCH's winning proposal, Family Activation of the Pediatric Critical Care Outreach Team, is designed to improve patient safety and quality of care while reducing avoidable harm. Nurses will develop and implement a multilingual application that families can use to monitor their sick child. It will be co-designed and developed with children and their families, initially piloted within the Children's Hospital. This project aims to empower families through technology to escalate concerns by activating a rapid response that initiates further staff assessment and rescue intervention.
NCH will use the $50,000 prize to develop its winning proposal.
The 2021 National Magnet Nurse of the Year® Awards and the 2021 Pathway Nurse of the Year™ Awards also were presented during the Conference.
Magnet Nurse of the Year winners
Structural Empowerment, sponsored by EBSCO Health: Denise Abdoo, PhD, MSN, CPNP, Children's Hospital of Colorado.
Exemplary Professional Practice, sponsored by EBSCOHealth: Jennifer Moran, MS, RN, APRN-Rx, ACNP-BC, SCRN, CNRN, The Queens Medical Center in Honolulu.
New Knowledge, Innovations, and Improvements: Christine Wetzel, DNP, MSN, RNC-NIC, IBCLC, Carle Foundation Hospital NICU in Urbana, Illinois.
Empirical Outcomes: Ellen Harvey, DNP, RN, ACNS-BC, CCRN, TCRN, FCCM, Carilion Roanoke Memorial Hospital in Roanoke, Virginia.
Pathway Nurse of the Year winners
Nurse Leader: Jaclyn Carr, MSN, RN, PCCN, Chief Nursing, Officer & Vice President Patient Care Services,OhioHealth.
Direct Care Nurse: Joell Tadlock, BSN, RN, CCRN, Texas Health Harris Methodist Hospital in Stephenville.