Armed with answers, you can provide patients and families with the information they need to make care decisions.
Takeaways:
Patients and their families may not understand the difference between palliative and hospice care.
Nurses can act as patient advocates by listening carefully to concerns and questions and providing thoughtful answers.
By Funmilayo Aina, FNP-C, RN, CHPN, and Beth Kelsey, EdD, APRN, WHNP-BC •
As patient advocates, nurses can be the link between providers and patients and families to identify the need for hospice and palliative care. And nurses can address some of the most common questions patients and families may have.
What's the difference between hospice and palliative care?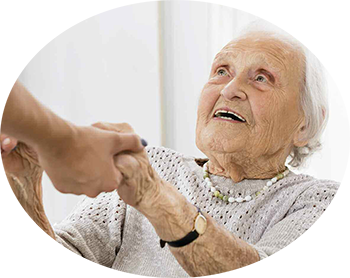 The goal of palliative care is to improve the quality of life for an individual who's at any stage in a serious illness, whether the disease is curable, chronic, or life-limiting. Palliative care can be provided in conjunction with curative or life-prolonging treatment.
Hospice care is a subset of palliative care without curative intent, focusing instead on comfort. The patient may no longer have therapeutic options or may have chosen not to pursue treatment because side effects outweigh benefits. The hospice care team is trained to provide care for the "whole person," including physical, emotional, social, and spiritual needs. Services typically include physical care, counseling, medication, equipment, and supplies for the terminal illness and related conditions. Hospice care, which includes family support, can be provided in the comfort of the patient's home or in the hospice inpatient facility. (See Hospice and palliative care—Side-by-side.)
Hospice and palliative care—Side-by-side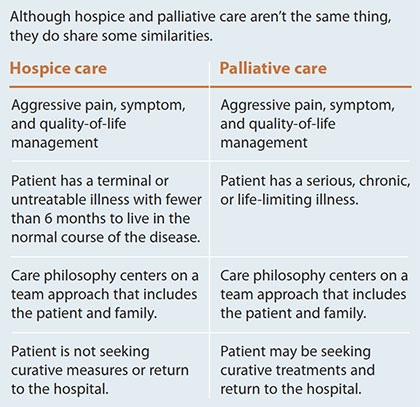 When should palliative care begin?
Palliative care is appropriate at any stage of a serious illness. The goal is to provide patients with relief from symptoms, including pain and stress, of a serious illness and may begin any time after a diagnosis. Patients and families can benefit from early palliative care to address physical, psychological, and spiritual needs. The palliative care team works with the patient and family to determine priorities at any point in time based on the patient's values and medical recommendations.
Does a referral for palliative care mean the patient's healthcare provider has given up hope for recovery?
No. The goal of palliative care is to help the patient with a serious illness have the best quality of life. Receiving palliative care while undergoing aggressive treatment for an illness can help patients cope with treatment-related side effects, and some research shows that it may extend a patient's lifespan. Sometimes, in the course of a serious illness, hope becomes less about the cure and more about living life as fully as possible.
Can pain medications used in palliative care lead to addiction?
Palliative care teams are experts at managing pain with medication. Addiction is not common. Keeping people comfortable often requires increased doses of pain medication, but this isn't an addiction; it's a result of drug tolerance.
Does palliative care hasten death?
Palliative care does not hasten death. It provides comfort and the best quality of life from the time of diagnosis of an advanced illness until the end of life.
Who can receive hospice care? Is it only for patients who are elderly or who have cancer?
Hospice care is for patients, no matter their age, who have a terminal illness (such as, but not limited to, cancer, Alzheimer's disease, cardiac disease, amyotrophic lateral sclerosis, stroke, and liver disease) with a prognosis of 6 months or less. Specialized hospice care programs also provide services to expectant parents when a prenatal diagnosis indicates the baby will likely die before or shortly after birth and for children and their families when a child has a life-limiting illness.
How does the healthcare provider determine whether a patient's condition is reasonably likely to cause death within 6 months?
Healthcare providers make a clinical judgment based on their experience and knowledge. They consider the patient's clinical condition, including the primary diagnosis and comorbidities. If life expectancy is more than 6 months, provider and patient discussions about palliative care options may be beneficial. These early discussions allow patients to prepare for the possibility that treatment may fail, to decide how they want to make the most of remaining time, and to make informed choices that fit with their values and needs to optimize quality of life. Encouraging discussions between the patient and family members may facilitate advance care planning and improve satisfaction with end-of-life care.
Who provides palliative and hospice care?
Many palliative care and hospice care teams include physicians, nurse practitioners, and other nurses specializing in palliative and hospice care, as well as social workers, chaplains, home health aides, and volunteers. (See Becoming a hospice or palliative care nurse.) Patients don't have to give up their primary providers; palliative and hospice care teams will coordinate care with them.
Becoming a hospice or palliative care nurse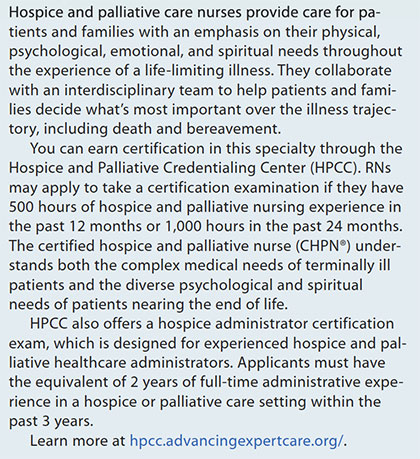 Where are palliative and hospice care provided?
Palliative and hospice care services are provided wherever the patient resides—home, assisted living facility, long-term care facility, or hospital.
Does health insurance cover palliative and hospice care?
Many private insurance companies and health maintenance organizations offer palliative care and hospice benefits. Medicare covers all or almost all hospice services related to the hospice diagnosis, with no out-of-pocket expenses, time limitations, or deductibles. A copayment of up to $5 per outpatient prescription for symptom management and pain medication may be required. In addition, the individual may be required to pay 5% of the Medicare-approved amount for inpatient respite care (temporary care for the individual provided in a hospice inpatient facility, hospital, or nursing home so that the caregiver can rest or take time off). Medicare Part B offers some palliative care benefits, and states offer varied Medicaid coverage of hospice and palliative care for people with limited incomes.
Providing answers
When a provider recommends palliative or hospice care, patients and their families will need your support and guidance. When you're ready with answers to their questions, you help them understand the care they'll receive so they can make the best decisions possible.
Funmilayo Aina is an advanced practice nurse at CHI Baylor St. Luke's Medical Center Houston, Texas. Beth Kelsey is an assistant professor and DNP program director at Ball State University in Muncie, Indiana.
Selected references
American Association of Colleges of Nursing. End-of-Life Nursing Education Consortium (ELNEC) factsheet.
Canadian Virtual Hospice. 10 myths about palliative care. 2017.
Center to Advance Palliative Care. Palliative vs. hospice care—Frequently asked questions.
Centers for Medicare & Medicaid Services. Medicare hospice benefits. 2017.
U.S. National Library of Medicine. What is palliative care? 2016.
ant12-Hospice-1116