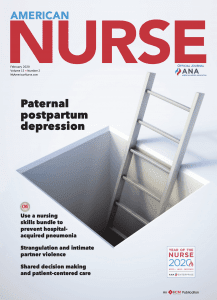 Paternal postpartum depression and intimate partner violence strangulation—two topics you may not hear much about but have serious implications for your patients. We cover both in the February issue of American Nurse Journal. Postpartum depression has gained more attention recently and steps are taken to help new mothers who are suffering from the condition, but paternal postpartum depression comes with stigma that results in lack of communication and treatment. This month's article on the topic offers tips for identifying risks and steps you can take to provide care and support. Similarly, victims of intimate partner violence may show no signs of being choked or strangled when they present for care (and they may not reveal it), but delayed effects can be serious and life-threatening. Learn how to assess victims of nonfatal strangulation to ensure they receive appropriate care and referrals.
The CNE article this month focuses on hospital-acquired pneumonia and a nursing skills bundle for prevention. In addition, you'll find articles on professional well-being, ultrasound guided I.V. insertion, cybersecurity, and shared decision making…and more.
Click here to access the digital edition.