Nursing has a long history of caring for wounded soldiers. Perhaps most famously, Florence Nightingale served as chief nurse in the Crimean War (1854). Nightingale was called "The Lady with the Lamp" because she would make nighttime nursing rounds to provide care to the sick and injured. Nightingale is now known as a founder of modern nursing, a statistician, and a social reformer.
The tradition of nurses caring for soldiers continued with Clara Barton in the American Civil War. Barton assisted wounded soldiers and collected and distributed needed supplies for the army. After the war, she ran the Office of Missing Soldiers in Washington, DC. Most nurses know Barton as the pioneer who founded the American Red Cross.
Today, nurses remain on the front line, caring for military members with invisible and visible wounds of war, including post-traumatic stress disorder (PTSD). This article discusses PTSD and other challenges faced by veterans and describes the importance for nurses to answer the call to action to help veterans and their families.
Effects of PTSD
During the early 19th century, soldiers were diagnosed with "exhaustion" after the stress of battle. The only treatment was rest and then return to the battlefield. Historical terms equivalent to what is known today as PTSD include "shell shock," "traumatic war neurosis," "combat stress reaction," and "battle fatigue." The term PTSD was coined in the 1970s.
By definition, PTSD is a mental health condition that may develop after a person witnesses or experiences one or more traumatic events. For those in the military, the experiences can involve military combat, death of fellow soldiers, or terrorist attacks.
PTSD is one of the many psychological injuries that affect our service members. Nurses are in an ideal position to advocate for appropriate and culturally congruent care for our military members. In response to the calamities of war, the American Academy of Nursing has become a force behind a coordinated effort to enlist nursing schools across the county to support the Joining Forces Campaign. Joining Forces is a national initiative led by First Lady Michelle Obama and Dr. Jill Biden, wife of the vice president, to engage all sectors of society to give veterans, military, and military families support in three priority areas: employment, education, and wellness.
Challenges of post-deployment
Post-deployment reintegration experiences can be challenging for veterans. Operation Iraqi Freedom and Operation Enduring Freedom increased combat operations and, therefore, the size of the military. Thus, the nation is faced with one of the largest surges of reintegrating military members in recent history. Service members reintegrating into the community are vulnerable to unique stressors, particularly social isolation. If social isolation persists, veterans may be susceptible to post-traumatic stress symptomology, depression, and suicidal behavior.
Veterans have specific risk factors for psychological distress as a result of their service, such as depression, diminished internal locus of control, lack of resiliency, social disconnectedness, and suicidal ideation. Sadly, there is a high correlation between PTSD and suicide in the military. Veterans are two times more likely to die by suicide than nonveterans. According to the Centers for Disease Control and Prevention, about 18 of 105 (17.1%) daily suicide deaths are veterans. This disproportionality is highlighted by the fact that veterans make up 8.9% of the total US population according to the 2012 US Census.
Too many service members are disengaged from civilian life. The development of social support networks and healthy coping mechanisms are cited in literature as a first line of defense for suicide in veterans. Positive social relational networks that foster resilience have been suggested to mitigate effects of PTSD. Veterans possess unique life experiences to which other veterans can best relate. Veterans may also seek to replace changing or lost connections by establishing a supportive, consistent, and non-judgmental relationship. Commonly recognized means of social support include family, peers, and community.
Another source of support
An additional source of support is the use of companion animals. Companion animals have been identified as providing positive, stable, and protective relationships that can provide social support and increase connectedness. These animals also can promote relations within social networks. Veterans' anecdotes indicate that companion and service dogs provide companionship, an outlet for overt love, and a form of social support. This relationship provides a sense of relational certainty and a reciprocal relationship that is bilateral.
There is a distinct difference between a service dog and a companion dog. Service animals are highly trained dogs that do work or perform tasks for people with disabilities. For example, service dogs can assist with balance, give medical alerts (e.g., low blood sugar), retrieve objects, and calm a person with PTSD during an anxiety attack (e.g., providing deep pressure and parasympathetic nervous system activation by placing front paws on shoulders or thighs).
Nurses should know that according to the American with Disabilities Act (ADA) there are two questions that may be asked to inquire what services the dog provides:
Is the service dog required for a disability?
What work or task has the dog been trained to perform?
It is not appropriate to ask about the person's disability, request medical documentation/service dog training documentation, or ask for a demonstration of what the service dog provides.
Companion dogs, for the most part, provide camaraderie. These dogs are often identified in therapeutic plans of care for basic individual needs. Companion dogs can reduce anxiety and depressive symptoms during veterans' reintegration into civilian life. The presence of a companion dog has been associated with human health benefits such as decreasing stress and improving overall well-being.
Companion dogs are not considered service animals according to the ADA. They do not have specific training to perform tasks for individuals with disabilities, and federal laws protecting service animals do not apply.
Call to action
At a recent ANA-New York meeting where I spoke, fellow ANA members developed several ideas on how nurses can help veterans and their families:
Record on intake forms if the patient or family member(s) has/have served in the military.
Incorporate veteran and military health issues in nursing curricula
Develop special clinical rotation policies for students who have service/support animals of their own.
Volunteer with veteran and military specific organizations both informally and formally (e.g., community health nursing course assignment).
I encourage you to develop your own call to action; below I describe mine.
What about the dogs?
"A small pet animal is often an excellent companion for the sick, for long chronic cases especially."
Florence Nightingale, 1859
Many people ask me how I got interested in working with wounded warriors and veterans. My military connection includes my husband, a Marine veteran, and wanting to give back somehow. Since I am too old to serve, I decided to use my passion for canines and my research experience as a nurse scientist.
In 2013 I developed and am the director of a university-based veteran health initiative: C-P.A.W.W. (Canines Providing Assistance to Wounded Warriors). The mission of C-P.A.W.W. is to:
advance interdisciplinary research and education
enact practice protocols for wounded warriors and veterans through the development of evidence-based and restorative interventions
support military-related health initiatives by building community partnerships
investigate therapeutic interventions that positively influence health outcomes, and
emphasize system planning and protocols of care development for the armed forces.
C-P.A.W.W. joins with community partners who provide support for our military, advance evidence-based practice protocols in military-related clinical settings, and promote the delivery of culturally congruent and competent care for the military members. At C-P.A.W.W., we have partnered with key organizations including the Pets for Vets, Prison Trained K-9 Companion Program (PTKCP), and The Warrior Canine Connection to name a few.
My goal is to continue to conduct research in this area to provide the empirical evidence that supports change in public policy regarding the availability of service dogs and companion animals for our military. I would like to see more support for veterans in need to obtain both companion and service dogs. It is important that both companion and service dogs are viewed as a therapeutic modality that is reimbursable for service members. However, more research is needed to support this concept. This work is a small token of my gratitude and is my way to give back to the military community that has sacrificed so much for our freedom.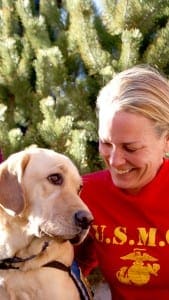 Note: Are you a veteran or concerned about one? If so, please call the Veteran Crisis Line at 1-800-273-8255 and Press 1. To learn more about C-P.A.W.W., visit www.nursing.ucdenver.edu/C-PAWW or email the author at Cheryl.Krause-Parello@ucdenver.edu.
Selected references
Barton C. The Red Cross in Peace and War: American Historical Press; 1910.
Brodie SJ, Biley FC. An exploration of the potential benefits of pet‐facilitated therapy. J Clin Nurs. 1999;8(4):329-37.
Department of Veteran Affairs. VA Suicide Prevention Program: Facts about Veteran Suicide. 2012.
Fraser MW, Galinsky MJ, Richman JM. Risk, protection, and resilience: toward a conceptual framework for social work practice. Soc Work Res. 1999;23(3):131-43.
Jakupcak M, Cook J, Imel Z, et al. Posttraumatic stress disorder as a risk factor for suicidal ideation in Iraq and Afghanistan war veterans. J Trauma Stress. 2009;22(4):303-6.
Joining Forces: Taking Action to Serve America's Military Families. 2014; www.whitehouse.gov/joiningforces/about.
Kaplan MS, Huguet N, McFarland BH, et al. Suicide among male veterans: a prospective population-based study. J epidemiol community health. 2007;61(7):619-24.
Krause-Parello C, Gulick E. Examining demographic and psychosocial predictors of well-being in older pet owners. Int J Nurs. In Press.
Krause-Parello CA, Tychowski J, Gonzalez A, et al. Human-canine interaction: exploring stress indicator response patterns of salivary cortisol and immunoglobulin A. Res Theory Nurs Pract. 2012;26(1):25-40.
Lemaire CM, Graham DP. Factors associated with suicidal ideation in OEF/OIF veterans. J Affect Disord. 2011;130(1):231-8.
Meichenbaum D. Trauma and substance abuse guidelines for treating returning veterans. Counselor: The Magazine for Addiction Professionals. 2009;10:10-15.
Nightingale F. Notes on Nursing: What It Is and What It Isn't. London: Harrison and Sons; 1859.
Orsillo SM, Heimberg RG, Juster HR, et al. Social phobia and PTSD in Vietnam veterans. J Trauma Stress. 1996;9(2):235-52.
Peterson SLS, Donahue DA, Allison S, et al. Potential Benefits of Canine Companionship for Military Veterans with Posttraumatic Stress Disorder (PTSD). Brill Online Books and Journals; 2013.
Mayo Clinic. Disease and Conditions: Post-Traumatic Stress Disorder (PTSD). 2014; www.mayoclinic.org/diseases-conditions/post-traumatic-stress-disorder/basics/definition/con-20022540.
Revised ADA Requirements: Service Animals. In: U.S. Department of Justice, ed: Americans with Disabilities Act; 2010.
Rumann C, Rivera M, Hernandez I. Student veterans and community colleges. New Directions for Community Colleges. 2011;2011(155):51-8.
Seal KH, Metzler TJ, Gima KS, et al. Trends and risk factors for mental health diagnoses among Iraq and Afghanistan veterans using Department of Veterans Affairs health care, 2002–2008. Am J Public Health. 2009;99(9):1651.
Shanker T, Cooper H. Pentagon Plans to Shrink Army to Pre-World War II Level: The New York Times; 2014.
Solomon Z, Mikulincer M. Life events and combat-related posttraumatic stress disorder: The intervening role of locus of control and social support. Mil Psychol. 1990;2(4):241.
Suicide Facts at a Glance. In: National Center for Injury Prevention and Control DoVP, ed: Center for Disease Control; 2012.
Support Joining Forces. www.aacn.nche.edu/joining-forces; 2014.
US Census Bureau, Selected Social Characteristics in the United States. American Fact Finder; 2012.
VA Suicide Prevention Program: Facts about Veteran Suicide. Department of Veterans Affairs; 2012.
What Is PTSD. In: Department of Veterans Affairs US, ed: VA National Center for PTSD; 2010.
Cheryl Krause-Parello is an associate professor in the College of Nursing at the University of Colorado, Denver.