Nurses worked heroically in 2020 as the tragic spread of the novel coronavirus took on pandemic proportions and forced innovation in the U.S. healthcare system. Before the pandemic and various stay-at-home orders began, the American Nurses Foundation launched its RN Initiative to Reimagine Nursing, which will begin in 2021, to elicit and assess practical, actionable ideas to transform nursing practice to improve healthcare access and outcomes for all Americans. 
"We are working to ensure that this horrible, historic event will serve as a catalyst for the nursing profession to become more flexible, responsive, and nimble," said Tim Porter-O'Grady, DM, EdD, ScD(h), APRN, FAAN, FACCWS, Foundation trustee and past-president, and senior partner in an international healthcare consulting firm. "What makes the RN Initiative significant is that this will fund pilot projects beginning in 2021 for 3 years, to evaluate ways to accelerate change in nursing education, regulation, and practice that would be workable on a larger scale." 
A grant from Kaiser Permanente supported the planning phase of the RN initiative and a crucial January 2020 Foundation gathering with 18 leaders in nursing, healthcare delivery, regulation, academia, and technology. Participants exchanged ideas, challenged assumptions, and integrated diverse priorities for shaping nursing's future. Their goals include developing evidence-based, predictive, preventive, and personal solutions to equip nurses with the knowledge, tools, environments, and systems needed to deliver exemplary care. 
"In retrospect, that gathering was perfectly timed," noted Kate Judge, American Nurses Foundation Executive Director. "It was like the universe was tapping our shoulders, saying 'get ready.'"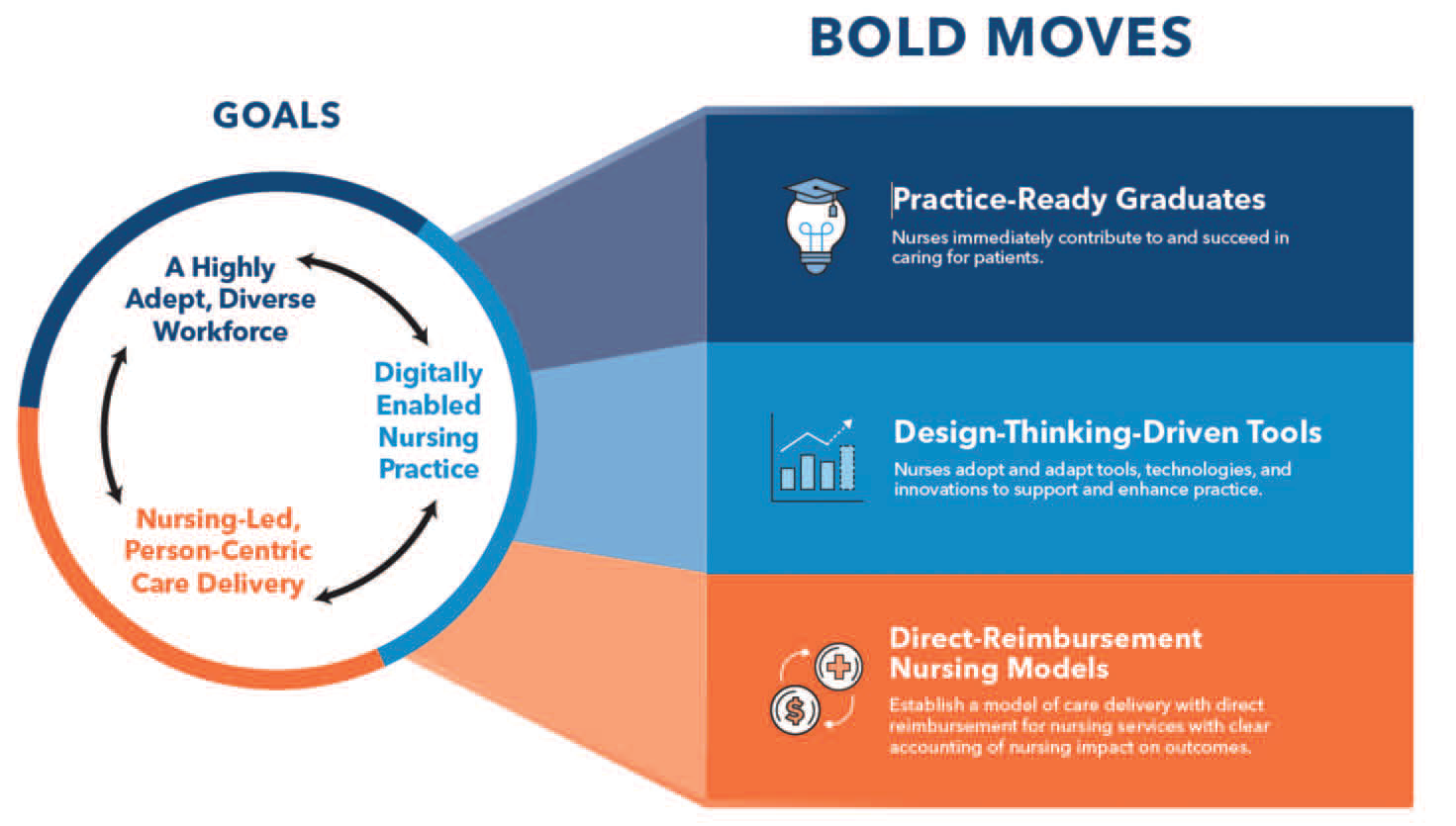 Solutions to current barriers
Linda J. Knodel, MSN, MHA, NE-BC, CPHQ, FAAN, FACHE, senior vice president and chief nurse executive for Kaiser Permanente, editorial board member for American Nurse Journal, and a participant in the January 2020 meeting, said, "As our partners in every aspect of nursing develop and test solutions to current barriers to nursing practice, this will open new possibilities for the future. Nurses are the natural catalytic force to transform delivery, especially now as they are on the front lines of the pandemic. I am proud of our Kaiser Permanente nurses, who have continued to provide excellent patient- and family-centered care during the most challenging of circumstances." 
"This crucial work is long overdue," added Knodel, an ANA\California member, who oversees nearly a third of Kaiser Permanente's workforce, 63,000 nurse employees who work in virtually every sector of healthcare. "We cannot stay at the status quo with the U.S. healthcare system as an illness-care system. Kaiser Permanente's goal is to keep our members [patients] healthy and out of the hospital. We are bold and innovative and see the need to reimagine how nurses could serve in different roles to provide higher quality care, better safety, and better outcomes at a lower cost for [patients]." 
Kaiser Permanente will provide up to $14.5 million to support the RN Initiative's next phase. 
Invest in a reset moment
"We've engaged in the formative work needed for this reset moment for essential change," Judge said. "Now we're convening the resources to develop ideas to take the nursing profession to the next level and rebuild our broken healthcare system." 
"I'm confident in this vision to accelerate and fund visionary change to support a more adept, diverse workforce and digitally enable nursing practice, and new nursing-led, person-centric care delivery models," Porter-O'Grady said. "As we commit our creativity, inspiration, effort, and resources, we will advance the nursing profession's most important era of intentional change to improve health outcomes for all."