Respond with abundance, prioritize strengths.
Takeaways:
Peer-support programs help reduce perceived stress and mitigate stress-related physiological symptoms.
Matching requestors of peer support with trained supporters from similar clinical backgrounds aids effective communication.
Trained peer-supporters listen to nurse concerns but don't offer advice unless requested.
Complexity, uncertainty, and ever-changing professional landscapes remain ongoing characteristics of nursing. These factors challenge and inspire our engagement in our work; they can cause both stress and a sense of reward when we overcome professional obstacles together. Experiences from the pandemic, for example, have been unifying, healing, and transformative, as well as polarizing, destabilizing, and exhausting—depending on our contexts and worldviews. Burden, illness, injury, and trauma associated with societal injustices, such as racism, bias, and income inequity, can influence our perceptions and responses to biopsychosocial, organizational, and environmental stressors. As we support one another through the challenges related to internal and external factors at work, we encourage our colleagues to respond with an abundance mindset.
Thinking abundantly prioritizes strengths and prevents us from falling into a trap of learned helplessness or victimization. In his book, Decolonizing Wealth, Edgar Villanueva illustrates how entire teams and organizations can benefit when they make decisions and policies with an abundant mindset. Villanueva challenges us to perceive, understand, and address problems head-on by first assessing what strengths, abilities, experiences, and creativity we possess. In other words, we face our challenges with a strengths-forward approach, and we do it together.
Peer support programs, developed out of an abundance mindset, can prove beneficial and feasible. They're one of many strengths-focused tools that nurses can use to support well-being.
Prioritize strengths
Before the COVID-19 pandemic, a few hospitals had formal peer support programs. Many more programs exist now in recognition of the psychological support that our nurse colleagues continue to need as we care for each other during the challenges of staffing crises, under-resourced hospitals, and the ongoing challenges and repercussions of the pandemic. MedStar Health, for example, serves as a national leader in active nurse peer support programs. These programs can help reduce the perceived stress of nurses, mitigate some stress-related physiological symptoms, and allow teams to practice at their highest levels. (See Peer support defined.)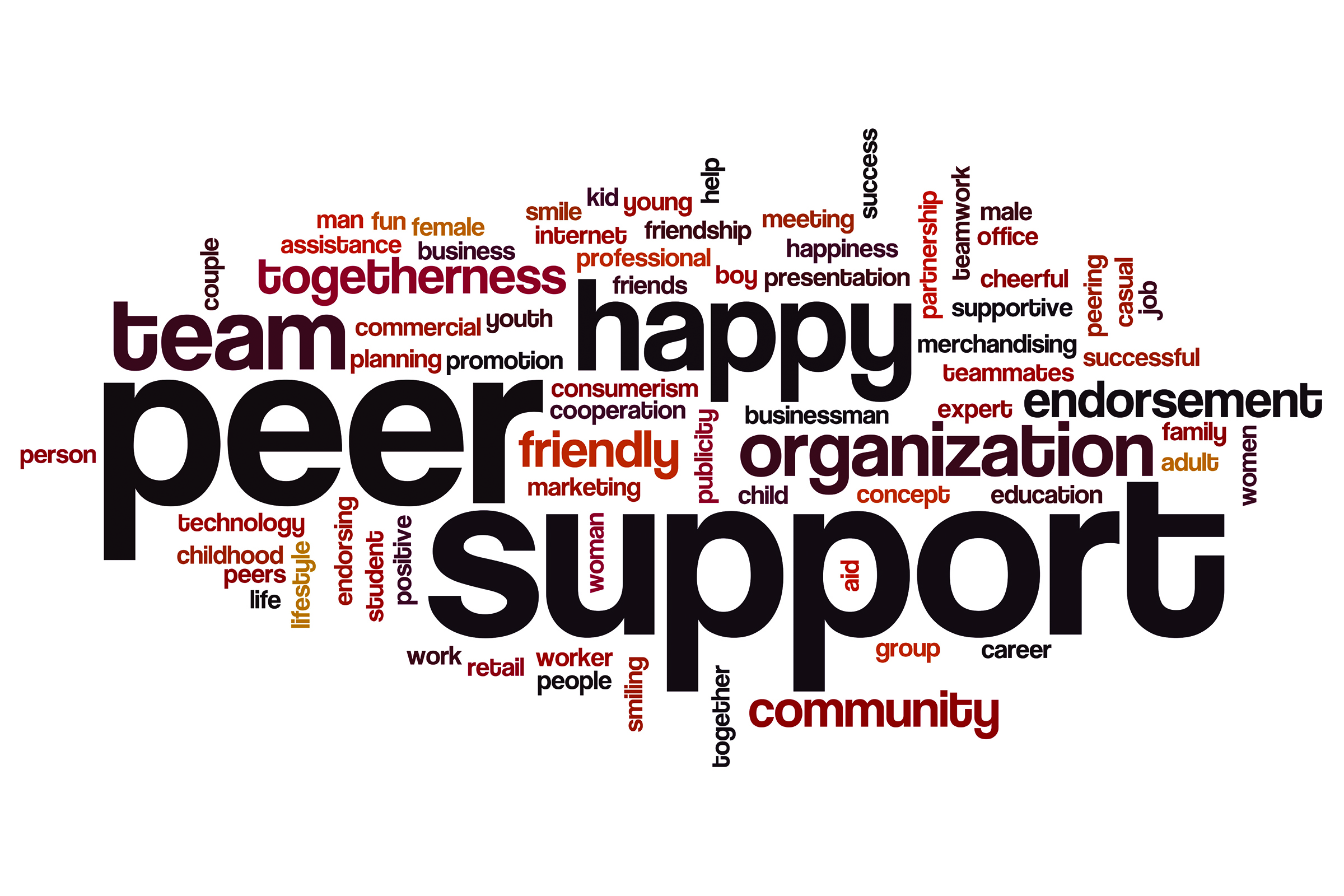 Peer support defined
Understanding what peer support is (and isn't) will help organizations develop an effective program and reassure nurses seeking help.
What peer support isn't
Peer support isn't therapy. We make this distinction in recognition of the stigma associated with therapy and psychiatry that still exists among many of our colleagues. Although good evidence supports therapy, many nurses fear losing their licenses if they disclose mental health concerns. They want to appear tough and believe that seeking care for mental health issues may be seen as a sign of weakness; some nurses may not have adequate financial resources to pay for a therapist.
Peer support isn't judgmental. When seeking peer support, nurses won't be blamed, shamed, or judged about what they choose to share.
What peer support is
Peer support is confidential. It occurs privately in a one-on-one setting.
Peer support is evidence-based. It's positively correlated with improved individual and team well-being, organizational culture, and patient outcomes. Engagement in peer support can reduce feelings of depression and increase feelings of empowerment and self-efficacy.
Peer support offers psychological safety. In this atmosphere, team members feel safe to take professional and meaningful risks among themselves and speak up when they see threats to patient safety. In addition, they won't fear being reprimanded if they speak out or present new ideas. The literature suggests that when team members feel psychological safety, quality and patient safety increase.
How does peer support work?
The peer support program at Emory Healthcare—EmBRACE (Emory's Building Resilience and Compassion Enculturation)—offers nurses an online platform, which they can easily access via e-mail, URL link, or QR code. They provide a few details, including name, best contact information (it doesn't have to be a work phone number or email), and their concern. These brief forms help to reassure nurses that they're not giving out too much information.
After an individual nurse or nurse manager referring a team member submits the form, our peer support team matches the nurse with another nurse from a similar specialty. For example, we'll partner an oncology med/surg nurse with another oncology med/surg nurse. When a nurse partners with a peer supporter from a similar professional background, they already speak the same professional language without the burden of explaining the complexities of specialty-specific workflows or defining clinical jargon. Trust between the peer and the supporter more likely occurs when they share the same professional background. Currently, we have more than 150 peers available to provide support at a moment's notice.
Once matched, a trained peer supporter emails or calls the nurse to schedule a 45-minute conversation. After that initial discussion, the nurse decides whether they want to schedule another conversation.
Peer support programs differ based on many factors; EmBRACE offers up to three peer support sessions for a specific concern. If a person uses three sessions and still requires help, trained peer supporters suggest that the person seek a different level of care, such as a therapist.
In addition to the formal peer support sessions, many of our peer supporters also offer informal sessions. These encounters occur when a peer supporter offers time to meet (or a stressed colleague reaches out at work) regarding simple questions or to express concerns.
Trained peer supporters don't intend to solve problems; they only offer advice when asked. Primarily, the peer supporter creates a psychologically safe space for active listening.
What does peer supporter training involve?
No single gold standard in peer support training exists, but all peer supporters require rigorous initial training as well as on-going, continuing education. Each of our EmBRACE peer supporters undergoes 2 full days of in-person training. After becoming an official peer supporter, they're offered quarterly continuing education.
Core training concepts include information about the role and scope of peer supporters, ethical care, healthy boundaries, and mandatory reporting (a peer supporter learns what to do if they encounter someone actively at risk of harming themselves or others). Initial training and continuing education also include confidentiality, psychological first aid, empathy/compassion fatigue, positive psychology, listening techniques, and posttraumatic growth.
We based the EmBRACE program on current peer support evidence as well as the culturally specific needs of the teams we serve in an urban, southeast setting. Our peer supporters provide regular feedback on training so that we can keep our curricula relevant to both the literature, as well as local and cultural needs.
Who becomes a peer supporter?
Many people interested in becoming a peer supporter believe in the goodness of their teammates, recognize the importance of our profession, and want to offer compassion to their colleagues. Their motivation stems from love and altruism. Peer supporters choose to form and nurture healing relationships with their colleagues so that they can continue to promote, support, and sustain health and healing for patients and families in their care.
What do you need to start a peer support program?
The evidence on the benefits of peer support continues to grow. To start a peer support program, conduct a literature review to learn more about peer support practices, training, and program management.
Strengths first
Peer support programs focus on the strengths of nurses, team members, and trusted colleagues who use their compassion and altruism to support the well-being of colleagues in need. Those who serve as peer supporters offer psychological first aid by listening, which allows the colleague seeking support to reflect, recharge, feel seen, and recognize the value of who they are and the work they do. Peer support allows nurses to work together to heal ourselves so that we can better help to heal others.
Tim Cunningham is co-chief well-being officer at Emory Healthcare and Woodruff Health Sciences in Atlanta, Georgia. Trina Geyer is the director of nursing leadership and development at Emory Healthcare. Both Geyer and Cunningham hold adjunct appointments at the Nell Hodgson Woodruff School of Nursing, Emory University.
American Nurse Journal. 2023; 18(9). Doi: 10.51256/ANJ092328
References
Burke E, Pyle M, Machin K, Varese F, Morrison AP. The effects of peer support on empowerment, self-efficacy, and internalized stigma: A narrative synthesis and meta-analysis. Stigma Health. 2019;4(3):337-56. doi:10.1037/sah0000148
Edmondson A. Psychological safety and learning behavior in work teams. Admin Sci Q. 1999;44(2):350-83. doi:10.2307/2666999
Godfrey KM, Scott SD. At the heart of the pandemic: Nursing peer support. Nurse Leader. 2021;19(2):188-93. doi:10.1016/j.mnl.2020.09.006
Han JH, Roh YS. Teamwork, psychological safety, and patient safety competency among emergency nurses. Int Emerg Nurs. 2020;51:100892. doi:10.1016/j.ienj.2020.100892
Pereira L, Radovic T, Haykal KA. Peer support programs in the fields of medicine and nursing: A systematic search and narrative review. Can Med Educ J. 2021;12(3):113-25.doi:10.36834/cmej.71129
Rock LK, Rudolph JW, Fey MK, et al. "Circle Up": Workflow adaptation and psychological support via briefing, debriefing, and peer support. NEJM Catalyst. September 22, 2020. catalyst.nejm.org/doi/full/10.1056/CAT.20.0240
Villanueva E. Decolonizing Wealth: Indigenous Wisdom to Heal Divides and Restore Balance. 2nd ed. Oakland, CA: Berrett-Koehler Publishers. 2021.
Key words: peer support, nurse well-being, peer-support training