Prepare yourself to successfully pursue a BSN.
Takeaways:
Research has shown that baccalaureate-prepared nurses are preferred by nursing administrators and patients.
The healthcare environment is evolving and increasing in complexity, so nurses must be prepared for their expanding professional roles.
Most schools require that you hold an active and unencumbered RN license while attending BSN programs.
You've made the decision to return to school for your bachelor of science in nursing (BSN). That's a big decision, and it will affect many aspects of your life. Whether you're a new associate degree in nursing (ADN) graduate or an experienced RN, as an adult learner you'll face challenges that the average college student may not. Understanding why pursuing a BSN is important, the best way to go about it, and the challenges you're likely to encounter will help prepare you for the work ahead.
Why do I need a BSN?
Your ADN education provided you with the nursing skills you need for patient care and prepared you for the National Council Licensure Examination (NCLEX). Your BSN education will go deeper, offering courses in community nursing, research, pediatrics, nursing theory, psychosocial nursing, health assessment, management and leadership, and ethics. It also will include a final program, such as a senior seminar or capstone project. You'll gain an interdisciplinary perspective and strengthen your writing and research skills.
The broad focus of BSN programs is one way they prepare students to pursue advanced nursing degrees. Students also gain critical thinking, communication, and leadership skills, which help them make nursing diagnoses, plan patient care, and evaluate nursing interventions. Several factors also contribute to the value of a BSN.
Cha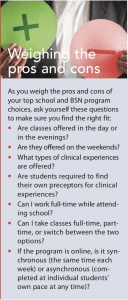 nging healthcare environment: The healthcare environment is constantly evolving and increasing in complexity, so nurses need to be prepared for their expanding professional roles. Care will move from inpatient settings to primary and preventive care in outpatient settings, which means nurses will need to be more independent and prepared for advanced practice roles. A BSN prepares nurses to practice in settings that range from home care to case management.
Finding employment: New nurses may have an easier time finding employment with a BSN degree. Many hospitals, particularly in larger urban areas, are hiring only RNs with BSN degrees and encouraging current employees to return to school to earn their degree. Frequently, a time limit is attached to this "request."
Improving nursing skills: Research has shown that BSN-prepared nurses are preferred by nursing administrators and by patients around the world because of their advanced skills in critical thinking, patient care, overall knowledge, and leadership qualities. Many countries (such as Canada, Sweden, Portugal, Brazil, Iceland, Korea, Greece, and the Philippines) now require RNs to obtain a 4-year undergraduate degree before they can practice. Large studies have shown an association between BSN hospital staff and lower incidence of pressure injuries, post-operative deep vein thrombosis, hospital-acquired infections, and postoperative mortality.
Preparing for leadership: Depending on a hospital's culture and expectations, a BSN degree can be a stepping stone into an introductory leadership position. Generally, those in upper leadership positions are expected to have a master's of science in nursing (MSN).
Advancing practice: If you want to become an advanced practice registered nurse, nurse executive, or a nurse educator, you'll need to apply to graduate school, and you'll find that most schools require a BSN degree.
How do I acquire a BSN?
After you make the decision to advance your education, you have to decide how you're going to do it. The first step is deciding which college, university, or online program is right for you. As of April 2019, 777 RN-to-BSN and 219 RN-to-MSN programs are available in the United States to help nurses build on their diploma and ADN educations. These programs aim to prepare nurses for broad-based practice and positions. Many schools have individual arrangements and state-wide matriculation agreements with community colleges and 4-year nursing programs. These agreements generally have two purposes: They ensure a continuity of base knowledge to the accepting institution, and they offer a seamless transfer into a 4-year institution's program when requirements are met.
Carefully investigate the programs you're interested in.
Program options
Think about whether a fully online, hybrid (online with some face-to-face classes), or traditional classroom program is best for you. Online programs allow you to attend
a college or university anywhere in the country, but hybrid and traditional programs offer you face-to-face interaction with other students and faculty. (See Weighing the pros and cons.) Note that most schools require that you hold an active and unencumbered RN license while attending their program.
Institution reputation
Learn as much about each school as you can. How long has it been in existence and how established is its BSN program? Ideally, the program is accredited by governing bodies such as the Commission on Collegiate Nursing Education and the National League for Nursing. According to the U.S. Department of Education, "The goal of accreditation is to ensure that education provided by institutions of higher education meets acceptable levels of quality."
Look for a school with an established reputation. Ask nurse colleagues who have a BSN where they went to school. Find out if your hospital hires many new graduates from any of the schools you're considering, and take into account the school's relationship with community partners, your place of employment, and alumni. Keep in mind that the quickest or easiest program isn't always the best.
What challenges will I encounter?
Just like with any important goal, pursuing a BSN will present some challenges.
Costs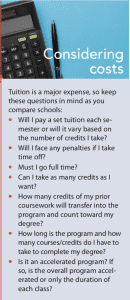 Tuition is the largest expense, but don't forget to include the cost of books, which are approximately $100 each, particularly if purchased new. (See Considering costs.) You'll also have the cost of a computer or laptop if you don't already have one. A fully online program will save you travel expenses. Be alert to "hidden fees" such as lab, school, and parking fees that you'll want to factor into your budget. You also should investigate the school's policies on dropping or withdrawing from classes. Know deadlines and reimbursement rules so if you need to drop or withdraw from a course, you can increase the likelihood of receiving your money back.
Many hospitals and other employers offer tuition reimbursement for nurses returning for their BSN. Find out if it's full or partial reimbursement and if it includes books and fees. You'll also want to ask if the organization pays upfront for classes or upon completion, and keep in mind that some may offer reimbursement only if you achieve a specific grade point average (GPA). The organization also may require that you pay back any money it contributed toward your education if you fail or drop a course or don't complete the program. Finally, you may be asked to sign a commitment to work a specific number of months after graduation in exchange for reimbursement.
Work/school balance
Can you work full-time and attend classes? Time can be a deterrent for many adult students when they return to school, especially if they're fulfilling multiple roles as student, nurse, and family member. Some schools require that you remain employed while attending their RN-to-BSN program. Does your employer offer time off for taking classes? You'll also want to set realistic expectations about the amount of time that will be required in each nursing course. Plan to dedicate 15 to 18 hours a week to studying for each 3-credit nursing course. You want to be engaged in your learning experience and find value in it, not be overwhelmed.
Self-doubt
New environments and situations can lead to feelings of doubt and insecurity. And at some point during your education, you may question why you returned to school or feel that you're not cut out for it. Establish a support structure among your nursing colleagues, fellow students, and friends and family early on so they can offer assistance and encouragement and celebrate with you when you achieve each of your short- and long-term goals.
Be realistic
Being realistic about what to expect of yourself, your school, your current job, and your friends and family will help you manage any challenges you experience along the way. And don't forget the value of the diploma that you'll achieve in the end.
Debra A. Hrelic is the RN-BSN program coordinator at the University of North Carolina Wilmington.
Selected references
American Association of Colleges of Nursing. The impact of education on nursing practice. April 2019. aacnnursing.org/News-Information/Fact-Sheets/Impact-of-Education
Elsevier. Nursing Key Topics Review: Pathophysiology. St. Louis, MO: Elsevier; 2019. Hrelic DA. How to be a success in nursing school. Am Nurs Today. 2018;13(7):20-3.