Tabitha Hughey's typical workday begins with roosters crowing at dawn and a brisk 90-minute walk near her Western Kentucky home.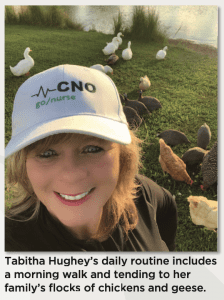 Hughey often logs 30,000 steps daily (close to 15 miles), and recently won an American Nurses Association (ANA) membership through her employer's partnership with the American Nurses Foundation and the ANA Enterprise Healthy Nurse, Healthy Nation™ (HNHN) program. "You would think I would be exhausted but I actually have more energy because I'm so pumped up to get in the steps," said Hughey, MSN, MHA, RN, OCN, a program manager for Humana Inc.
Hughey's experience reflects how Humana has used ANA Enterprise tools and resources to support its investment in nursing excellence and well-being.
"These resources are especially important now with the stress of the pandemic," said Hughey, who meets her fitness goals as she walks and talks on a headset during some work meetings and plays with grandchildren who are living with her during the COVID-19 pandemic.
Focus on nurse well-being
Through the American Nurses Foundation (the Foundation), Humana became an early HNHN financial supporter in 2018. The organization has since continued to expand its offering of ANA Enterprise resources, such as scholarships for American Nurses Credentialing Center (ANCC) certification; access to professional development; and cultivation of clinical, research, and leadership skills.
In 2016, Humana formed a nursing collaborative and developed a guiding goal to create a culture that supports the advancement of nurses, where nurses are valued, inspired, and engaged, according to Kathy Driscoll, MSN, RN, CCM, Humana's chief nursing officer, an ANA-New York member, and a member of the Foundation Board of Trustees. "We strive for a work environment where the nursing voice is represented at every level of our organization and where nurses have opportunities for recognition, growth, and development. Humana has worked in partnership with ANA to create resources that can help support each nurse on their own particular journey."
The partnership with ANA provides tools and resources to newly hired nurses as a part of Humana's Nightingale Outreach Program, which includes pairing new RNs with experienced nurses.
"We want to ensure that all nurses feel a strong sense of belonging and part of a broader nursing community at Humana, even if they are working from home in a virtual setting," Driscoll said. The organization's annual associate survey indicates these programs have contributed to an increased sense of belonging and higher engagement, and have decreased turnover and work-related stress for participating nurses.
Investing in professional development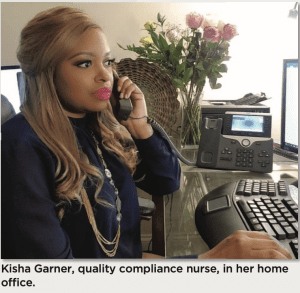 Kisha Garner, MSN/INF, RN-BC, CPHQ, described how her ANCC certification in nursing case management has created intrinsic value for her at the organization and paid dividends far beyond what she anticipated. "It has enriched my knowledge, helped me do the job I do even better, and opened me up to new career possibilities," Garner said. "I'm definitely interested in obtaining other certifications. You want this specialized knowledge." Garner, a quality compliance nurse, appreciates how the workplace culture benefits nurses and supports their professional trajectory.
Stacy Lish, MBA, BSN, RN-BC, CCM, a Humana clinical nurse auditor near Louisville, Kentucky, frequently discusses the value of ANCC certification with colleagues. "That push to do more and achieve more is a win-win that helps you become stronger and helps the organization, too. It makes you feel cared about that someone is investing in you," she said. "Studying to renew my gerontology certification helped me think in a more integrated and holistic way about patient needs and was a really good overview of things I should be looking for in the age I'm rapidly approaching."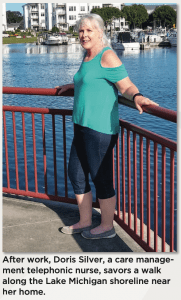 Similarly, Doris Silver, MSN, BHSA, RN, NPD-BC, a care management telephonic nurse in Ludington, Michigan, appreciates how her coach at Humana helped her find new ways to use her board certification in nursing professional development. Silver recently became a subject matter expert in cultural competence. "I'm always looking for best practices for us because our members represent every culture. We want to do what is most comfortable for those members while still presenting best practices for their health."
Transition to leadership
The Nurses on Board partnership with ANA further supports professional development by encouraging nurses to cultivate leadership skills. Kaitlin Goedeke, RN, a manager of utilization management nursing in Miramar, Florida, spoke about the impact of her experiences as board president of the Royal Palms, a nonprofit in Fort Pierce, Florida, that meets the needs of underserved women and children, "My board service has provided me with experience managing large groups of people, being diplomatic, and facilitating large meetings—all of which are necessary in my current role in management," she said. "I attribute my board experience to a successful transition into leadership much sooner than I expected."
"Humana's approach to building health and professional development for nurses is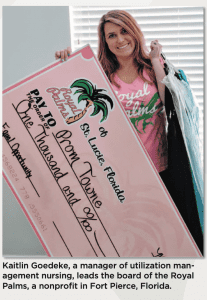 refreshing and different," said Kate Judge, Foundation executive director. "They have found so many ways to connect with ANA to help maximize the expertise, engagement, well-being, and happiness of nurses.
"When nurses go into clinical practice, they often seek ANCC Magnet®-recognized organizations that have achieved excellence in care delivery, nurse engagement, and empowerment," Judge said. "When they look beyond the clinical setting, they also want to work for employers who invest in and listen to their nurses. I hope nurses ask their employers how they can better utilize the programs across the ANA Enterprise—ANA, ANCC, and the Foundation—to build the best culture and workplace."
Driscoll describes Humana as focused on supporting nurses on several levels. "This commitment has also been highlighted through Humana Foundation's $50 million contribution to coronavirus relief and recovery efforts directed toward organizations with a sharp focus on communities and frontline workers," Driscoll said. "This includes $2 million to support the American Nurses Foundation Coronavirus Response Fund for Nurses.
"As we think about the impact nurses have on our nation's health, it's important that nurses are able to develop capabilities that will help amplify their impact and ensure that we have a seat at the table, and most importantly, a voice at the table."
— Jessica Stein Diamond is a journalist who specializes in healthcare, engineering, behavioral health, education, and equity topics.