Did you know:
patients diagnosed with malnutrition stay in the hospital three times long­er than other patients?
surgical patients with malnutrition are four times more likely to develop pressure
ulcers?
nurses are the healthcare pro­fessionals who typically conduct nutrition screening as part of admission assessment?
Today, we know that disease-related malnutrition is prevalent and linked to poor patient outcomes, higher readmission rates, and increased costs. Nurses can and should participate in identifying, preventing, and treating malnutrition. (See Nurse's role in nutrition care.) This entails a partnership between registered dietitians (RDs) and registered nurses (RNs), with clear interdisciplinary communication throughout the patient's care trajectory.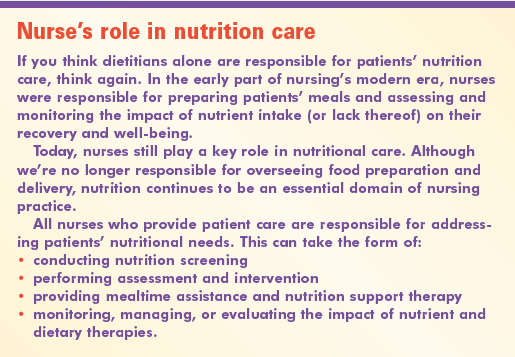 To provide optimal nutrition care and ensure each patient is assessed for malnutrition, the multidisciplinary care team (including the RD) should take a logical stepwise approach. The six steps in the American Society for Parenteral and Enteral Nutrition's (A.S.P.E.N.) Adult Nutrition Care Pathway, described below, require documentation in an electronic health record that's robust enough to allow efficient assessment, intervention, and communication across the entire healthcare team. (See nutritioncare.org/malnutrition.)
Step 1: Nutrition screening
The Joint Commission requires nutrition screening for all hospital patients within 24 hours of admission to identify those who may be malnourished or at risk for malnutrition. Assessment findings determine if the patient requires a detailed nutrition assessment. In most cases, nurses perform this screening as part of the general admission assessment.
Step 2: At-risk determination
Adults with any of the following may be considered to be at risk for malnutrition:
involuntary loss of 10% or more of usual body weight within 6 months, or involuntary loss of 5% or more of usual body weight in 1 month
involuntary loss or gain of 10 lb within 6 months
body mass index below 18.5 kg/m2 or above 25 kg/m2
chronic disease
increased metabolic require­ments
altered diet or diet schedule
inadequate nutritional in-take, including not receiving food or nutrition products for more than 7 days.
Once you identify an at-risk patient, be sure to communicate this finding to the RD.
Step 3: Nutrition assessment
A comprehensive approach to diagnosing nutrition problems, nutrition assessment relies on a combination of medical, nutrition, and medication histories; physical examination findings; anthropometric measurements; and laboratory data. When conducting a nutrition assessment, check the patient for:
trouble chewing
swallowing disorders
weight history
height and weight measurement
skin integrity
edema
electrolyte abnormalities
hand-grip strength (have the patient squeeze your hand).
Generally, an RD or a member of the nutrition support service performs a more in-depth nutrition assessment. This assessment delineates the malnutrition diagnosis and serves as the basis for the nutrition plan of care.
Step 4: Malnutrition diagnosis
In 2012, the A.S.P.E.N./Academy of Nutrition and Dietetics Malnutrition workgroup identified six malnutrition characteristics to assess. Two or more of the following findings warrants a malnutrition diagnosis, with severity defined further through specific thresholds or parameters:
weight loss
inadequate energy intake
muscle mass loss
subcutaneous fat loss
fluid accumulation
reduced hand-grip strength.
Step 5: Nutrition care plan
The nutrition care plan is a formal statement of nutritional goals and interventions prescribed for the patient, based on nutrition assessment data. The plan includes statements of nutritional goals and monitoring and evaluation parameters, the most appropriate administration route for nutrition therapy, nutrition access method, anticipated duration of therapy, and training and counseling goals and methods.
Nutrition interventions may include optimizing the patient's oral intake, providing oral nutrition supplements, and administering enteral and parenteral nutrition. Nurses play a key role in implementing these interventions.
Step 6: Monitoring and transition-of-care planning
The patient's nutritional status, nutrition goals, and safety and efficacy of interventions need to be monitored on a continual basis, particularly with transition-of-care planning. Be sure to communicate the patient's nutrition care plan during care transitions. Too often, nutrition interventions stop when a patient is discharged from the hospital; in many cases, the patient needs to be readmitted with worsening malnutrition. Using a transition-of-care plan by nurses (such the A.S.P.E.N. Nutrition Care Pathway) can help pre­vent readmission of vulnerable patients.
American Society for Parenteral and Enteral Nutrition (A.S.P.E.N.) Board of Directors and Nurses Standards Revision Task Force; DiMaria-Ghalili RA, Bankhead R, Fisher AA, et al. Standards of practice for nutrition support nurses. Nutr Clin Pract. 2007;22(4):458-65
Barker LA, Gout BS, Crowe TC. Hospital malnutrition: prevalence, identification and impact on patients and the healthcare system. Int J Environ Res Public Health. 2011;8(2):514-27.
Englert DM, Crocker KS, Stotts NA. Nutrition education in schools of nursing in the United States. Part 1. The evolution of nutrition education in schools of nursing. JPEN J Parenter Enteral Nutr. 1986;10(5):522-7.
Fry DE, Pine M, Jones BL, Meimban RJ. Patient characteristics and the occurrence of never events. Arch Surg. 2010;145(2):148-51.
Guenter P, DiMaria-Ghalli RA. Survey of nurses' nutrition screening and assessment practices in hospitalized patients. MedSurg Matters. 2013;22(5):10-3.
Mueller C, Compher C, Ellen DM; American Society for Parenteral and Enteral Nutrition (A.S.P.E.N.) Board of Directors. A.S.P.E.N. clinical guidelines: nutrition screening, assessment, and intervention in adults. J Parent Ent Nutr. 2011;35(1):16-24.
Nightingale F. Notes on Nursing: What It Is and What It Is Not. London: Harrison; 1860.
Patel V, Romano M, Corkins MR, et al.; American Society for Parenteral and Enteral Nutrition (A.S.P.E.N.). Nutrition screening and assessment in hospitalized patients: a survey of current practice in the United States. Nutr Clin Pract. 2014;29(4):483-90.
Tappenden KA, Quatrara B, Parkhurst ML, et al. Critical role of nutrition in improving quality of care: an interdisciplinary call to action to address adult hospital malnutrition. JPEN J Parenter Enteral Nutr. 2013;37(4):482-97.
Snider JT, Linthicum MT, Wu Y, et al. Economic burden of community-based disease-associated malnutrition in the United States. JPEN J Parenter Enteral Nutr. 2014;38(2 Suppl):77S-85S.
White JV, Guenter P, Jensen G, et al.; Academy Malnutrition Work Group; A.S.P.E.N. Malnutrition Task Force; A.S.P.E.N. Board of Directors. Consensus statement: Academy of Nutrition and Dietetics and American Society for Parenteral and Enteral Nutrition: characteristics recommended for the identification and documentation of adult malnutrition (undernutrition). JPEN J Parenter Enteral Nutr. 2012;36(3):275-83.
Peggi Guenter is senior director of Clinical Practice, Quality, and Advocacy at the American Society for Parenteral and Enteral Nutrition (A.S.P.E.N.) in Silver Spring, Maryland. Ainsley Malone is a clinical practice specialist at A.S.P.E.N. and a member of the nutrition support team at Mt. Carmel West Hospital in Columbus, Ohio. Rose Ann DiMaria-Ghalili is an associate professor of nutrition in the doctor of nursing practice department at Drexel University in Philadelphia, Pennsylvania.