Teach patients how to manage PBA for optimal quality of life.
Takeaways:
Pseudobulbar affect (PBA) can develop after a stroke or in conjunction with Alzheimer's disease, traumatic brain injury, and multiple sclerosis.
Symptoms include inappropriate emotional responses, sudden emotional outbursts, and facial expressions that don't match the emotional response.
PBA treatment includes coping strategies and pharmacologic management
Families should be included in care and treatment.
By Maude McGill, PhD, RN-BC, and Marzell McGill, BA, LPN
I just don't understand why Mom is crying. When I walked in the room, she was happy and calm. Then, when I asked her about her day, her smile turned into a frown and she started crying uncontrollably. I've never seen her cry like that. I'm concerned.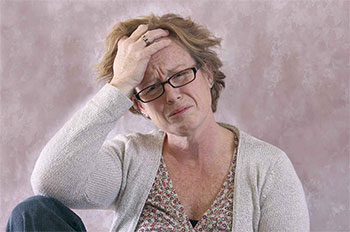 Emotions are natural.We've all heard the cliché, "Emotions make us human." People cry when they're hurt and laugh when things are funny. However, millions of people find that controlling their emotions is hard because of pseudobulbar affect (PBA). PBA refers to inappropriate, involuntary, or uncontrollable laughing or crying caused by the residual effects of a nervous system disorder. Although PBA is closely associated with post-stroke patients, it can occur with any nervous system condition, including Alzheimer's disease, traumatic brain injury, and multiple sclerosis. Scientists have labeled PBA a disorder of emotional incontinence (patients can't control their emotional responses). The patient understands how he or she should feel, but PBA limits the ability to display the correct emotion.
Signs and symptoms
Typically, the signs and symptoms of PBA are first recognized by patients, caregivers, or family members. Teach patients with a nervous system disorder and their families about the signs and symptoms of PBA so they can contact their provider for prompt appropriate treatment.
Signs and symptoms include:
emotional responses (such as crying or laughing) that don't fit the situation
emotional episodes lasting longer than expected
sudden emotional outbursts (these outbursts can include frustration, anger, laughter, or crying)
moments of intense emotions that are out of the patient's control
facial expressions that don't match the emotional response.
Navigating the new normal of PBA
After any neurological illness or injury, patients may have conditions that affect activities of daily living and can lead to complications if not addressed properly. These conditions may be long-term or permanent, so patients and family members must learn to manage them. According to a National Stroke Association Survey, about 53% of stroke survivor respondents reported PBA symptoms. However, only about one third of the respondents with symptoms were treated.
PBA treatment includes coping strategies and pharmacologic management. The concept of "navigating the new normal" bridges the gap between effectively living with PBA and ineffectively coping with it.
PBA isn't associated with mood; a patient who's crying isn't always sad. And when patients can't ar­ticulate their feelings in a manner that matches their expressions, they may become frustrated, leading to depression and social isolation. Depression occurs because the patient doesn't understand why this is happening, and isolation occurs because the patient is afraid an episode might occur in public. In many cases, patients and families attempt to mask PBA symptoms by limiting social contact rather than being open and honest about the disorder and finding effective ways to manage it. Depression and isolation can lead to a prolonged healing process and poor quality of life. As a nurse, you can teach patients how to navigate through the new normal of PBA and achieve the best possible quality of life. (See Tips for living with PBA.)
If nonpharmacologic interventions don't work, patients may need to turn to medication, such as antidepressants or dextromethorphan and quinidine.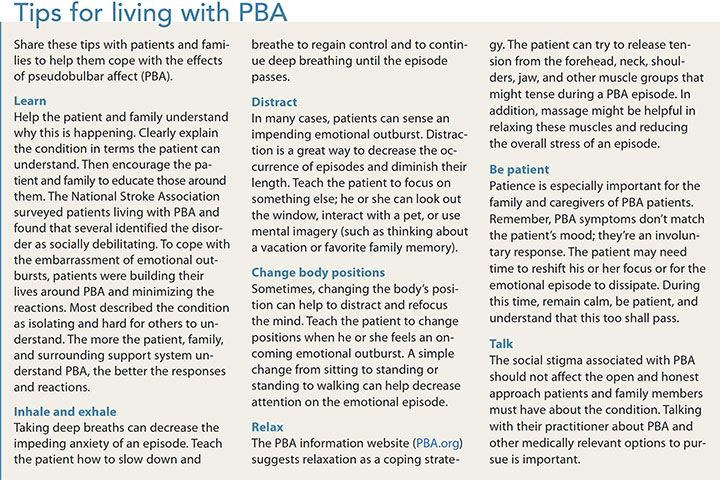 Creating a healing environment
PBA affects patients physically, socially, and emotionally. Increasing awareness and providing patients and families with ways to manage the disorder are the first steps to creating a healing environment that supports patients in their efforts to overcome the effects of PBA.
Maude McGill is the chief nursing administrator for the nursing program at Regent University in Virginia Beach, Virginia. Marzell McGill is a campus pastor for Elizabeth City State University in Elizabeth City, North Carolina.
Selected references
Ahmed A, Simmons Z. Pseudobulbar affect: Prevalence and management. Ther Clin Risk Manag. 2013;9:483-9.
Chang YD, Davis MP, Smith J, Gutgsell T. Pseudobulbar affect or depression in dementia? J Pain Symptom Manage. 2016;51(5):954-8.
Colamonico J, Formella A, Bradley W. Pseudobulbar affect: Burden of illness in the USA. Adv Ther. 2012;29(9):775-98.
PBA Info. Life with PBA symptoms: Tips for PBA.
Perotti LP, Cummings LD, Mercado J. Behavioral treatment of pseudo­bulbar affect: A case report. Perspect Psychiatr Care. 2016;52(2):82-7.
Uhland V. Living with PBA. StrokeSmart. October 21, 2014.
ant4-Pseudobulbar-321