By Julie Cullen, Managing Editor, American Nurse Today
All nursing innovation begins with a pioneer who champions a cause. Whether it's infection control, patient safety, or new technology, someone lead the charge, advocated for change, and motivated others to get involved. The same is true with nurse wellness.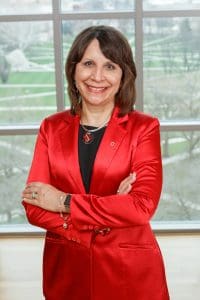 Bernadette Mazurek Melnyk, PhD, RN, APRN-CNP, FAANP, FNAP, FAAN, is one of those pioneers. In her dual roles as vice president for health promotion and university chief wellness officer at The Ohio State University in Column, Dr. Melnyk has focused her career on the health and well-being of nurses everywhere.
Her study on nurse health and medical errors was recently published in the Journal of Occupational and Environmental Medicine. She took some time out of her busy schedule to talk about the study and her thoughts on nurse fatigue, depression, and wellness. You'll also want to check out her series of articles published in American Nurse Today.
Let's start with a definition of nurse fatigue and its causes.
Nurse fatigue, which is very dangerous for both nurses and patients, is caused by rotating long shifts, working long shifts, and mandatory or voluntary overtime. These factors leave nurses with no energy and an inability to be present in the moment. When people are depressed, they also experience fatigue, so it's important to make sure depression isn't at the root of fatigue.
What are the effects on nurses themselves—physically, mentally, and emotionally?
Many publications support that when nurses—and other healthcare professionals—are fatigued, they experience physical and mental exhaustion that prevents them from providing the highest quality of care. In our national study, we also found that depression can lead to medical errors.
Speaking of your study on nurses health and medical errors, which was published in the Journal of Occupational and Environmental Medicine, can you shed some light on your findings?
Our study with nurses from across the United States focused on physical and mental health, nurses' perceived worksite wellness support, and the relationship between physical and mental health and medical errors. We found that more than half of the nurses who completed the survey reported poor physical or mental health, including higher rates of hypertension, high cholesterol, and depression than reported by physicians or the general population. This corroborated a Gallup poll from about 5 years ago that showed that physicians are in better health than nurses. It showed that nurses had higher rates of obesity, high blood pressure, diabetes, and depression, than physicians.
My interpretation of these results is that nurses give so much time and energy to caring for everybody else that they don't prioritize their own health and well-being. Self-care is so important; we have to work at making it a priority, starting with students in our curriculum.
What's the role of hospitals and other healthcare settings to address these issues?
For one, wellness and self-care should be embedded throughout all academic programs, like we do here at Ohio State. We have to build a culture of wellness within our colleges of nursing so that making healthy choices are the default, easy option for both faculty and students. And faculty must model and support healthy behaviors for our students. Students aren't going to do it if we don't.
I currently serve on the National Academy of Medicine's new Action Collaborative on Clinician Wellbeing and Resilience, which was formed in response to the alarming prevalence of compassion fatigue, burnout, depression, and suicide among physicians, nurses and other clinicians. As healthcare practitioners, if we don't take better care of ourselves, not only will we suffer but our patients and families also will suffer. And consider  this: Nurses are the largest healthcare workforce in the country, so think about how many people we touch.
Can you describe the wellness program at Ohio State?
I have a joint position as dean of the college of nursing as well as vice president for health promotion and chief wellness officer for the whole university. I spearhead wellness initiatives across our big university. We emphasize creating a culture of health and well-being for all of our employees and students; we have six hospitals here, so that includes nurses, physicians, and other clinicians.
All faculty and staff, including nurses within our hospitals, complete a personalized health assessment and a biometrics screen. If they want health coaching, we have health coaches who work with them. We have wellness challenges—physical activity, emotional wellness, and healthy eating challenges—going on all the time. And I have about 500 faculty and staff who work with me and my wellness team to create cultures of health and well-being throughout all the hospitals and across  all of our campuses. In other words, we take a comprehensive multifaceted approach that includes the individual, the family, the workplace, policies, and society.
Have you seen a return on investment with this initiative?
Some people are more engaged in the program than others, but we've seen a 7% improvement in our population cardiovascular health over the past 4 years, and we're in a negative healthcare spend this year, which is almost unheard of since most organizations are experiencing increases in healthcare spend that average 4% to 6% per year. Our return on investment is about $3.65 for every dollar we invest in wellness.
Are wellness programs spreading throughout healthcare and other organizations?
I think every organization needs a chief wellness officer. Believe it or not, academia has been slower on this movement than corporations; for over a decade, corporations have been hiring chief wellness officers.
I was the first chief wellness officer appointed at a US university; now there are around 8 to 10 and growing. I founded a national organization with Ohio State and 15 other universities called the National Consortium for Building Healthy Academic Community. We share evidence-based practices as well as resources to improve health and wellness on all campuses throughout the nation.
You mentioned depression earlier. Can you provide some more insight on that?
Our national study was the first to show that depression is the strongest predictor of medical errors in nurses. Depression is going be the second most impairing disease worldwide by 2020, but there's still a lot of stigma around it and other mental health issues. In fact, fewer than 25% of affected people get any help or treatment, and if they do, it's usually not evidence-based cognitive-behavior therapy. Instead, they're getting medications that are usually only effective for about a third of the population. Plus, many people who are given antidepressants stop taking them before they have time to have a positive effect.
What do you really believe is key to optimizing health and well-being in any organization?
We have to remember that culture eats strategy for breakfast, lunch, and dinner; healthy choices have to be easy for people to make—they have to become the social norm. Leaders and managers also must invest in it and "walk the talk" along with providing the infrastructure, support, and programming. However, grass roots efforts are essential and a critical mass of wellness innovators or champions are key to creating a culture of well-being throughout an entire organization.
Julie Cullen, managing editor of American Nurse Today and a curator of online content for the American Nurse Today website, is most definitely not a nurse, but she admires what all of you do everyday. In her Off the Charts blog she shares some of her experiences as a patient and family member of patients, thoughts and ideas that occur to her during her work editing nursing content, and information she thinks you might find interesting. Julie welcomes your feedback. You can submit a comment on the website or email her at jcullen@healthcommedia.com.