We can't do it alone
When the ANA Enterprise launched Healthy Nurse, Healthy NationTM (HNHN) with the goal of transforming the health of the nation by improving the health of the nation's registered nurses, it was clear that support would be needed from others who care about nurses.
The newest champion of nurses' health is a global leader  in healthcare support services—Compass One Healthcare. A combination of Crothall Healthcare and Morrison Healthcare, Compass One Healthcare has expertise in food and nutrition and provides a variety of other services including facilities management, laundry and linen, and patient transport. All of their business lines touch nursing in some way. Now they will join the HNHN national movement as a partner to support content and challenges related to nutrition.
Nurses tend to have a suboptimum diet. The Office of Disease Prevention and Health Promotion and Dietary Guidelines for Americans recommend that all individuals eat between three to five servings of whole grains and five to nine servings of fruits and vegetables daily. But in a 2019 HNHN survey, 72% of nurses said they consume three or fewer servings of fruits and vegetables daily. In the same survey, 30% of nurses said they don't feel they have access to healthy food choices at work.
Research shows that when clinicians are healthy, they provide better counsel to patients about healthy behaviors. Research also has linked nutrition quality to decision making.
"We need to innovate to help nurses be as healthy as they want to and can be. It requires us to engage with the most creative, committed healthcare partners," said American Nurses Foundation Executive Director Kate Judge. "We believe our work with Compass One will inspire new solutions that can help nurses across the country and the globe. That, in turn, will help improve the health of patients."
"In our healthcare space, nursing is the cornerstone," said Senior Vice President of Strategic Partnerships Bart Kaericher. "That's why this partnership with Healthy Nurse, Healthy Nation is so exciting for us. We can make a huge difference for our nurse partners by offering healthy and delicious meals and by taking some of the stress off by providing a safe environment of care."
HNHN engages more than 500 partner organizations and over 130,000 participants to act in five key domains—physical activity, rest, nutrition, quality of life, and safety. Both individuals and organizational partners can learn about HNHN by visiting hnhn.org.
To make a financial contribution and support nurses' health visit givetonursing.org.
---
Kicking off the Year of the Nurse on NPR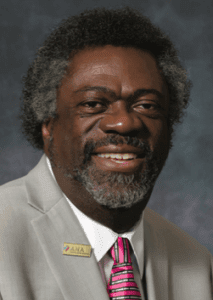 American Nurses Association (ANA) President Ernest Grant, PhD, RN, FAAN, officially kicked off the Year of the Nurse with a live interview January 14 on NPR's 1A program. Grant and ANA Past President Pamela Cipriano, PhD, RN, NEA-BC, FAAN, shared insights on the state of nursing today, the challenges of the profession and the value of nurses. Listen to the program and share the link with colleagues, friends, and via your social media channels.
The ANA Enterprise is elevating and celebrating the essential, robust contributions of nurses as the world recognizes 2020 as the "Year of the Nurse." By high-lighting the vital role of nurses, we aim to spur expanded investment in education, practice, and research, as well as increase the number of nurses who serve in leadership positions.
Despite the high regard of the public, nurses are wholly underrepresented in media coverage of health care issues. Additionally, many myths and misperceptions about nursing persist. To help address this, we are asking nurses to share their stories, photos, and videos with ANA to help us communicate a contemporary and accurate view of nurses and the critical work we do.
Be sure to visit ANA's Year of the Nurse webpage for the official Year of the Nurse logo and updates on future activities.