This supplement was funded by an unrestricted educational grant from Hill-Rom. Content of this supplement was developed independently of the sponsor and all articles have undergone peer review according to American Nurse Today standards.
---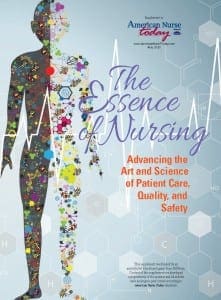 Click here to download a printable PDF
By Melissa A. Fitzpatrick
Putting basic nursing care back in the spotlight means emphasizing
high-touch care in today's high-tech, evidence-based care environment.
By Lillee Gelinas
Learn how nursing leaders and staff can collaborate to create an
environment where the essence of nursing thrives.
By Susan C. Hull
Uncover your patients' full story to keep them engaged in their care
while helping you tailor the care plan to each individual.
By Denise M. Kresevic
For the elderly, hospitals harbor hidden dangers that can lead to functional
decline. Find out how to prevent, detect, and manage these threats.
By Amanda Veesart and Alyce S. Ashcraft
Learn about early progressive ambulation protocols that help prevent
blood clots, pneumonia, delirium, and other complications of immobility.
By Amy Moore and Rebecca Geist
The authors discuss how to prevent falls, promote skin integrity, and
advocate for policies that prevent "never events."
By Joan M. Nelson and Laura Rosenthal
Starting at admission, you can mitigate patients' readmission risk
through efficient care coordination, communication, planning,
and education.
By Susan Blackmer Tocco, Darwin K. Clark, MD, and Amy C. DeYoung
Returning to the basics of nursing care doesn't mean the nurse does
it all. One hospital successfully tapped into collective knowledge
from an interdisciplinary care team.
This illustrated, at-a-glance "snapshot" summarizes key
---
We would love your feedback on this supplement. Click here to take a very short reader survey.