Evaluate your goals and get the facts.
After graduating from a nursing program and working for a few years in clinical practice, you've decided to further your education. You know that you have many options for advanced education in professional nursing practice, and you've heard about different advanced nursing programs. However, you're unsure about how to find the best program. How do you begin this decision-making process? Start with some self-reflection and evaluate your short- and long-term career goals. (See 6 critical questions.)
6 critical questions
Deciding to pursue a doctoral degree requires self-reflection. Consider the following six questions as you review your short- and long-term goals:
Why do I want an advanced degree?
What is my primary interest?
What is my primary employment goal?
How much time do I have to complete the degree?
What is my financial status?
What is my point of entry?
What are your goals?
When identifying your career goals, start with the long view. Think about where you want to be in 10 years and put it into SMART (Specific, Measurable, Achievable, Relevant, Time-Based) terms. From your long-term goal, create small attainable goals working backwards from 10 years in the future to the present. For example, maybe you're an advanced practice RN (APRN) interested in translating research into practice to facilitate improved care quality and patient outcomes. Or maybe you're a nurse educator in an intensive care unit and you'd like to pursue a nurse scientist role and eventually enter academia.
In pursuit of your long-term goals, those focused on the short-term might include working as clinical faculty at a college or university, investigating degree requirements for a particular program, or taking a few courses at the doctoral level. You're making a decision that will impact your personal and professional life, so take your time and learn as much as you can before you enroll. (See Setting goals.)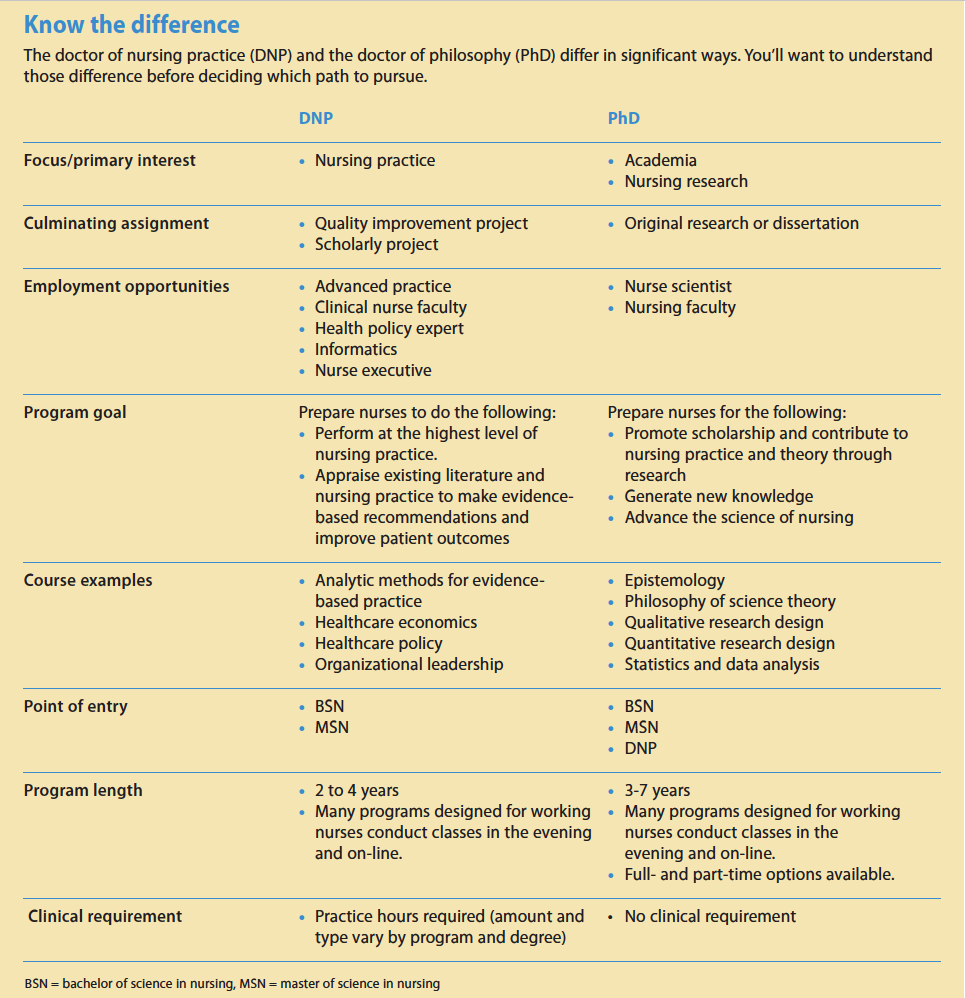 Which degree?
Now that you've evaluated your goals, the next decision is to choose the degree that will best help you in your journey. What's your primary interest? Are you more inclined toward generating knowledge or translating it into practice? Those with a doctor of philosophy (PhD) are nurse scientists who conduct research to create evidence for practice. Those with a doctor of nurse practice (DNP) convert research into evidence-based practice and policy changes. Understanding the difference between these degrees will help you achieve your intended career goals.
Doctor of nursing practice
In the early 2000s, a push for an interprofessional healthcare approach to improve patient care safety and quality prompted changes in education. Several professions, including physical therapy, psychology, and pharmacology, initiated curriculum changes requiring practice doctorates. The American Association of Colleges of Nursing (AACN) created a standardized DNP model to help APRNs recognize, address, and improve patient care and outcomes. The DNP, designed to innovate evidence-based practice, provides the tools for expert advanced nursing practice.
Those with DNP degrees review literature, identify the best evidence, and implement change to promote better patient outcomes. Evidence can range from creating best practices in patient care to leading a workforce with the primary aim of quality patient care. DNP program curricula integrate translational science and change management strategies to prepare nurse leaders in proficient complex systems management. The Essentials: Core Competencies for Professional Nursing Education states, "Advanced-level nursing education programs focus on providing specialty knowledge for graduates to enact specific advanced practice nursing roles or assume advanced nursing specialty practice within the healthcare system."
Doctor of philosophy, doctor of education, doctor of nursing science
Various doctoral (non-DNP) programs exist. Most offer PhD degrees, but some offer the doctor of nursing science (DNS or DNSc) or the doctor of education (EdD). A few programs offer a combination PhD/DNP.
The PhD prepares students to conduct original research, lead research studies, engage in data science, and disseminate their findings via podium presentations and peer-reviewed publications. PhD graduates develop theory and contribute to the nursing science body of knowledge. Those who seek this advanced, terminal degree typically pursue careers in research or academia rather than clinical leadership positions. The PhD also offers opportunities to conduct research in industry, including pharmaceutical companies and healthcare systems.
A DNS prepares students for careers in research and education. Many DNS programs in the United States have been discontinued and replaced with a PhD program.
An EdD prepares students for positions in academia and educational leadership. Teachers College, Columbia University and New York University began offering EdDs in nursing in the 1930s. Professional nurses with a PhD or an EdD who work in an academic setting may be responsible for developing curriculum, teaching, and serving in leadership positions. State-level boards of nursing may dictate the degree necessary for faculty and academic leaders, so requirements will vary.
As you consider your options, remember that although all degree options require scholarship, prepare graduates to lead multidisciplinary teams, and involve an in-depth knowledge of professional nursing, they differ in significant ways. (See Know the difference.)
Setting goals
Knowing your short- and long-term goals can help you map out your academic journey.
Short-term goals
Where are you now, and what's your short-term career goal?
What's your practice setting (clinical practice, healthcare leadership, nursing research, nursing education)?
Why are you pursuing a doctoral degree at this time?
Do you currently work in academia and need a doctoral degree to progress or gain tenure or a promotion?
Long-term goals
Where do you see yourself in 10 years, and is a doctoral degree going to aid you in a career transition?
Are you interested in other nursing opportunities that require a doctoral degree? Perhaps you're in clinical practice and want to transition into academia, or you plan to stay in clinical practice but want to move into an administrative/leadership role.
Do you want to use your nursing knowledge to create new research?
Are you willing to move away from clinical practice?
What else should you consider?
In addition to your employment goals, degree and program selection will depend on other factors including time and cost. You'll also want to consider admission requirements and program quality.
Primary employment goal
If your primary employment goal is academia, consider a PhD or an EdD. Although you can be employed at an academic institution with a DNP, you may not be eligible for tenure. Research what the academic setting offers before investing time and money in a degree that may not allow for promotion and tenure. However, many doctoral programs offer doctoral and post-doctoral coursework in education, so both the DNP and the PhD are candidates for faculty positions.
Time constraints
Program length varies depending on the institution you select. Some programs offer a 100% online format, some are hybrid, some require a residency, and others offer a traditional classroom format. Plan on about 3 years to complete a DNP and 4 to 7 years to complete a PhD or EdD. Some programs have employment requirements that clearly state you can't work while enrolled. Other programs offer work as a teaching assistant or research assistant. Carefully investigate all program requirements to ensure they're compatible with your time constraints.
Point of entry
DNP programs have two points of entry, BSN to DNP and post MSN. In 2004, AACN identified the DNP as the appropriate degree for APRNs. Programs educating APRNs have begun to make these curriculum transitions and offer BSN to DNP programs. Currently, all accredited certified RN anesthetist programs have transitioned to a DNP for entry into practice. The National Organization of Nurse Practitioner Faculties has called for moving the entry level for APRNs to a DNP by 2025. Post-MSN programs are exactly what they sound like—DNPs for nurses with masters degrees.
DNP programs have evolved from strictly advanced practice roles to include tracks related to leadership (healthcare system, educational, executive, and advanced practice), health policy, public health, and informatics. You'll also find DNP programs for nursing business degrees (such as master of business administration or master of healthcare administration). The Ohio State University has a first-ever doctor of nursing education (DNE) program designed for MSN-prepared nurses who want to becomes educators.
PhD programs offer several pathways to a degree. Some allow BSN graduates to pursue a PhD without completing an MSN program first (the MSN is completed at the same time). Other programs offer the traditional post-MSN to PhD option or a DNP to PhD path.
Program quality
No perfect formula exists for evaluating doctoral programs, but you'll want to consider several factors, including accreditation, student support, and objective outcomes.
Accredited programs have met standards for quality education set by an accrediting body. For DNP programs, those bodies include the Accreditation Committee for Education in Nursing (ACEN), a division of the National League for Nursing, and the Commission on Collegiate Nursing Education (CCNE), a division of AACN. The ACEN and CCNE don't accredit PhD programs, but the AACN provides some guidelines.
All doctoral programs should provide student support. As you review the programs you're interested in, determine if it has faculty who can support your particular interest. For example, if you want to pursue a DNP with a focus on informatics, ask if the program includes faculty with this specialization who can support you. If you're pursuing a PhD program, you'll need faculty with expertise in your field of interest who can help guide your dissertation.
Most programs report objective outcomes such as employment, graduation, and retention rates, but these may not correlate with your needs or desires. Programs also may emphasize aims such as research, service, education, and practice. Prioritize what you want in a program and ask questions. Evaluate faculty specialties, research, and funding. How diverse is the faculty? Community partnerships can provide insight into service-focused programs. What opportunities exist for interprofessional collaboration?
You'll also want to look at current students and graduates. Where are they working now? How long did they take to graduate? How many are in "all but dissertation" status? Speak to graduates about their experiences with the program, and review current research and publications from graduates of the program.
Lead nursing into the future
The future of the profession of nursing will require forward thinking leaders with the skills to meet the demands of the evolving healthcare landscape. With a DNP or PhD, you'll have the necessary preparation to step into these leadership roles. Those who remain in practice will be tasked with providing the vision necessary to move forward, and those in academic positions will provide education that prepares future professionals to engage effectively in the practice environment. Whichever degree option you choose, spend the time to explore all your options.
Jacquelyn M. Owens and Marguerite Ambrose are assistant professors at West Chester University, in West Chester, Pennsylvania.
American Nurse Journal. 2023; 18(6). Doi: 10.51256/ANJ0623104
References
American Association of Colleges of Nursing. AACN position statement on the practice doctorate in nursing. October 2004. aacnnursing.org/Portals/0/PDFs/Position-Statements/DNP.pdf
American Association of Colleges of Nursing. The Essentials: Core Competencies for Professional Nursing Education. 2021. aacnnursing.org/Portals/0/PDFs/Publications/Essentials-2021.pdf
American Association of Colleges of Nursing. PhD in nursing. aacnnursing.org/News-Information/Research-Data-Center/PhD
Conrad D, Kesten K. Defining the doctor of nursing practice: Current trends. In: Moran KJ, Burson R, Conrad D. The Doctor of Nursing Practice Project: A Framework for Success. 3rd ed. Burlington, MA: Jones and Bartlett; 2019; 13-38.
Flanagan J, Turkel MC, Roussel L, Smith M. Nursing knowledge in the doctor of nursing practice curriculum. Nurs Sci Q. 2021;34(3):268-74. doi:10.1177/08943184211010458
Institute of Medicine (US) Committee on the Health Professions Education Summit; Greiner AC, Knebel E, eds. Health Professions Education: A Bridge to Quality. Washington, DC: National Academies Press; 2003.
Melnyk BM. Distinguishing the preparation and roles of doctor of philosophy and doctor of nursing practice graduates: National implications for academic curricula and health care systems. J Nurs Educ. 2013;52(8):442-8. doi:10.3928/01484834-20130719-01
The Ohio State University. Contrast grid of the key differences between DNP and PhD/DNS programs. nursing.osu.edu/sites/default/files/attachments/Student%20Affairs/ContrastGrid.pdf
Pearson Pathways. Nursing accreditation: What it is and why it matters. pearson.com/pathways/areas-work-study/nursing/nursing-accreditation.html
Wakefield MK, Williams DR, Le Menestrel S, Flaubert JL. The Future of Nursing 2020-2030: Charting a Path to Achieve Health Equity. Washington, DC: National Academies Press; 2021. doi:10.17226/25982