Find fulfillment by making the right choice.
Nurses have two options for pursuing a terminal degree—doctor of philosophy (PhD) and doctor of nursing practice (DNP). Choosing between a doctor of philosophy (PhD) and doctor of nursing practice (DNP) may be one of the most challenging decisions you'll make, but remember that earning your DNP doesn't exclude you from involvement in nursing research, and opting for a PhD doesn't banish you from clinical practice. Flexibility and mobility will always be available to nurses who work hard and aspire to make meaningful contributions. Here is more information about each.
The research doctorate (PhD)
A PhD prepares nurses to conduct nursing research, focusing on research methodology, data analytics, and scientific content. Graduates are prepared to be nurse scholars and scientists who participate in and lead research studies that provide new evidence to advance nursing science. PhD-prepared nurses are well equipped to pursue roles as nursing faculty members, grant-funded researchers, and evaluation specialists. 
Most PhD programs take 4 to 5 years to complete, although abbreviated degree options are emerging and may be appealing to nurses with competing personal and professional priorities. Historically, PhD programs were full-time and in-person, but many are transitioning to online with increasingly flexible enrollment options.  
Although program length, content delivery methods, and curricula vary from program to program, research doctorates are offered at the postbaccalaureate and postmaster's level. Bridge programs tailored to nurses who already hold a DNP and a growing number of dual-degree programs that award both DNPs and PhDs are available. 
In addition to a rigorous curriculum, most PhD programs require students to prepare a research proposal, conduct a literature review, perform research and collect results, write a dissertation, and defend their dissertation. And in many programs, PhD students must teach junior nursing courses. Students who wish to pursue a career in academia are encouraged to teach or at minimum take pedagogy courses.
The clinical doctorate (DNP)
The DNP has been around for roughly 30 years and the number of programs and graduates is increasing rapidly. Students in DNP programs can expect to take courses i epidemiology, leadership, quality improvement, and data analytics to prepare them to translate evidence into practice and participate in change management. The programs are designed to prepare experts in advanced clinical practice with a focus on improving healthcare delivery and patient outcomes. Graduates from these programs serve as change agents to translate evidence into practice by applying sound research findings. 
A DNP takes 2 to 3 years to complete depending on whether the student enters at the postbaccalaureate or postmaster's level. Most students entering at the postbaccalaureate level are on a path to become an advanced practice registered nurse (APRN)—a nurse practitioner, clinical nurse specialist, certified registered nurse anesthetist, or certified nurse-midwife. Students who enter at the postmaster's level may already be APRNs who are seeking a terminal degree with enhanced training in population health, data analytics, quality improvement processes, and leadership. Alternatively, postmaster's applicants may be seeking expertise to prepare them to enter into a new clinical practice area or to be a nurse administrator, nurse informaticist, public health nurse, or nurse educator. DNP students who aspire to teach in academia should pursue pedagogical training to prepare them. 
Most DNP programs require students to complete 1,000 postbaccalaureate hours as part of a supervised academic program and to complete a final DNP project that demonstrates clinical scholarship. The project will vary by institution but should include planning, implementation, and evaluation elements. 
Use the table to compare the two so you can make an informed decision about which option is best for you.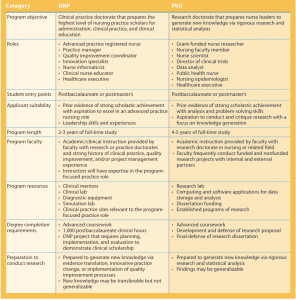 Erik P. Southard is a professor and DNP program director at the School of Nursing, Indiana State University in Terre Haute.  
References
Altman SH, Butler AS, Shern L, eds. Assessing Progress on the Institute of Medicine Report The Future of Nursing. Washington, DC: National Academies Press; 2016. ncbi.nlm.nih.gov/books/NBK350166
American Association of Colleges of Nursing. AACN Position Statement on the Practice Doctorate in Nursing. October 2004. aacnnursing.org/Portals/42/News/Position-Statements/DNP.pdf
American Association of Colleges of Nursing. DNP education. aacnnursing.org/Nursing-Education-Programs/DNP-Education
American Association of Colleges of Nursing. The Doctor of Nursing Practice: Current Issues and Clarifying Recommendations. August 2015. aacnnursing.org/Portals/42/News/ White-Papers/DNP-Implementation-TF-Report-8-15.pdf
American Association of Colleges of Nursing. The Essentials of Doctoral Education for Advanced Nursing Practice. October 2006. aacnnursing.org/Portals/42/Publications/DNPEssentials.pdf
Institute of Medicine (US) Committee on the Robert Wood Johnson Foundation Initiative on the Future of Nursing, at the Institute of Medicine. The Future of Nursing: Leading Change, Advancing Health. Washington, DC: National Academies Press; 2011. ncbi.nlm.nih.gov/books/NBK209880