Half of Americans older than 65 have some degree of age-related cataract formation, making cataracts the leading cause of vision impairment in the United States. As a nurse, you probably encounter older adults in many healthcare settings. This article expands your knowledge base on the underlying causes, risk factors, signs and symptoms, diagnosis, and management of cataracts.
Understanding age-related cataracts
Positioned behind the iris, the lens focuses light as it passes into the eye, producing clear, sharp images on the retina. With age, the lens thickens, becoming less flexible and less transparent. These changes cause lens proteins to break down and clump together, forming small cloudy areas. As the cataract continues to mature, clouding grows denser and involves progressively more of the lens.
The most common type of cataract is a nuclear cataract, which involves the central inner core of the lens. Cataracts usually develop progressively in both eyes but typically aren't symmetrical in growth.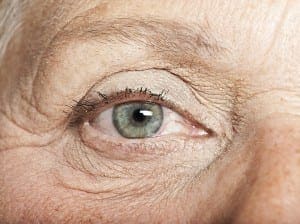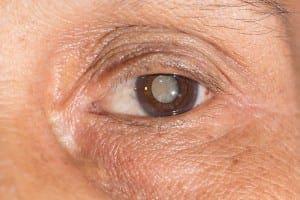 Risk factors and prevention
Although aging is the main risk factor for cataract development, others have been identified. Studies show cataracts are more common in women than men and tend to run in families. African Americans have nearly double the risk of Caucasians, probably due to a higher incidence of certain medical conditions, such as diabetes. People with type 1 or type 2 diabetes are at increased cataract risk and are much more likely to develop cataracts at a younger age. Hispanic Americans also are at increased risk.
Other predisposing conditions include corticosteroids used chronically or in high maintenance dosages, as prescribed for certain autoimmune diseases. Eye disorders themselves, including physical injuries, also increase cataract risk. In addition, certain environmental conditions predispose a person to cataracts—for instance, prolonged exposure to low-level ultraviolet radiation from sunlight (especially at a young age) and exposure to ionizing radiation. A long-term study involving thousands of subjects suggests low levels of physical activity, chronic alcohol use, and smoking are linked to higher cataract incidence. (See the box below.)
Cataract risk factors
• Increasing age
• Female gender
• African American
• Hispanic American
• Type 1 or 2 diabetes
• Long-term corticosteroid use
• History of eye injury
• Prolonged sunlight exposure
• Low levels of physical activity
• Chronic alcohol use
• Smoking
Signs and symptoms
During early stages, a cataract has little effect on vision. As it slowly matures, cloudy or double vision commonly occurs. The patient may complain that images appear to have a yellowish-brown tint as color vibrancy diminishes. Another common complaint is that reading becomes progressively more difficult, from reduced contrast between letters and their background. People who drive at night typically complain of increased and progressive light sensitivity, eventually making night driving difficult or even impossible due to the glare of oncoming headlights. (See the box below.)
Cataract symptoms
• Cloudy or double vision
• Yellowish-brown tint of images
• Progressively more difficulty reading
• Light sensitivity, especially at night
Diagnosis
Most people with small cataracts can see well enough around the clouded areas to live normal lives. But when the cataract becomes extensive, impaired vision may compromise their ability to perform activities of daily living safely and fully. This impels most people to seek medical attention. Refer patients who complain of gradual vision loss to an eye professional.
On direct physical examination, the specialist typically observes cloudy areas on the lens. Cameras can measure cataract density. The specialist performs a complete ocular examination to determine the cause of the cataract, evaluates visual acuity, conducts a pupillary examination, and performs a refraction (which determines the ability to see objects at a specific distance). Viewing the eye properly requires a high-intensity light examination. The specialist instills a yellow dye and dilating drops into the eye to obtain a three-dimensional view of various parts of the eye.
Management
Because a cataract isn't life-threatening, delaying surgery won't cause harm. In early cataract treatment, stronger eyeglasses or contact lenses can improve vision. Using a magnifying glass when reading, better positioning, and stronger lighting also can help reduce symptoms. If the patient still has significantly reduced vision even with these strategies, advise him or her about the risks of driving and other activities that require accurate judgment of distance.
Once the specialist discusses treatment options, the patient and family members can choose among several approaches. One option is cataract removal—the most common ambulatory surgery in the United States. This procedure involves phacoemulsification, or liquefaction of the clouded natural lens. After placing a number of eyedrops (including topical antibiotics and pupillary dilators) into the eye, the ophthalmologist makes a small incision by hand or, in some cases, with a laser. Then he or she inserts a tiny probe that transmits ultrasound to soften the lens and break it up into fragments. After vacuuming out the small pieces, the ophthalmologist inserts a clear intraocular lens into the groove where the natural lens was. (See the photos below.)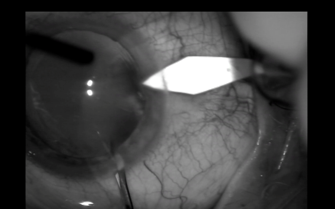 © Photo courtesy of Balamurai K. Ambati, MD, VA Salt Lake City Medical Center, Salt Lake City, Utah.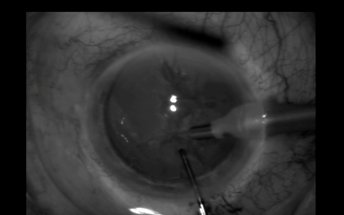 © Photo courtesy of Balamurai K. Ambati, MD, VA Salt Lake City Medical Center, Salt Lake City, Utah.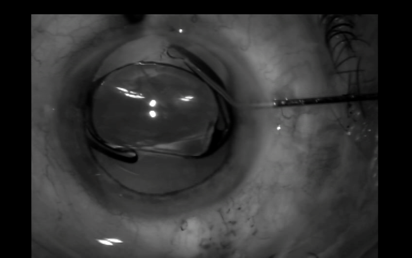 © Photo courtesy of Balamurai K. Ambati, MD, VA Salt Lake City Medical Center, Salt Lake City, Utah.
Patients can opt for high-tech lenses, which provide clear vision without the need for glasses. However, Medicare and private insurers aren't likely to cover the additional costs of these advanced intraocular lenses or use of the laser needed with these lenses.
Because the incisions are so small, suturing rarely is required. Phacoemulsification and lens placement are done with local anesthesia; the procedure takes less than 1 hour. Patients who can't lie flat due to such comorbidities as fixed cervical kyphosis or severe orthopnea may be placed in a semirecumbent position. If the patient has a cataract in the other eye, the second cataract won't be removed until the first eye heals and is stable and functioning.
The surgeon and patient must carefully consider adverse effects associated with comorbidities, particularly diabetes and chronic obstructive pulmonary disease, as well as certain medications (for instance, antithrombolytics or alpha-1 blockers, such as tamsulosin, used to treat benign prostatic hypertrophy).
Postoperative treatment and ongoing care
Immediately after surgery, a shield is placed over the involved eye to protect it as it heals. Patients wear the shield for the first night. For the next few nights and during naps, they use an eye guard. The ophthalmologist may recommend sleeping on the back or unoperated side.
Patients should refrain from driving for several days and should have someone stay with them until their vision acclimates. Ophthalmologists usually prescribe eyedrops to prevent infection and reduce swelling.
When teaching patients about self-care, caution them not to press or rub the surgical eye. Tell them that within 48 hours of surgery and during the ensuing months, they should be examined by the ophthalmologist. Advise them their vision may remain blurry for a while but will clear gradually over 2 to 6 weeks.
Advise patients to minimize strenuous exercise. Instruct them not to bend over to pick something up or to put on their shoes. Also tell them to avoid heavy lifting for a few weeks.
Complications
Although rarely serious, postoperative complications may occur. These may include swelling and inflammation of the involved eye. Glare from light scattering at the edges of the new lens usually resolves within a few weeks. In some patients, materials in the artificial lens may trigger an immune response.
Although rare, retinal detachment may occur. A patient who complains of an acute vision change after cataract removal with lens placement requires emergency medical attention. Other rare complications include glaucoma (pressure caused by fluid buildup inside the eye), atonia (loss of muscle tone in the eye, causing a fixed stare), infection, corneal blistering, intraocular bleeding, lens dislocation or damage, and vision loss or impairment.
Implications for practice
As a nurse, you play a pivotal role in helping patients recognize the hallmarks of visual impairment and their effects on activities of daily living. Teach them about risk factors and healthy behaviors to control chronic diseases associated with cataracts. Review ways they can decrease cataract risk.
Be aware that when inspecting the eyes of a patient who has had cataract surgery, you might notice a glassy appearance (because the new lens is crystal clear), as well as reduced pupillary size and constriction velocity. These are normal findings. With increased knowledge of cataracts, you can set your sights on assisting and caring for adults with aging eyes.
Selected references
AAO Cataract and Anterior Segment PPP Panel, Hoskins Center for Quality Eye Care. Cataract in the adult eye. Summary benchmark—2014. one.aao.org/summary-benchmark-detail/cataract-in-adult-eye-summary-benchmark–october-2.
Centers for Disease Control and Prevention. The State of Aging and Health in America 2013. Atlanta, GA: Centers for Disease Control and Prevention. U.S. Department of Health and Human Services; 2013. www.cdc.gov/aging/pdf/state-aging-health-in-america-2013.pdf
Centers for Medicare & Medicaid Services. Ambulatory surgical centers. 25 selected procedures in the ASC setting by state, 2012. www.cms.gov/Research-Statistics-Data-and-Systems/Research/HealthCareConInit/ASC.html
Chan E, Mahroo OA, Spalton DJ. Complications of cataract surgery. Clin Exp Optom. 2010;93(6):379-89.
Gerstenblith AT, Rabinowitz MP. The Wills Eye Manual: Office and Emergency Room Diagnosis and Treatment of Eye Disease. 6th ed. Philadelphia: Lippincott Williams & Wilkins; 2012.
Klein R, Lee KE, Gangnon RE, Klein BE. Relation of smoking, drinking, and physical activity to changes in vision over a 20-year period: the Beaver Dam eye study. Ophthalmology. 2014;121(6):1220-8.
Lee RM, Jehle T, Eke T. Face-to-face upright seated positioning for cataract surgery in patients who cannot lie flat. J Cataract Refract Surg. 2011;37(5):805-9.
The authors work at VA Salt Lake City Health Care System in Salt Lake City, Utah. Mark D. Bigwood is a telehealth care coordinator. Donna F. Richards is an associate chief nurse of research.